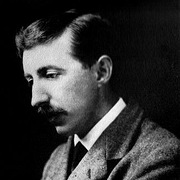 E. M. Forster
(1879–1970)
Conocimiento común
Nombre legal

Fecha de nacimiento

Fecha de fallecimiento

Lugar de sepultura

Género

Nacionalidad

País (para mapa)

Lugar de nacimiento

Lugar de fallecimiento

Causa de fallecimiento

Lugares de residencia

London, England, UK
Cambridge, Cambridgeshire, England, UK
Alexandria, Egypt
Dewas, Madhya Pradesh, India
Weybridge, Surrey, England, UK
Harrogate, North Yorkshire, England, UK

Educación

Cambridge University (King's College | BA | Classics, 1900 | History, 1901 | MA|1910)
Tonbridge School, Kent, England, UK

Ocupaciones

Relaciones

Organizaciones

American Academy of Arts and Letters (Foreign Honorary ∙ Literature ∙ 1949)
Bloomsbury Group
Cambridge Apostles
International Red Cross

Premios y honores

Royal Society of Literature Benson Medal (1937)
Honorary Fellowship, King's College, Cambridge
Order of Merit (1969)
Royal Society of Literature Companion of Literature

Biografía breve

Edward Morgan Forster (1 January 1879 – 7 June 1970) was an English novelist, short story writer, essayist and librettist. Many of his novels examine class difference and hypocrisy, including A Room with a View (1908), Howards End (1910) and A Passage to India (1924). The last brought him his greatest success. He was nominated for the Nobel Prize in Literature in 16 different years.

Forster, born at 6 Melcombe Place, Dorset Square, London NW1, a building no longer standing, was the only child of the Anglo-Irish Alice Clara "Lily" (née Whichelo) and a Welsh architect, Edward Morgan Llewellyn Forster. He was registered as Henry Morgan Forster, but accidentally baptised Edward Morgan Forster. His father died of tuberculosis on 30 October 1880 before Morgan's second birthday. In 1883, he and his mother moved to Rooks Nest, near Stevenage, Hertfordshire until 1893. This served as a model for Howards End in his novel of that name. It is listed Grade I for historic interest and literary associations. He had fond memories of his childhood there.

Among Forster's ancestors were members of the Clapham Sect, a social reform group within the Church of England. Forster inherited £8,000 in trust (the equivalent of about £990,000 in 2017) from his paternal great-aunt Marianne Thornton (daughter of the abolitionist Henry Thornton), who died on 5 November 1887. The money was enough to live on and enabled him to become a writer. He attended as a day boy Tonbridge School in Kent, where the school theatre has been named in his honour, although he is known to have been unhappy there.

At King's College, Cambridge, between 1897 and 1901, he became a member of a discussion society known as the Apostles (formally named the Cambridge Conversazione Society). They met in secret, and discussed their work on philosophical and moral questions. Many of its members went on to constitute what came to be known as the Bloomsbury Group, of which Forster was a member in the 1910s and 1920s. There is a famous recreation of Forster's Cambridge at the beginning of The Longest Journey. The Schlegel sisters of Howards End are based to some degree on Vanessa and Virginia Stephen.

Forster was gay. In 1906 he fell in love with Syed Ross Masood, a 17-year-old Indian future Oxford student he tutored in Latin. Masood had a more romantic, poetic view of friendship, confusing Forster with avowals of love.

After leaving university, he travelled in continental Europe with his mother. They moved to Weybridge, Surrey, where he wrote all six of his novels. In 1914, he visited Egypt, Germany and India with the classicist Goldsworthy Lowes Dickinson, by which time he had written all but one of his novels. As a conscientious objector in the First World War, Forster served as a Chief Searcher (for missing servicemen) for the British Red Cross in Alexandria, Egypt. Though conscious of his repressed desires, it was only at this time, while stationed in Egypt, that he "lost his R [respectability]" to a wounded soldier in 1917.

Forster spent a second spell in India in the early 1920s as private secretary to Tukojirao III, Maharajah of Dewas. The Hill of Devi is his non-fictional account of this period. After returning to London from India, he completed the last novel of his to be published in his lifetime, A Passage to India (1924), for which he won the James Tait Black Memorial Prize for fiction. He also edited the letters of Eliza Fay (1756–1816) from India, in an edition first published in 1925. In 2012, Tim Leggatt, who knew Forster for his last 15 years, wrote a memoir using unpublished correspondence with him dating from those years.
Estadísticas
Obras

167

También por

84

Miembros

49,857

Popularidad

#304

Valoración

3.8
Reseñas

774

ISBNs

1,599

Idiomas

28

Favorito

269