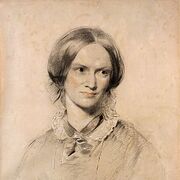 Charlotte Brontë
(1816–1855)
Conocimiento común
Nombre legal

Otros nombres

Fecha de nacimiento

Fecha de fallecimiento

Lugar de sepultura

Género

Nacionalidad

País (para mapa)

Lugar de nacimiento

Lugar de fallecimiento

Causa de fallecimiento

Lugares de residencia

Thornton, Yorkshire, England, UK
Haworth, Yorkshire, England, UK
Lancashire, England, UK
Mirfield, England, UK
Brussels, Belgium

Educación

Ocupaciones

Relaciones

Biografía breve

Charlotte Brontë was born in Thornton, in the West Riding of Yorkshire, England. Her parents were Maria Bramwell and Patrick Brontë, an Anglican clergyman and poet. In 1820, when she was a small child, the family moved to Haworth on the Yorkshire moors, where the Rev. Brontë had been appointed rector. The following year, Mrs. Brontë died. In 1824, Charlotte and Emily, along with their two elder sisters Maria and Elizabeth, were sent to the Clergy Daughters' School at Cowan Bridge, near Kirkby Lonsdale, Lancashire. The discipline there was harsh, and the girls found the food and other conditions miserable. Charlotte later portrayed the terrible school in her novel Jane Eyre as the Lowood Institution. After Maria and Elizabeth died in 1825, Charlotte and Emily returned home. Their father managed the upbringing of his three remaining daughters — Charlotte, Emily, and Anne — and son Bramwell thanks to the help of their maternal aunt Elizabeth Branwell, who left her native Cornwall to come and live with them. For more than five years, the Brontë children studied and played at home, writing and telling romantic tales for one another, and inventing imaginative games. At age 15, Charlotte enrolled at a new school not far from Haworth, Roe Head School. She spent 18 months there before returning home; in 1835, she went back again for a while as a teacher. To support herself and the family, Charlotte decided to become a governess and went with Emily to a boarding school in Brussels, Belgium, to improve their French and learn German. She later became a pupil-teacher there. Her unrequited love for the school's headmaster would eventually find an outlet in her novels Villette (1853) and The Professor (published posthumously in 1857). Before that, however, the ardent heart and rebellious spirit of her most famous creation, Jane Eyre (1847) brought immediate success and fame to the author under her pen name Currer Bell. Charlotte visited London three times at the invitation of her publisher and moved in literary circles, becoming a friend of Elizabeth Gaskell and William Makepeace Thackeray. Her novel Shirley (1849), written during and after the tragic deaths of her three siblings in a single year, showed Charlotte's engagement with both women's rights and workers' rights movements. In 1854, she married Arthur Nicholls, her father's curate and her long-time suitor. She became ill and died suddenly during pregnancy at age 38 in 1855. A comprehensive three-volume edition of her letters to family and friends, edited by Margaret Smith, was published in 1995-2004.

Aviso de desambiguación

Do not combine Charlotte with either or both of her sisters. Also, do not combine this page with that of "Bronte". Thank you.
Estadísticas
Obras

390

También por

49

Miembros

82,489

Popularidad

#147

Valoración

4.0
Reseñas

1,300

ISBNs

2,610

Idiomas

36

Favorito

595