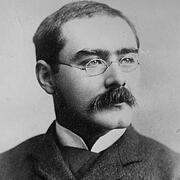 Rudyard Kipling
(1865–1936)
Conocimiento común
Nombre legal

Fecha de nacimiento

Fecha de fallecimiento

Lugar de sepultura

Género

Nacionalidad

País (para mapa)

Lugar de nacimiento

Lugar de fallecimiento

Causa de fallecimiento

Lugares de residencia

Mumbai, India
Lahore, Pakistan
Simla, India
Allahabad, India
London, England, UK
Brattleboro, Vermont, USA (

mostrar todos

8)
Torquay, Devon, England, UK
Bateman's, Burwash, Sussex, England, UK

Educación

Ocupaciones

Relaciones

Thirkell, Angela (first cousin)
Mackail, Denis (first cousin)
Kipling, Lockwood (father)
Baldwin, Stanley (first cousin)
Burne-Jones, Georgiana (aunt)

Organizaciones

Premios y honores

Agente

Biografía breve

Joseph Rudyard Kipling (30 December 1865 – 18 January 1936) was an English short-story writer, poet, and novelist. He wrote tales and poems of British soldiers in India and stories for children. He was born in Bombay, in the Bombay Presidency of British India, and was taken by his family to England when he was five years old.
Estadísticas
Obras

2,128

También por

307

Miembros

75,988

Popularidad

#165

Valoración

3.8
Reseñas

967

ISBNs

6,349

Idiomas

37

Favorito

159