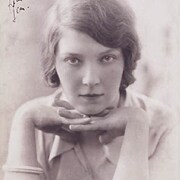 Conocimiento común
Nombre canónico

Nombre legal

Otros nombres

Fecha de nacimiento

Fecha de fallecimiento

Lugar de sepultura

Género

Nacionalidad

País (para mapa)

Lugar de nacimiento

Lugar de fallecimiento

Lugares de residencia

Educación

Ocupaciones

Relaciones

Williams, William Rees (father)
Williams, Minna (mother)
Lenglet, Willem Johan Marie Jean aka Edouard de Nève (first husband)
Tilden-Smith, Leslie (second husband)
Hamer, Max (third husband)

Organizaciones

Premios y honores

Biografía breve

Ella Gwendoline Rees Williams wrote under the pseudonym Jean Rhys. She was born to a British-Creole family in the British colony of Dominica in the West Indies, and left the island in 1907. She began publishing her writing in the late 1920s. Her most famous work was Wide Sargasso Sea (1966), which won the W.H. Smith Award and the Heinemann Award. In it, Rhys returned to her frequent themes of conflicting cultures, dominance and dependence. Jean Rhys died in Exeter, Devon, before finishing the autobiography she was working on. The incomplete text appeared posthumously under the title Smile Please (1979).
Estadísticas
Obras

40

También por

24

Miembros

13,999

Popularidad

#1,643

Valoración

3.6
Reseñas

343

ISBNs

275

Idiomas

17

Favorito

62

Referencias

833