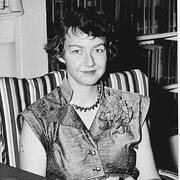 Flannery O'Connor
(1925–1964)
Conocimiento común
Nombre legal

Fecha de nacimiento

Fecha de fallecimiento

Lugar de sepultura

Género

Nacionalidad

Lugar de nacimiento

Lugar de fallecimiento

Causa de fallecimiento

Lugares de residencia

Educación

Ocupaciones

Relaciones

Organizaciones

Premios y honores

Georgia Women of Achievement (1992)
American Academy of Arts and Letters Academy Award (Literature ∙ 1957)
Georgia Writers Hall of Fame
National Book Award for Fiction (1972)

Aviso de desambiguación

There are two different versions of the book Three (or 3). They both contain Wise Blood and The Violent Will Bear It Away, and some contain A Good Man Is Hard to Find while others contain Everything That Rises Must Converge. Please be conscious of this difference when adding or combining works. If you own an edition of Three, please make sure it is combined with the correct work, and please do not combine the two separate works entitled Three (or 3).
Estadísticas
Obras

180

También por

79

Miembros

25,517

Popularidad

#820

Valoración

4.1
Reseñas

441

ISBNs

298

Idiomas

19

Favorito

332

Acerca de

2

Referencias

891