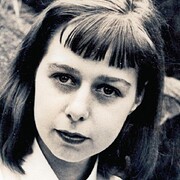 Carson McCullers
(1917–1967)
Conocimiento común
Nombre legal

Fecha de nacimiento

Fecha de fallecimiento

Lugar de sepultura

Género

Nacionalidad

Lugar de nacimiento

Lugar de fallecimiento

Causa de fallecimiento

Lugares de residencia

Educación

Ocupaciones

Relaciones

Organizaciones

Premios y honores

Georgia Women of Achievement (1994)
American Academy of Arts and Letters Academy Award (Literature ∙ 1943)
Georgia Writers Hall of Fame

Biografía breve

Carson McCullers reinvented herself after leaving home at age 17 to study at the Juilliard School of Music in Manhattan. Something happened to make her lose the money and she never attended the school. Instead, she worked and took night classes at university. Her published writing began to appear in 1936. She suffered throughout her life from serious illness, including rheumatic fever and several strokes. By the age of 31, her left side was completely paralyzed. Her work, usually set in the South of her birth, often focused on people seen as misfits and outcasts.
Estadísticas
Obras

82

También por

54

Miembros

19,836

Popularidad

#1,092

Valoración

3.9
Reseñas

446

ISBNs

453

Idiomas

22

Favorito

124