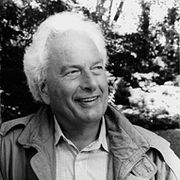 Conocimiento común
Nombre legal

Fecha de nacimiento

Fecha de fallecimiento

Género

Nacionalidad

Lugar de nacimiento

Lugar de fallecimiento

Causa de fallecimiento

Lugares de residencia

Educación

University of Southern California
New York University (BA ∙ 1948)
Columbia University (MA ∙ 1949 ∙ English)
Oxford University (St. Catherine's College)
Abraham Lincoln High School

Ocupaciones

Relaciones

Organizaciones

American Academy of Arts and Letters (Literature ∙ 1977)
Pennsylvania State University
US Army Air Force (WWII)

Premios y honores

Agente

Biografía breve

Joseph Heller (May 1, 1923 – December 12, 1999) was an American author of novels, short stories, plays, and screenplays. His best-known work is the novel Catch-22, a satire on war and bureaucracy, whose title has become a synonym for an absurd or contradictory choice.

Joseph Heller was born in Brooklyn in 1923. In 1961, he published Catch-22, which became a bestseller and, in 1970, a film. He went on to write such novels as Good as Gold, God Knows, Picture This, Closing Time (the sequel to Catch-22), and Portrait of an Artist, as an Old Man. Heller died in December 1999.
Estadísticas
Obras

17

También por

9

Miembros

48,426

Popularidad

#325

Valoración

4.0
Reseñas

611

ISBNs

500

Idiomas

24

Favorito

120