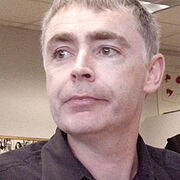 Conocimiento común
Fecha de nacimiento

Género

Nacionalidad

Lugar de nacimiento

Lugares de residencia

Educación

Ocupaciones

Relaciones

Biografía breve

Eoin Colfer (born 14 May 1965) is an Irish author of children's books. He worked as a primary school teacher before he became a full-time writer. He is best known for being the author of the Artemis Fowl series. In September 2008, Colfer was commissioned to write the sixth instalment of the Hitchhiker's Guide to the Galaxy series, entitled And Another Thing ..., which was published in October 2009. In October 2016, in a contract with Marvel Comics, he released Iron Man: The Gauntlet. He served as Laureate na nÓg (Ireland's Children's Laureate) between 2014 and 2016.

Eoin Colfer was born in Wexford, Ireland. He attained worldwide recognition in 2001, when the first Artemis Fowl book was published and became a New York Times Best Seller, as did some sequels. Among his other popular works are Half Moon Investigations, The Wish List, The Supernaturalist, and a series of Eoin Colfer's Legends. In January 2008, Colfer published a book titled Airman, another best-seller. To date, more than half of his books have reached the New York Times list at least once.
Estadísticas
Obras

93

También por

13

Miembros

94,339

Popularidad

#98

Valoración

3.8
Reseñas

1,689

ISBNs

1,714

Idiomas

40

Favorito

214