Vathek by William Beckford – LIMITED EDITIONS CLUB 1945
Únase a LibraryThing para publicar.
Vathek - An Arabian Tale by William Beckford – LIMITED EDITIONS CLUB 1945

A PICTORIAL REVIEW
No. 50 of 1500
Decorated, illuminated and signed by Valenti Angelo.
Translated and introduced by Herbert Grimsditch.
Title page and endpaper designs, ten borders, and nine illustrations in color and gold by Angelo.
Tan pebbled leather boards with gilt motif on covers, gilt lettering on spine.
All page edges gilt.
Black paper covered cardboard slipcase with chemise (mine has disintegrated).
135 pages
16.6x11.1cm.
US$40
The story of Caliph Vathek, who renounces his Islamic faith, ultimately leading him to debauchery, sin and finally punishment in hell.
The charming bookplate of Walter Wanger (American film producer 1894-1968) and his wife Joan on front endflap.
One of the smallest books produced by the LEC.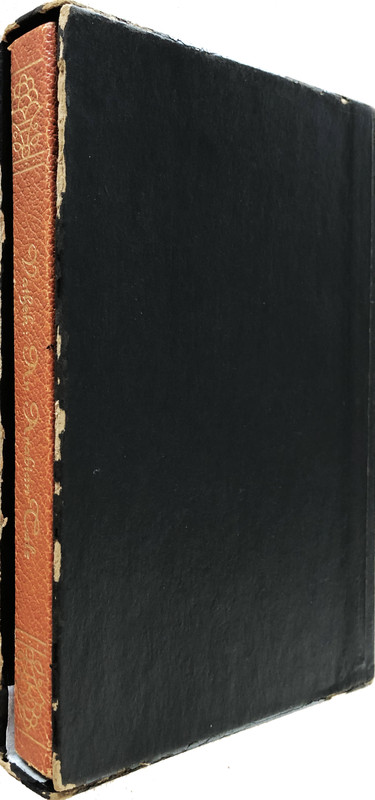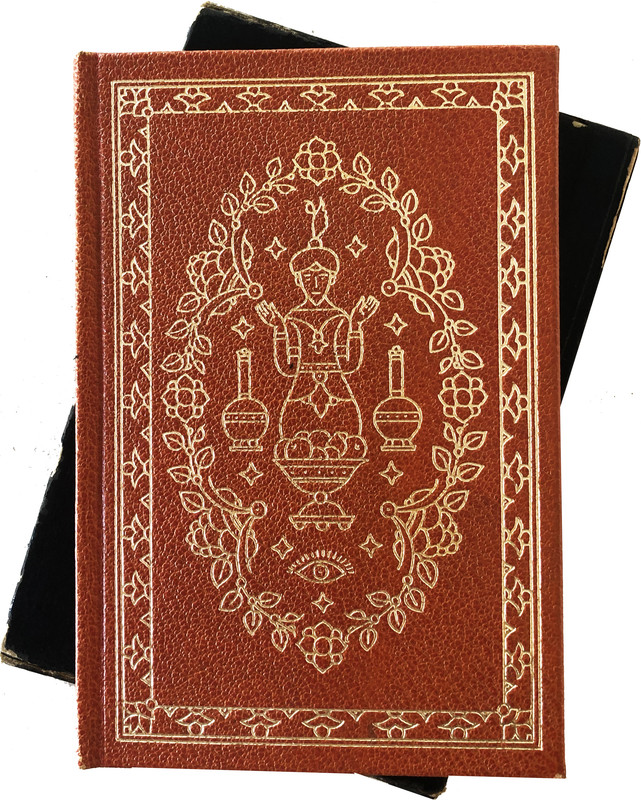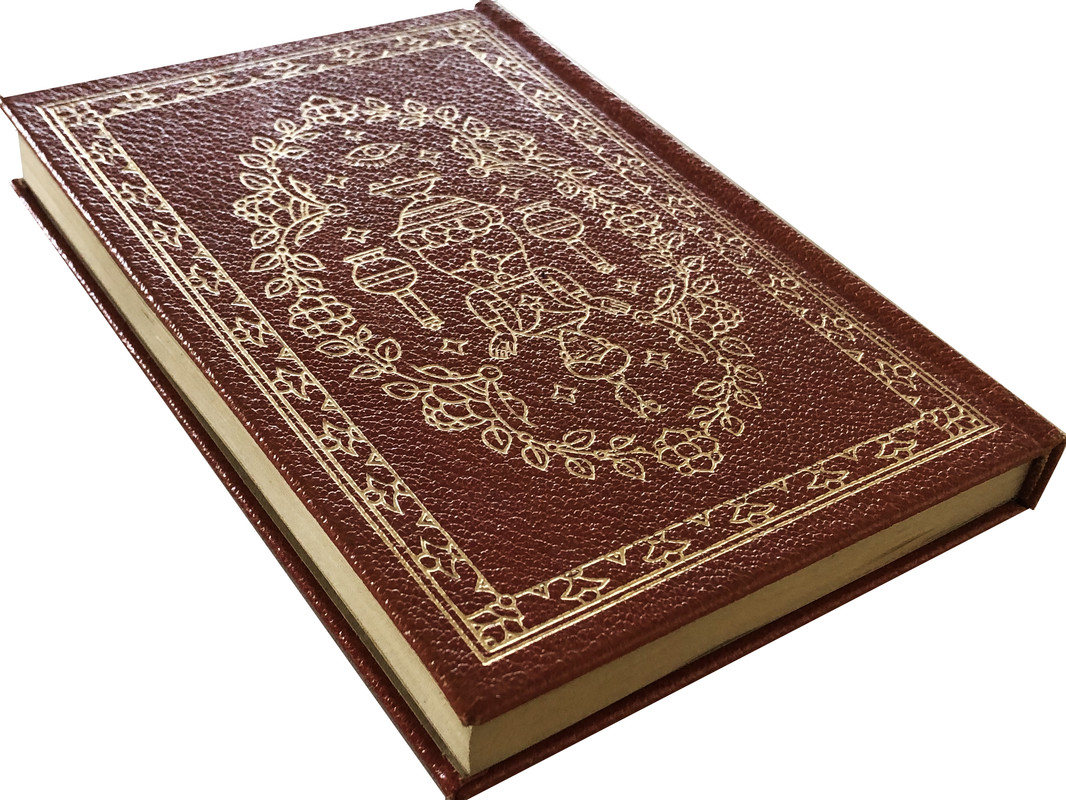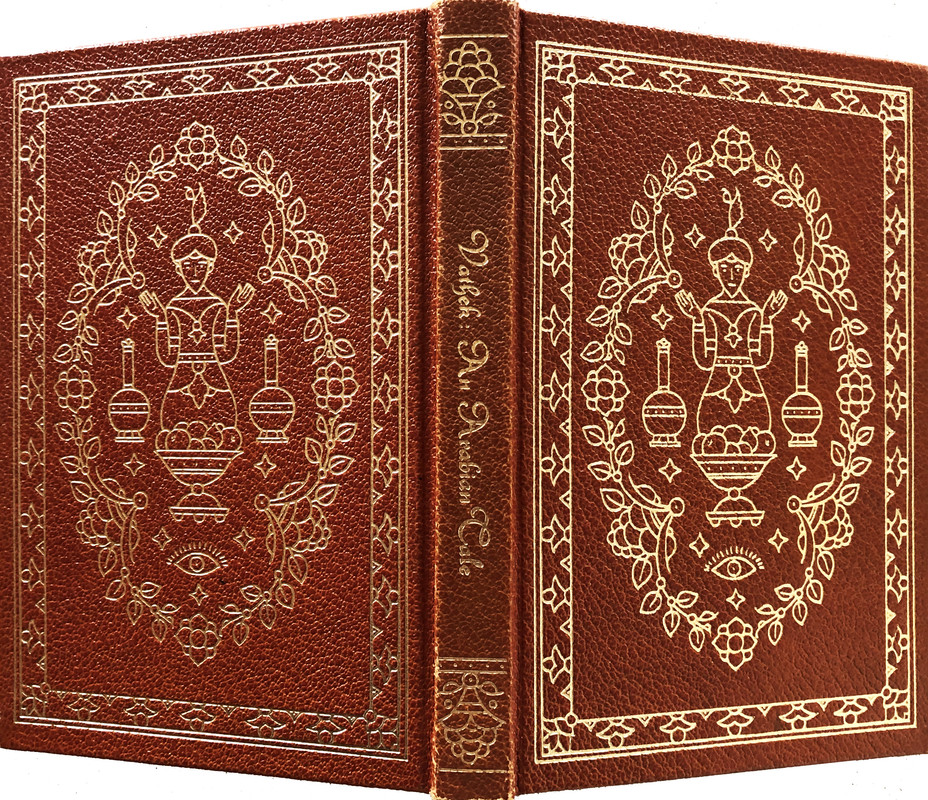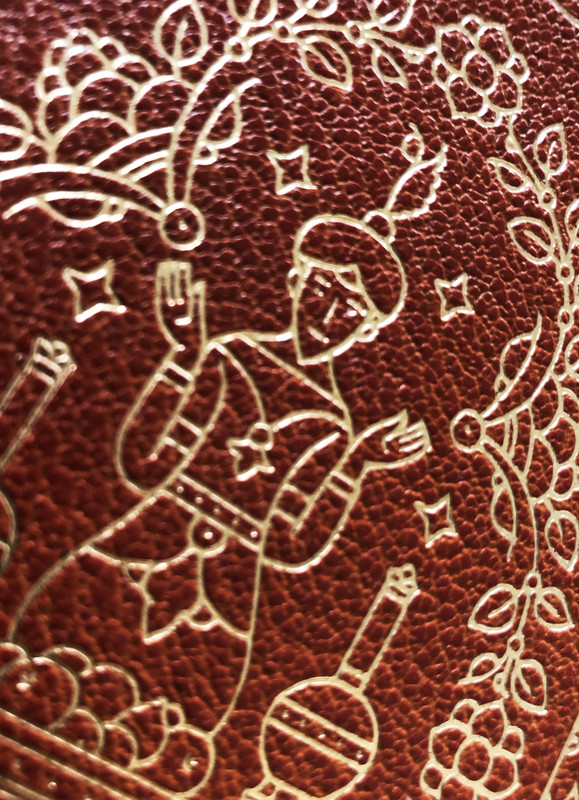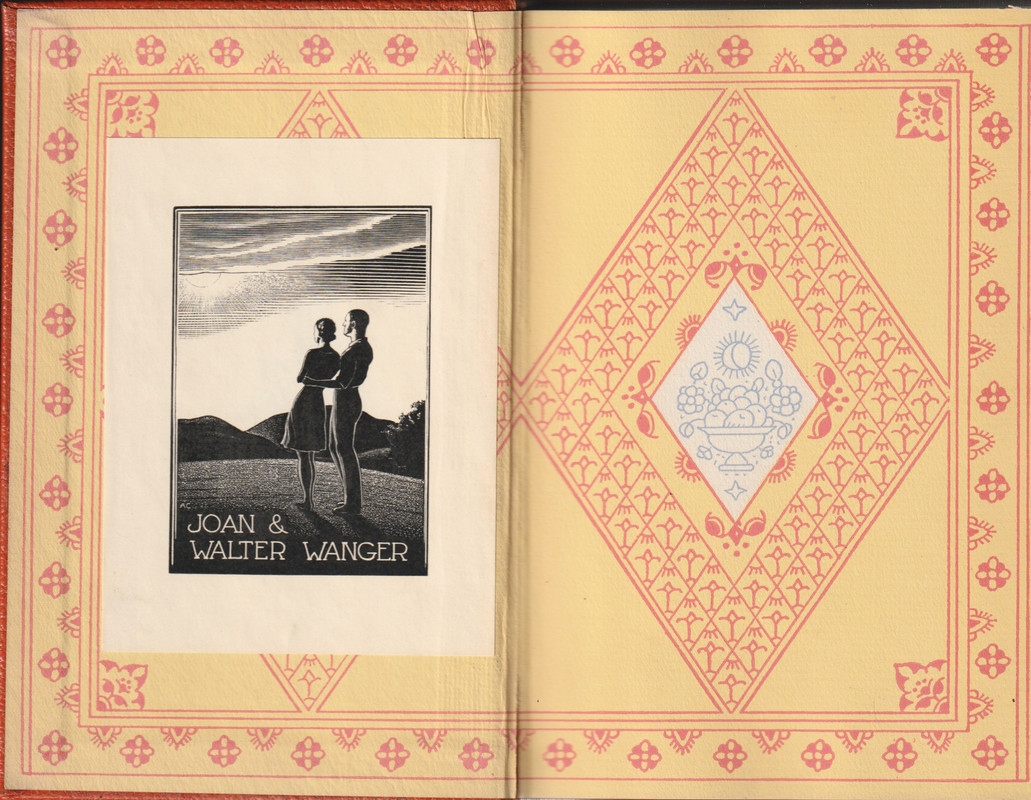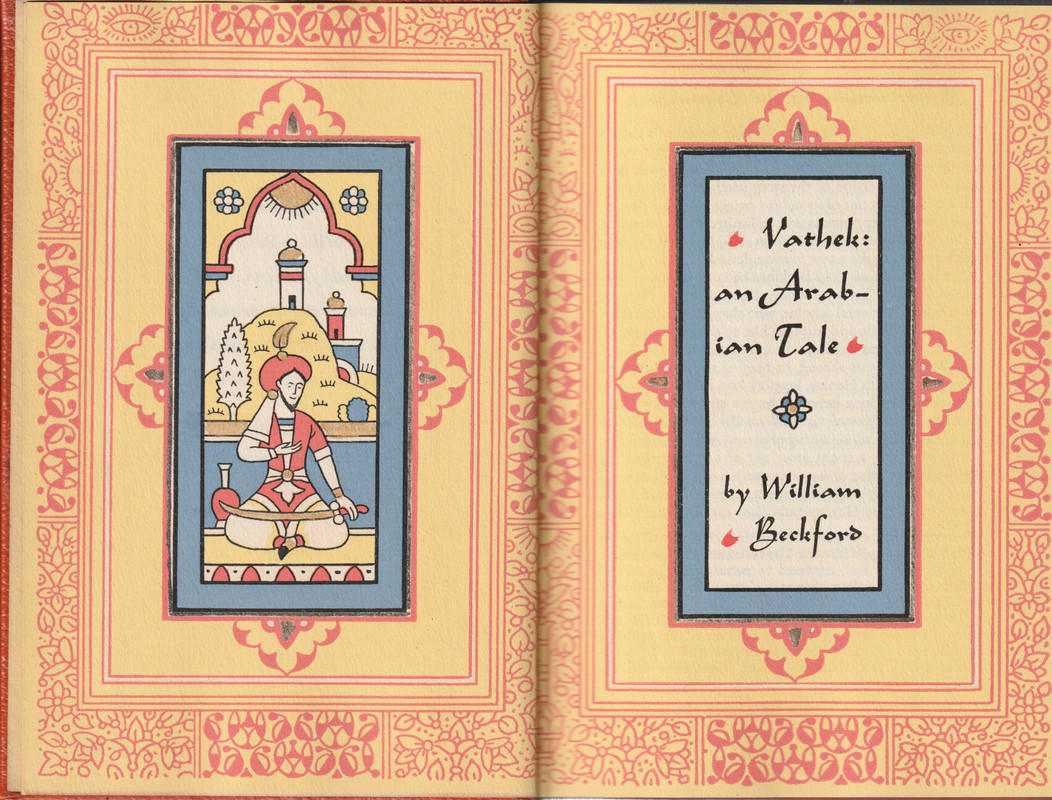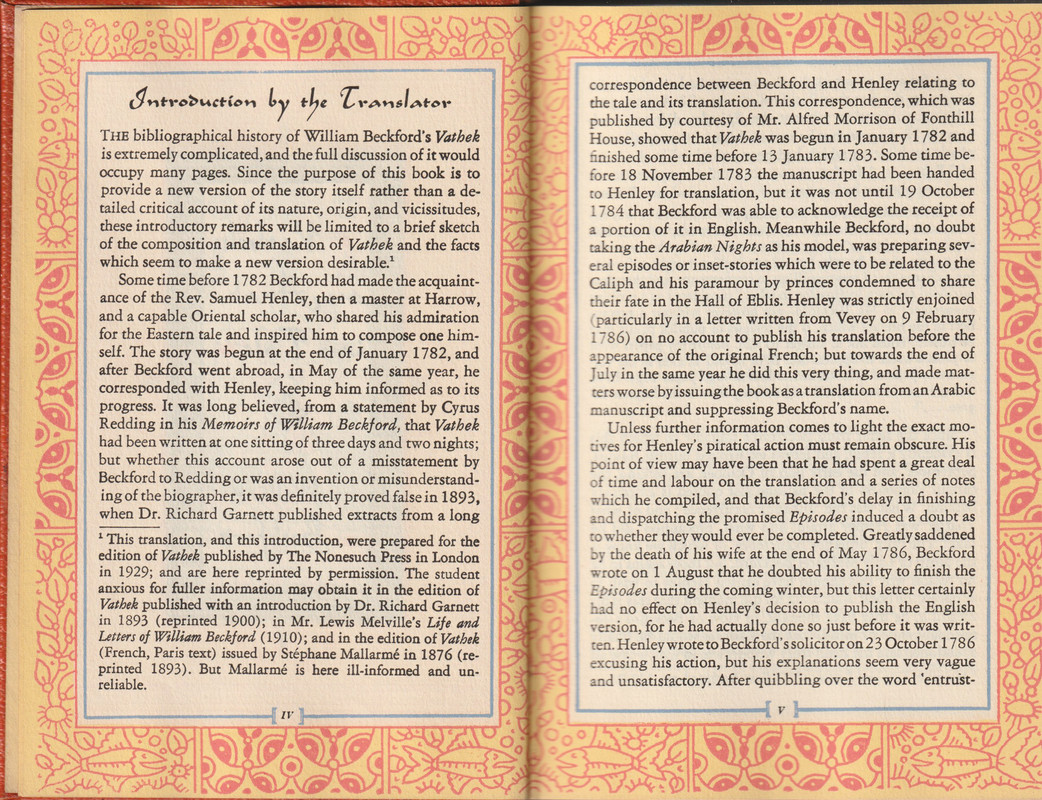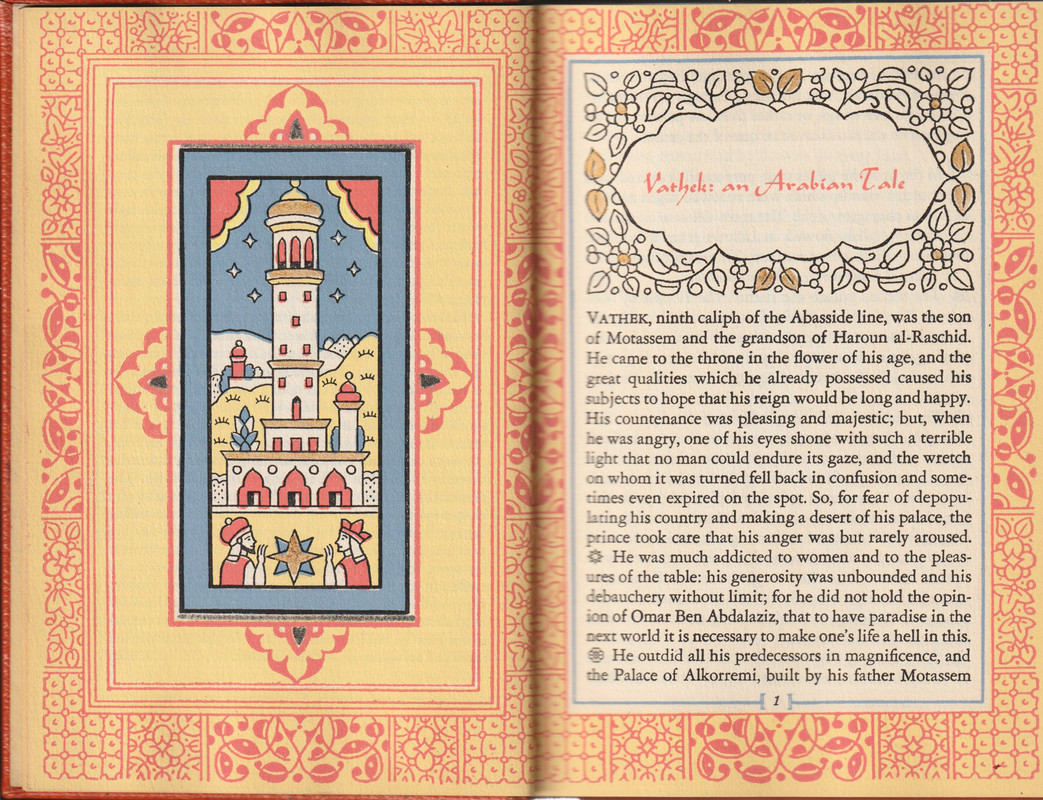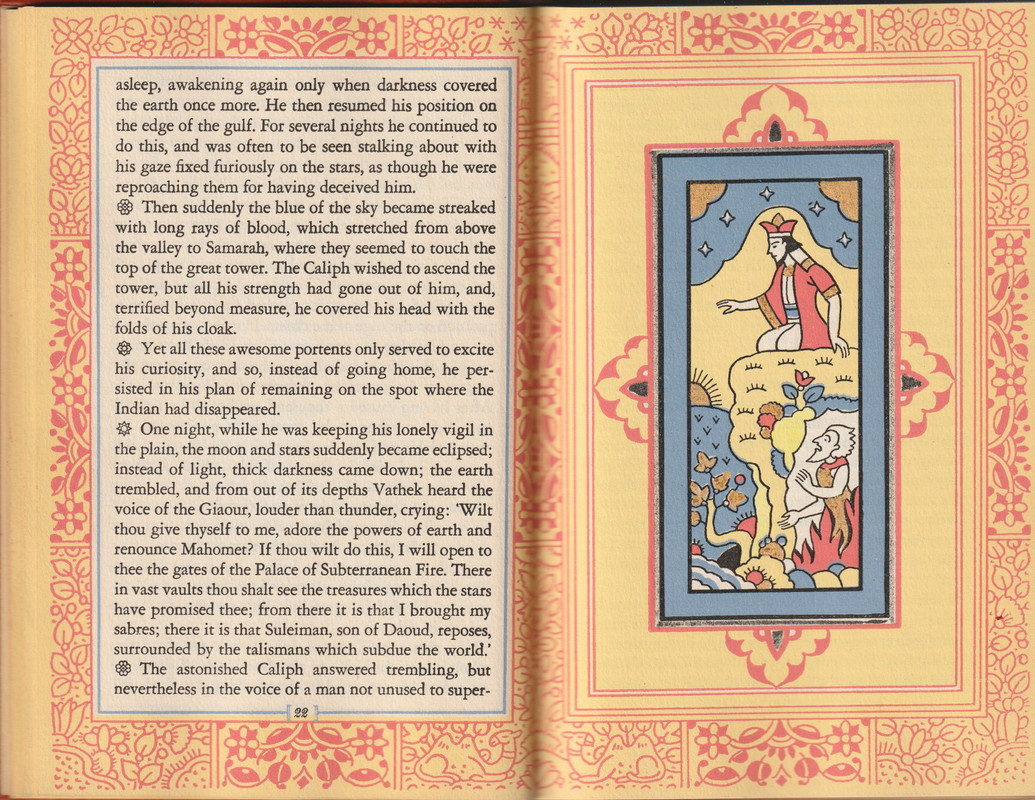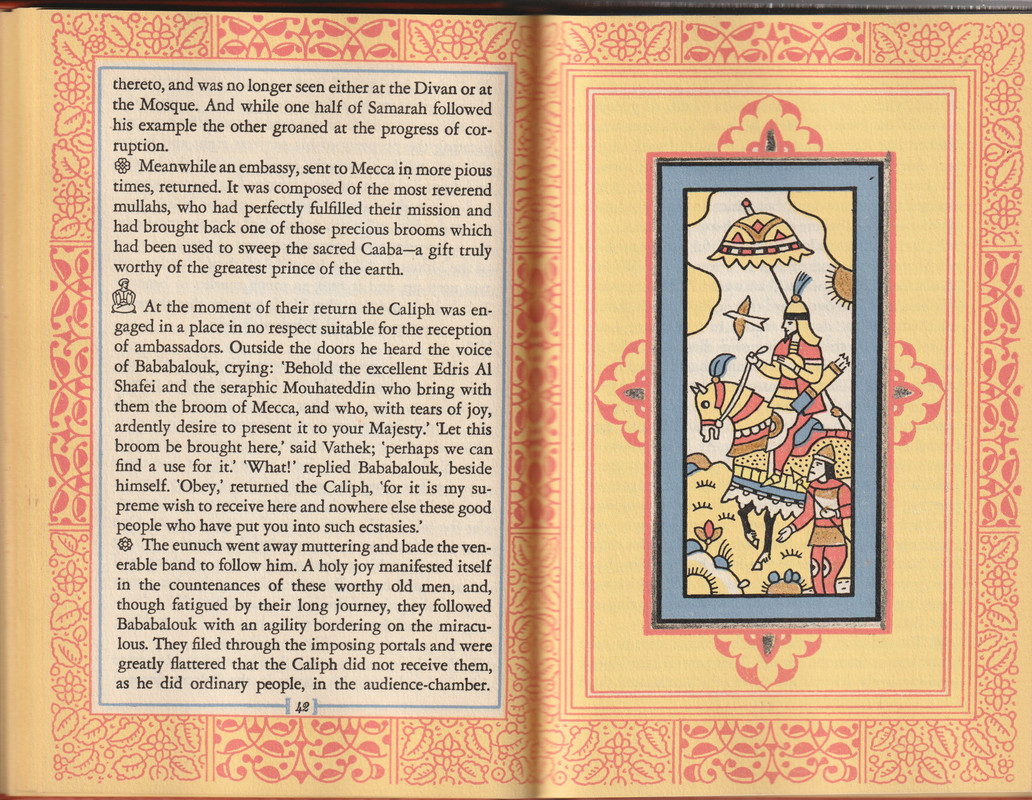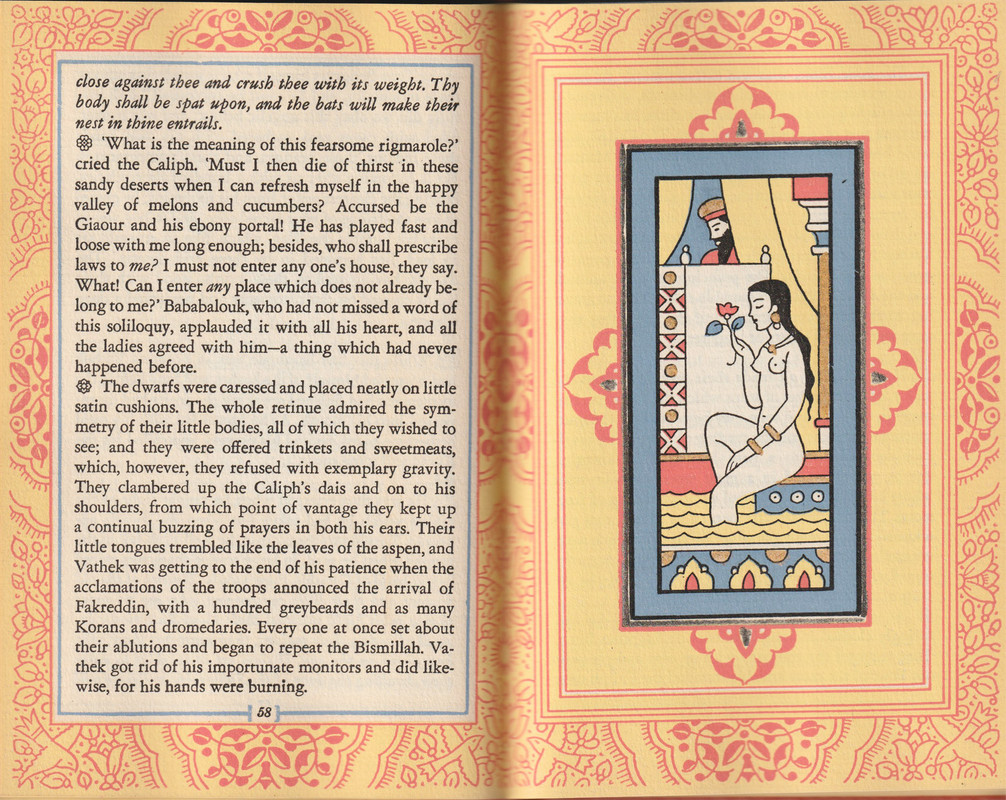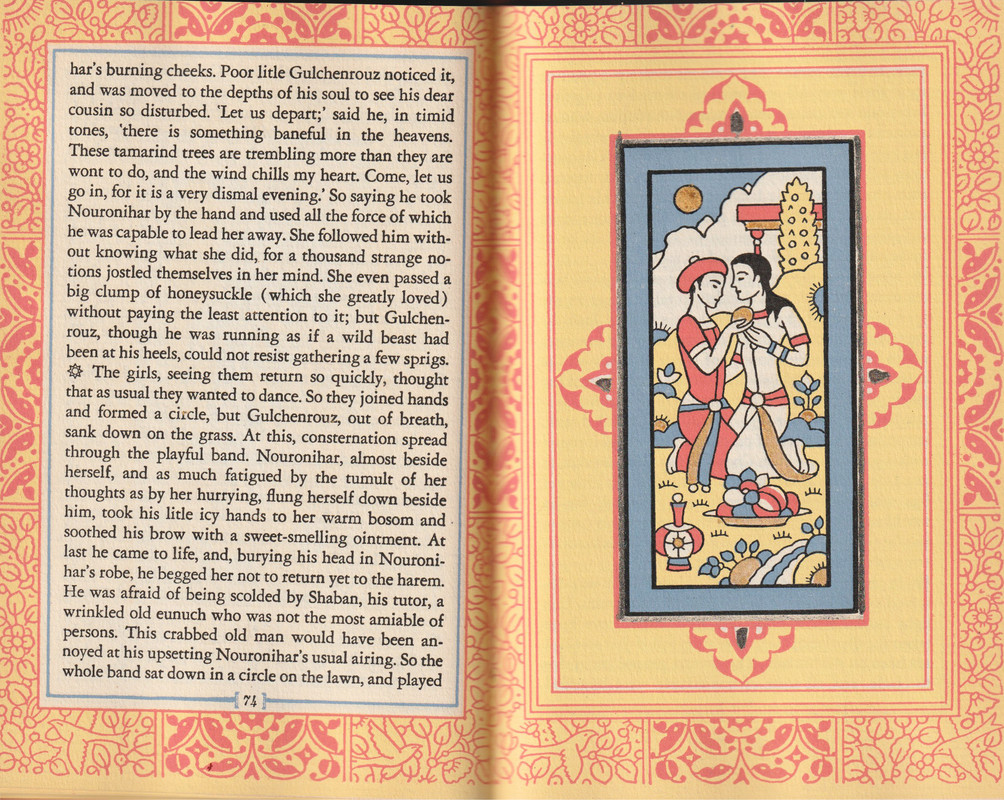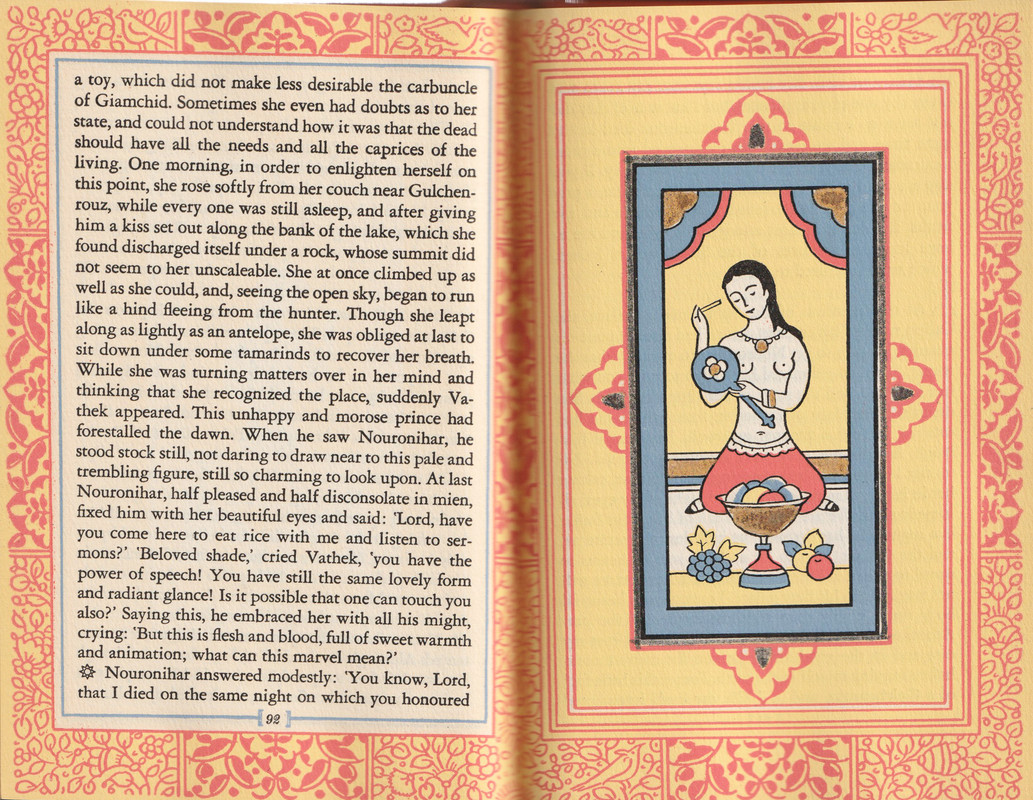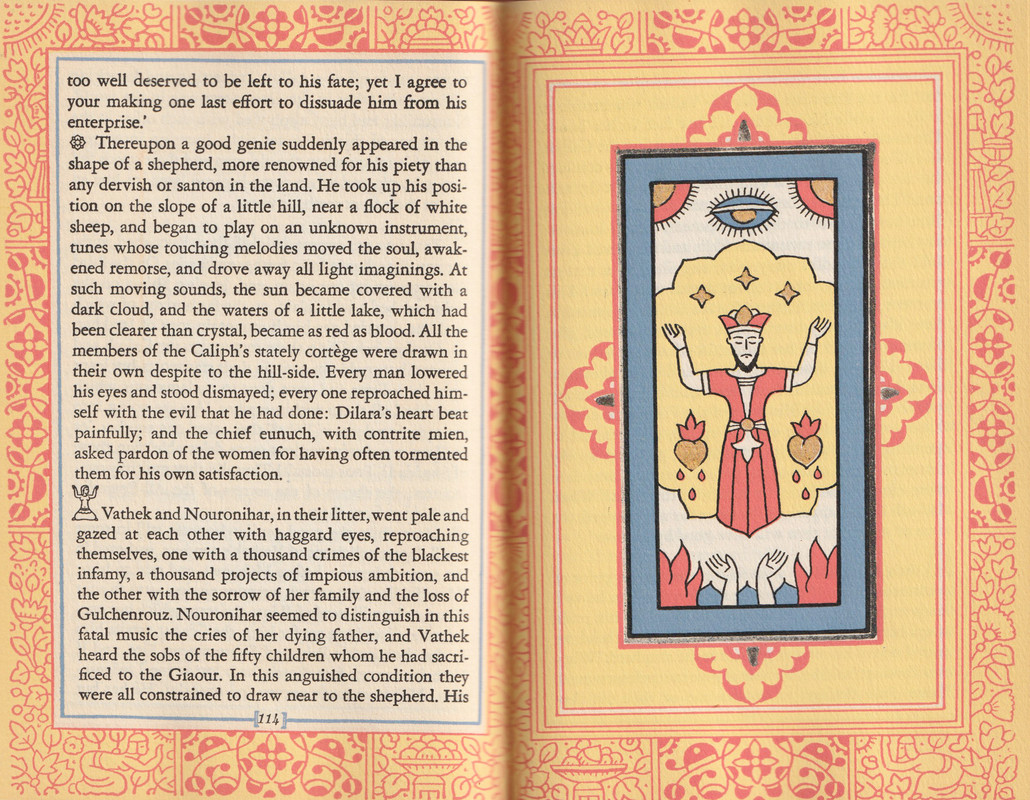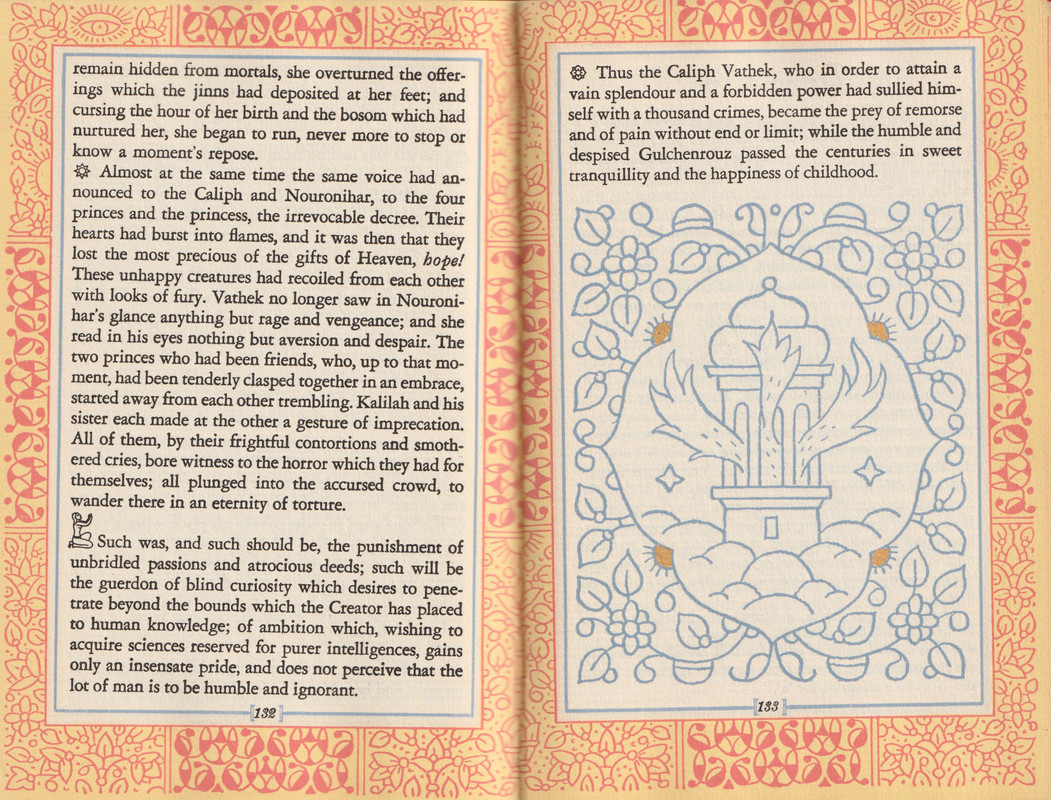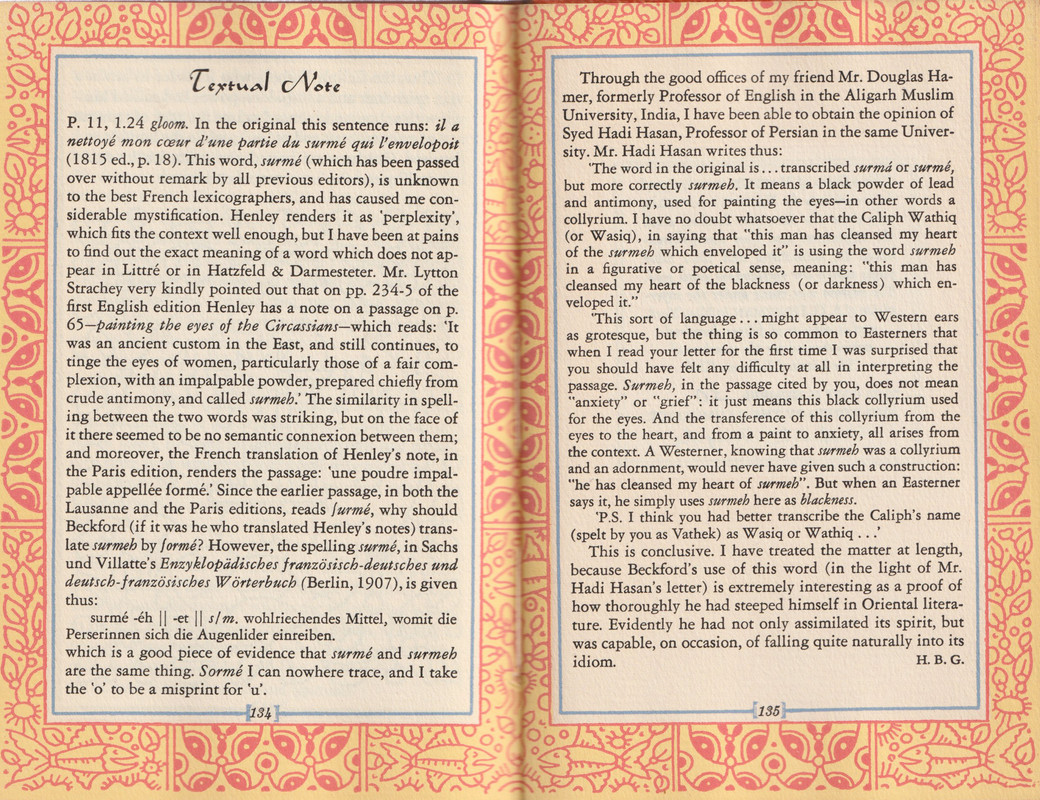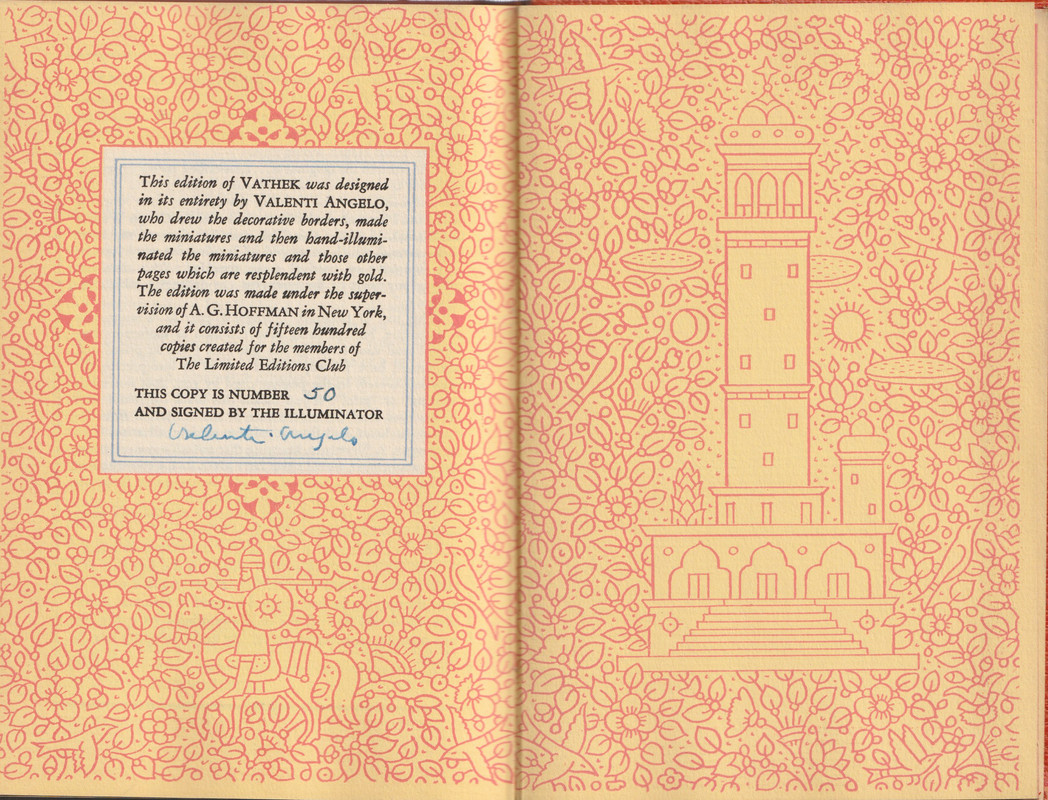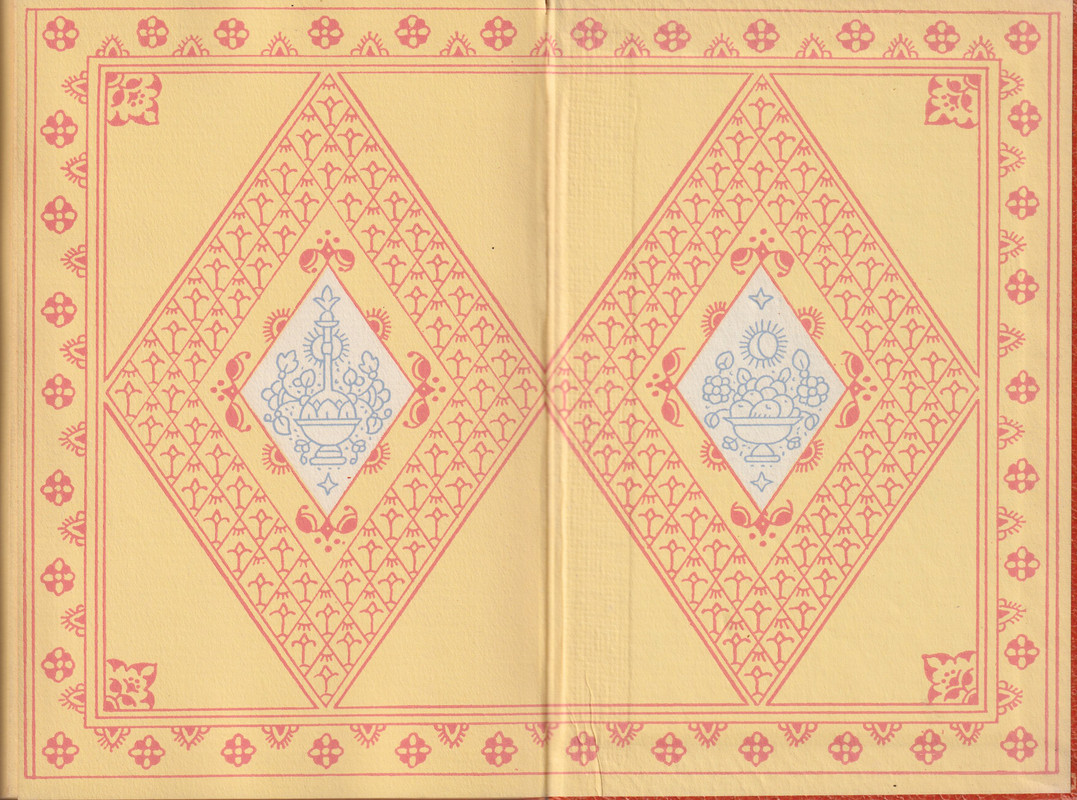 An index of the other illustrated reviews in the this series can be viewed
here.
An absolutely beautiful book, isn't it? I did my post a couple months ago and I am still amazed by it.
My first Limited Editions Club, and still one of the finest the Club ever produced.

Jerry, your book has a great deal of added value thanks to that bookplate, which you were SO wise to not remove! It is indeed charming, but there is a story behind it that's not so idyllic:

As you pointed out, Walter Wanger was a noted Hollywood producer from the silent era up until the 1960s "Cleopatra," with Elizabeth Taylor, which brought his career, and many others, to an end. His wife in the bookplate was the stunning Joan Bennett, whom film buffs remember as the femme fatale who drives Edward G. Robinson to frenzy in "The Woman in the Window" and "Scarlet Street," and who cuckolds, and then "accidentally" kills Robert Preston in "The Macomber Affair," the 1940s adaptation of "The Short Happy Life of Francis Macomber."

Although details are confused, it was felt by Wanger that his wife was taking her on-screen persona too much to heart, and suspected she was having an affair with her talent agent Jennings Lang. This much is clear: Wanger hired a private eye who provided much apparently corroborative detail, including informing him of an hour-long session in his wife's car in the parking lot of Lang's agency. Confronting the alleged lovers with a pistol, Wanger shot Lang in the groin (rumors abound that the shot was intended to be--for men anyway--what the Bard would have called "the most unkindest cut of all").

Wanger was arrested, tried, and given a 4 month sentence at a minimum-security facility outside of Hollywood. He remained married to Bennett for several years after this, but ultimately divorced and remarried.
>3 Django6924:
Wow! That is some story - wonder who the bibliophile was, Walter or Joan?
>4 wcarter:
Almost certainly Walter. One of the most intellectual of all Hollywood producers, graduate of Dartmouth and fighter pilot in WW I, he was an attaché to Woodrow Wilson at the Paris Peace Conference.
Can't top the story relating to the book's provenance, but I can add that it is, indeed, a lovely book and a pleasure to read.
Únase para publicar.