Hiroshima by John Hersey - LIMITED EDITIONS CLUB 1983
Únase a LibraryThing para publicar.
Hiroshima by John Hersey - LIMITED EDITIONS CLUB 1983

A PICTORIAL REVIEW
No.1378 of 1500
Signed by Hersey, Warren, and Lawrence.
Bound in full coal-black aniline cowhide, title blind-stamped on cover.
A poem by Robert Penn Warren serves as the preface.
Illustrated with 8 original silkscreens executed in eleven colours by the African-American artist Jacob Lawrence.
Loose tissue guards for every illustration.
Monthly Letter, Invitation to a reception in honour of the collaboration, and the Note on the Care of the Book laid in.
Black stained page edges.
Black endpapers.
Black slipcase with spine title in dark red.
33.5x25.6cm.
Unpaginated, but by my count, 128 pages.
US$1,000
An extraordinary book to read, being first-hand accounts of the atomic bombing of Hiroshima.
The book externally is totally black on every edge and side of both book and slipcase (making it very difficult to photograph except with acute side lighting). Internally though, it has some of the brightest and most colourful artwork in any LEC book.
A starkly beautiful book, richly bound and with three important signatures, justly one of the most desirable books issued by this prestigious press.

. . . .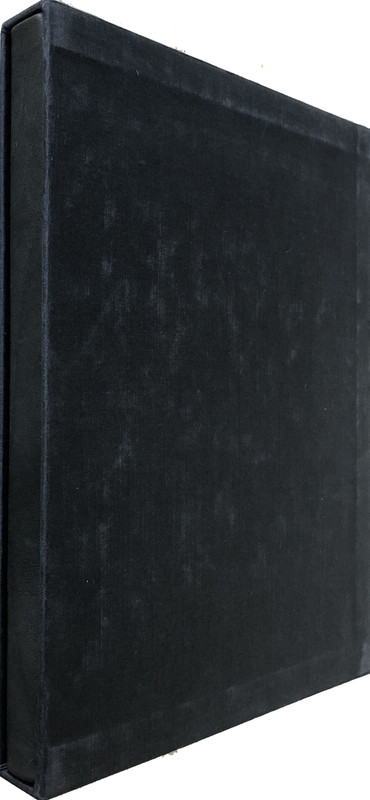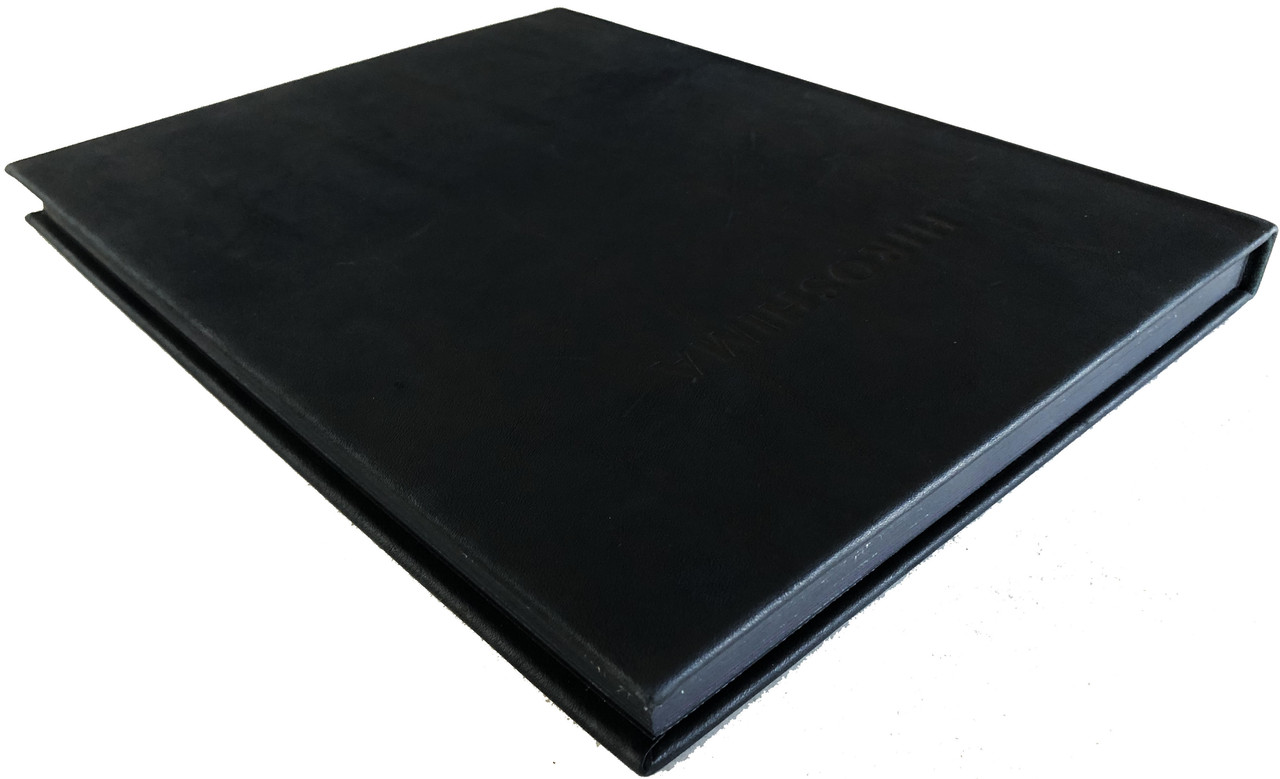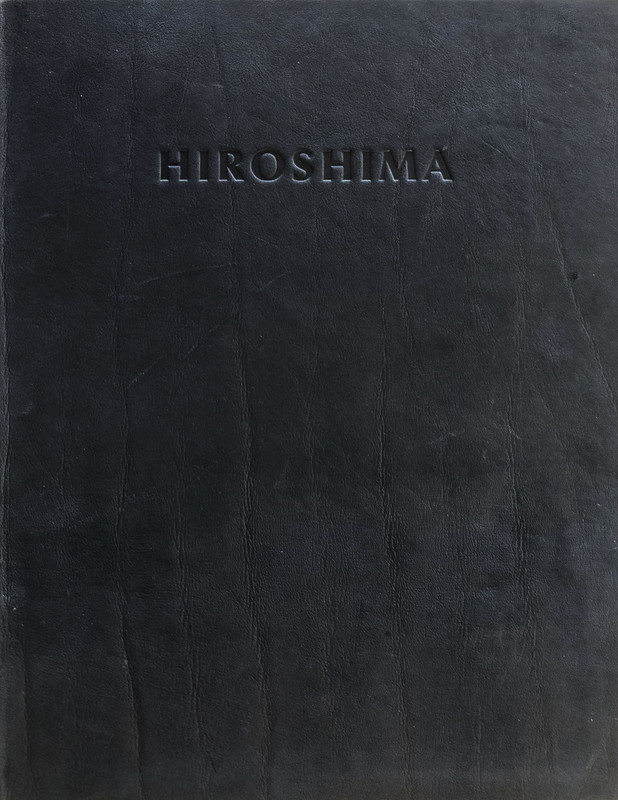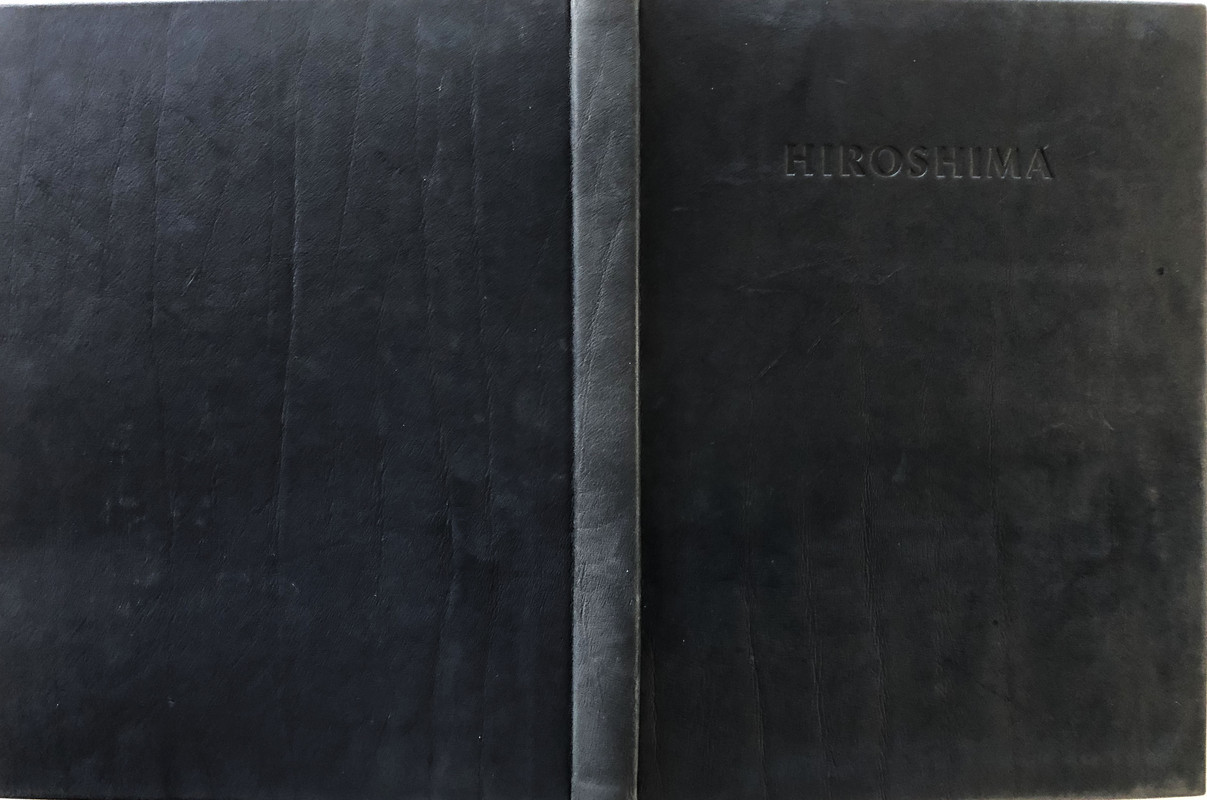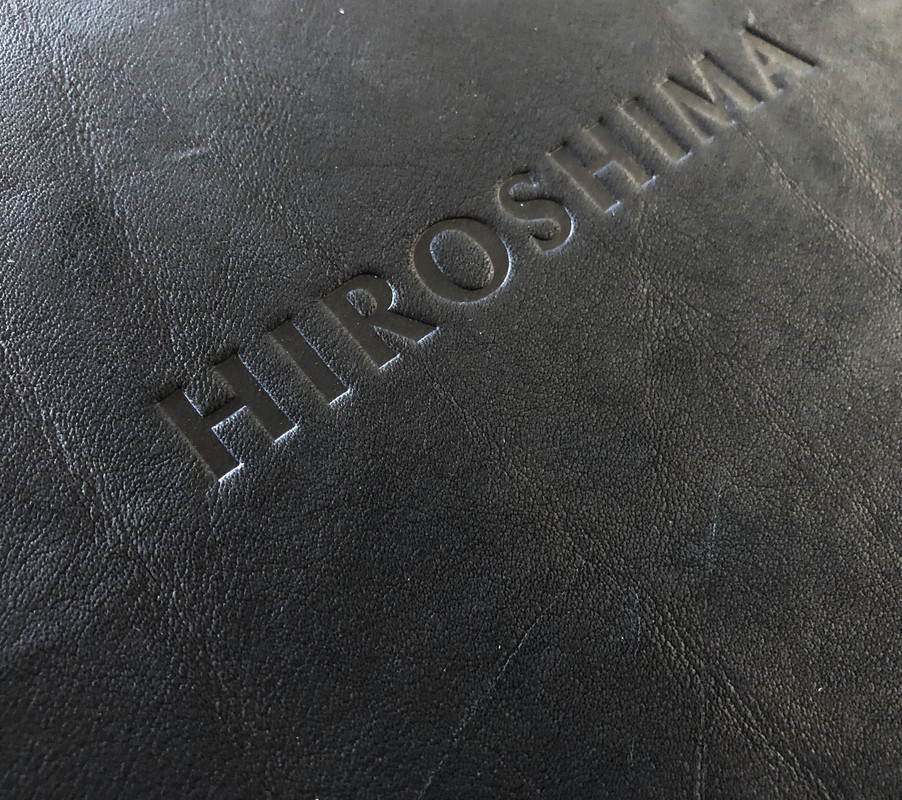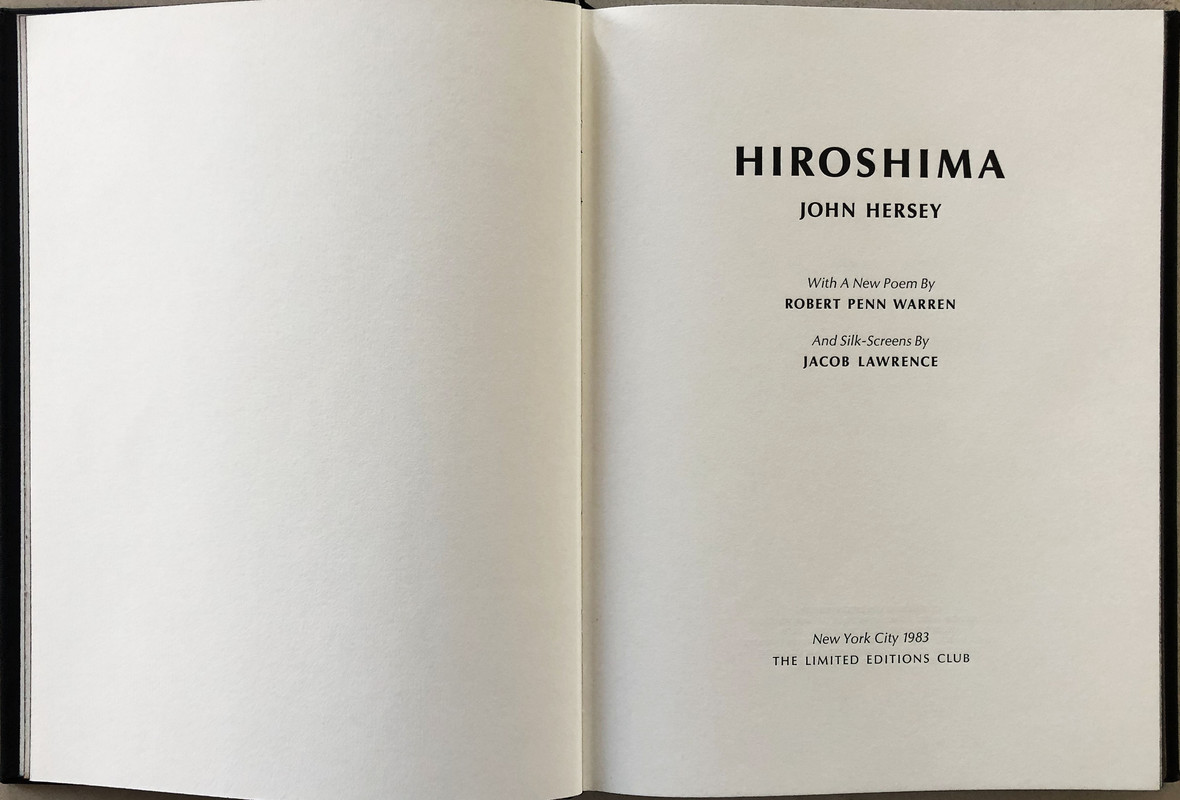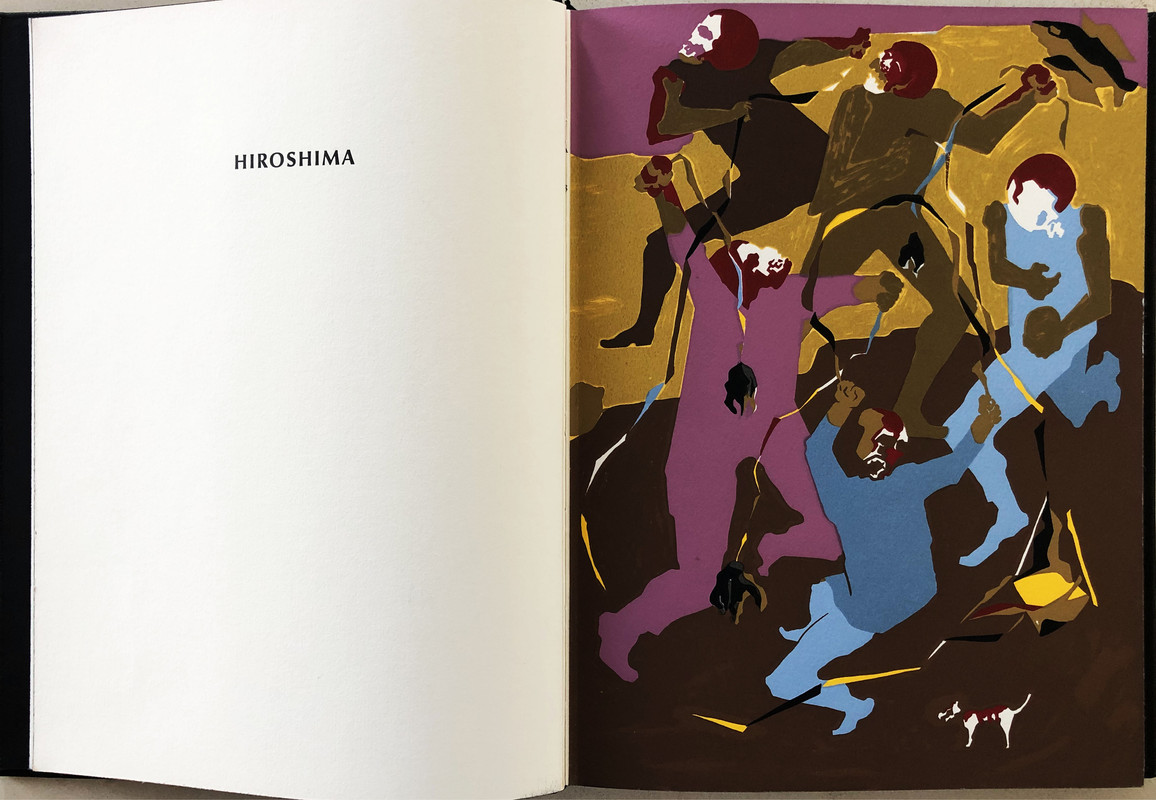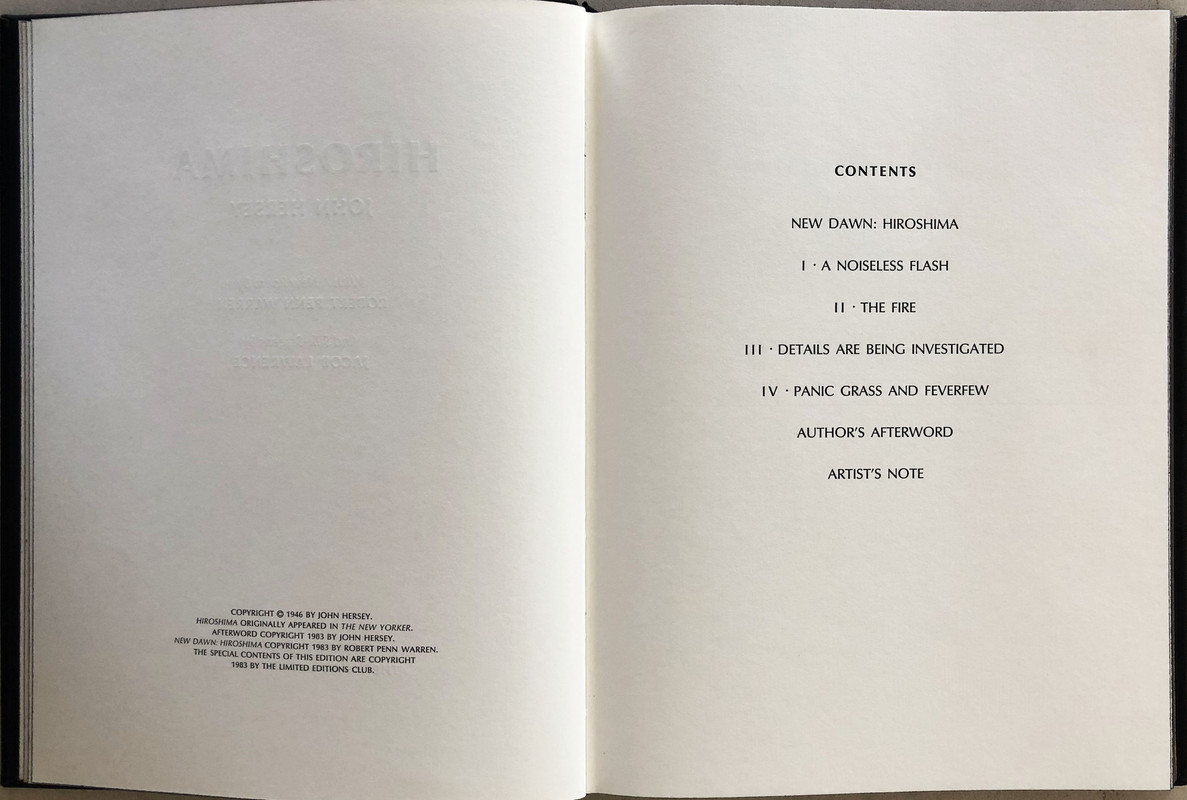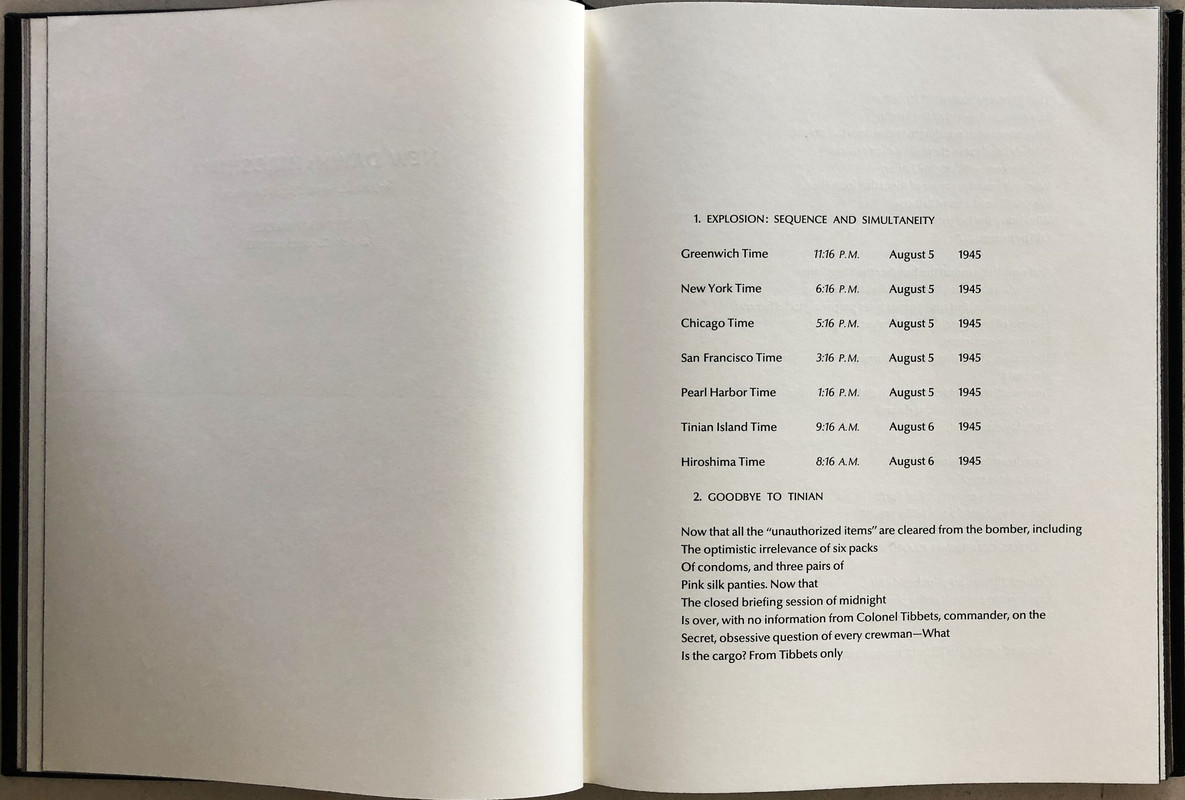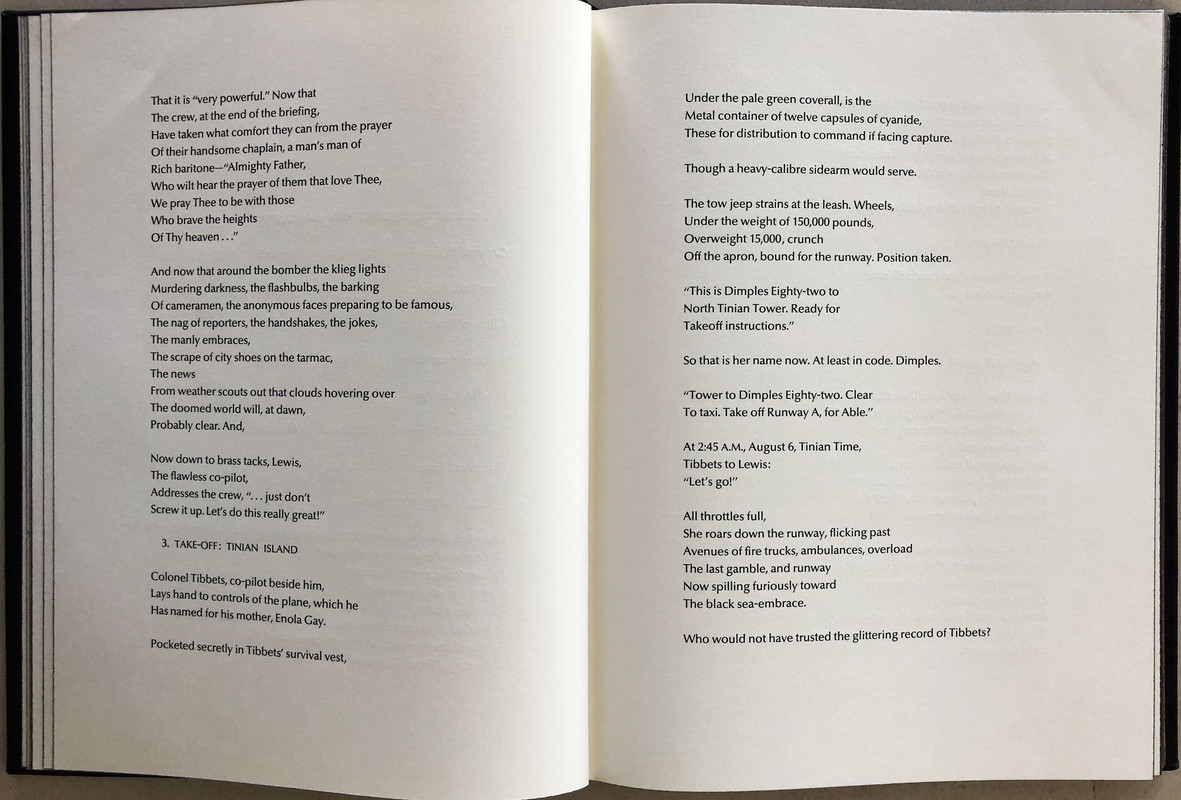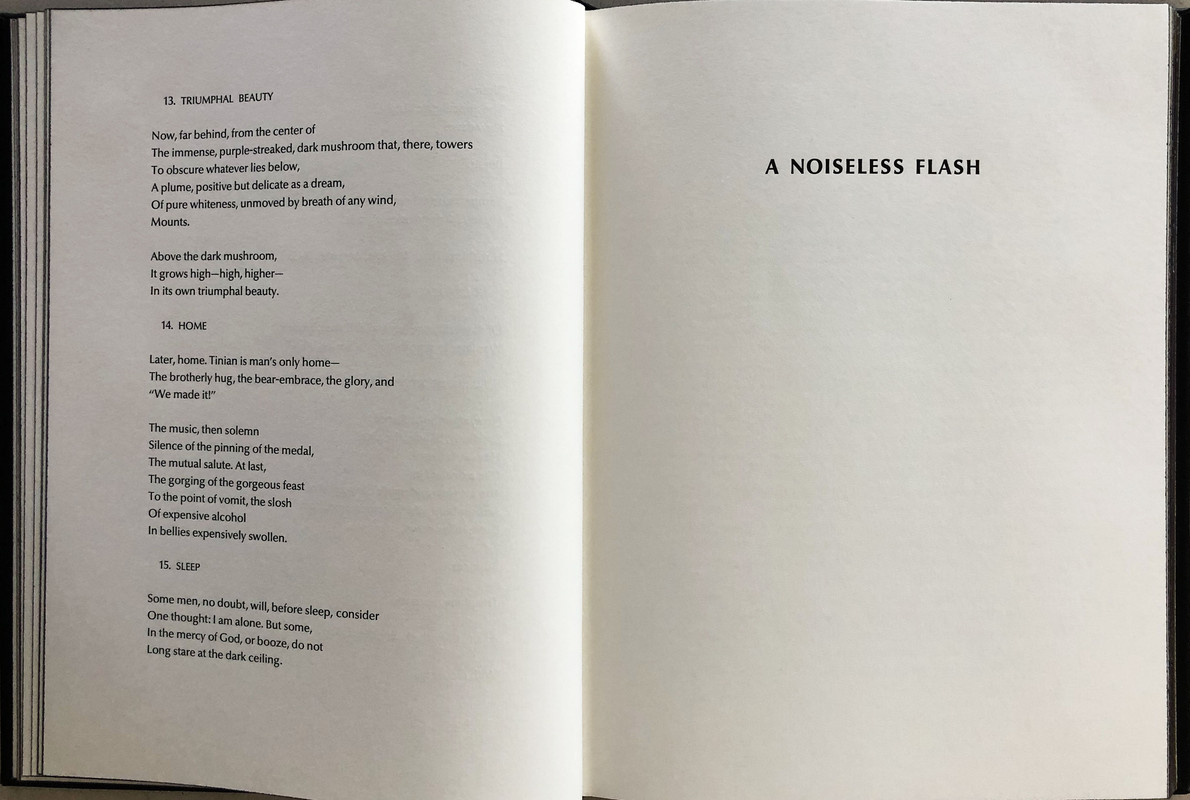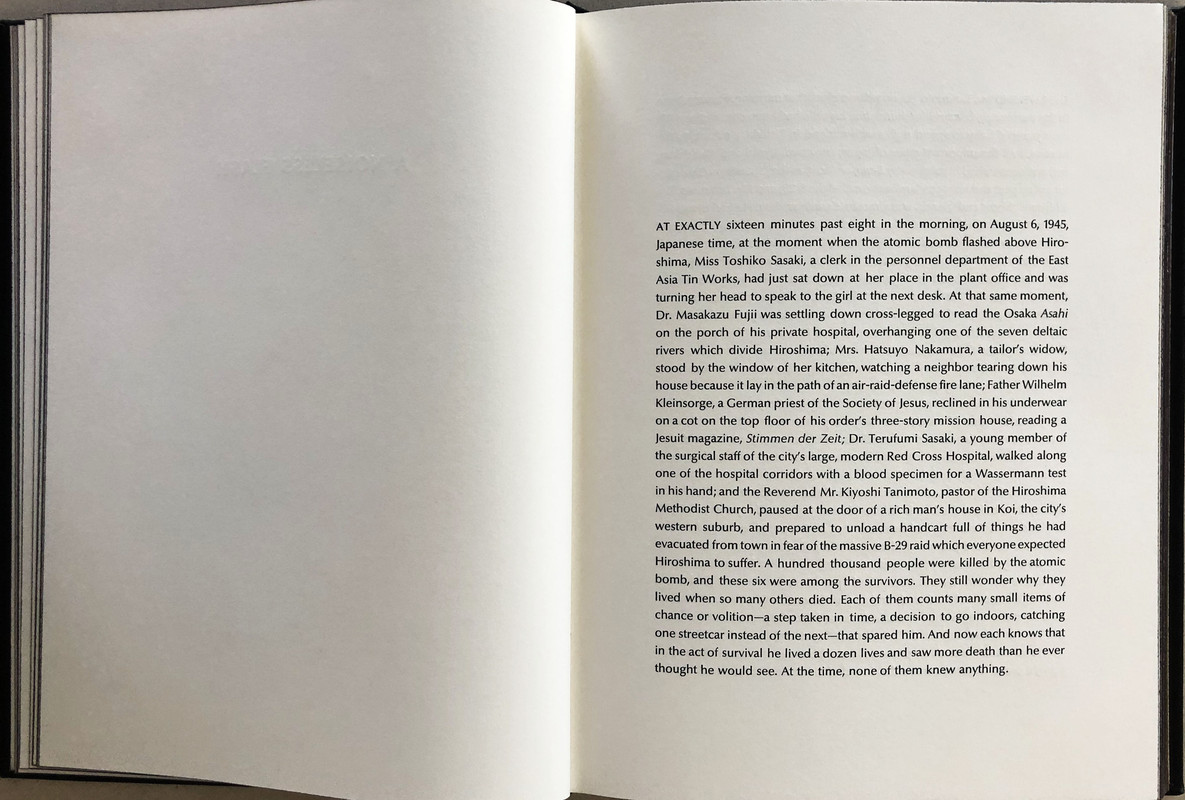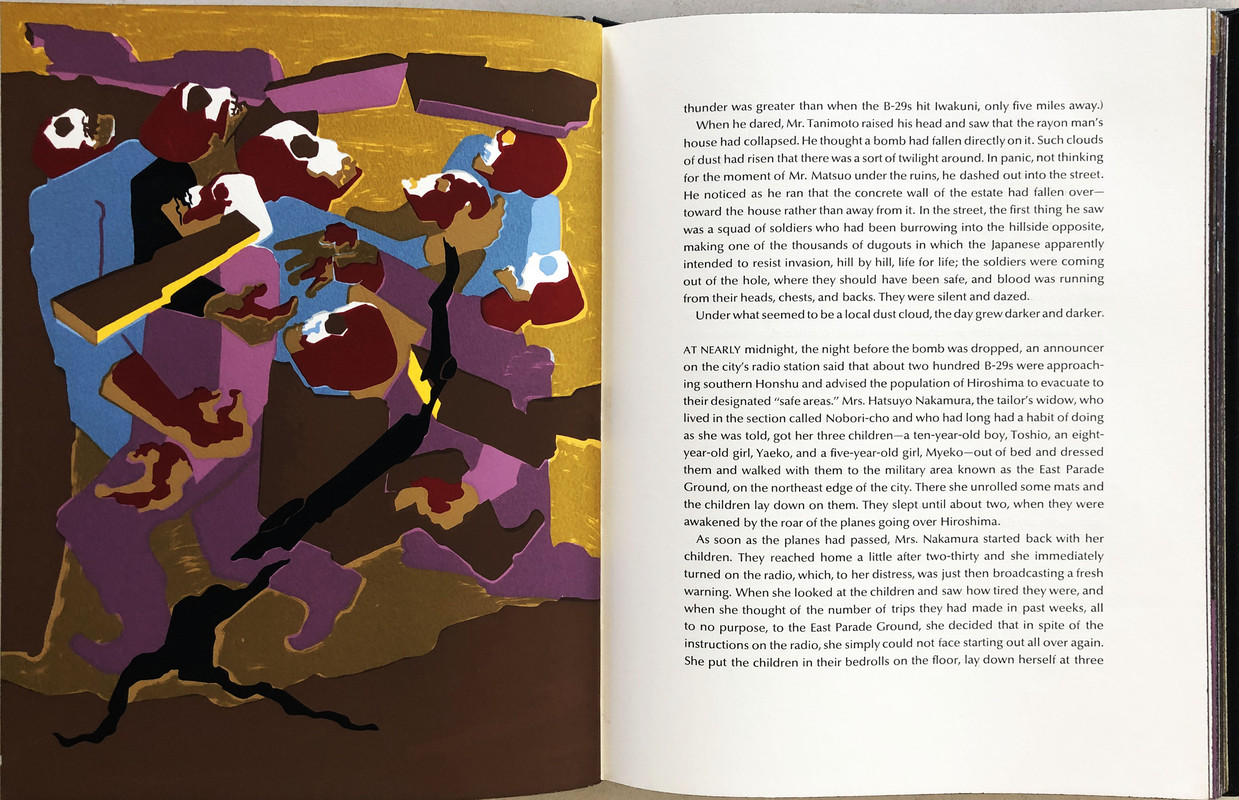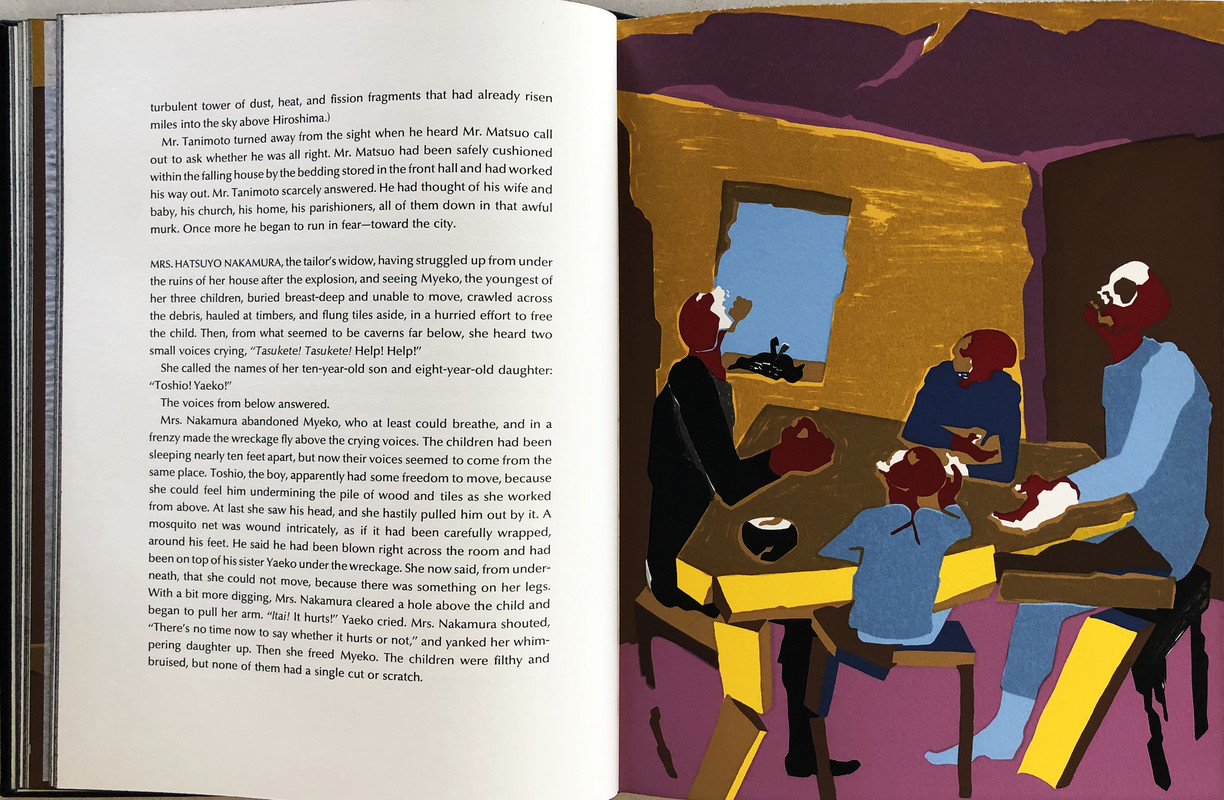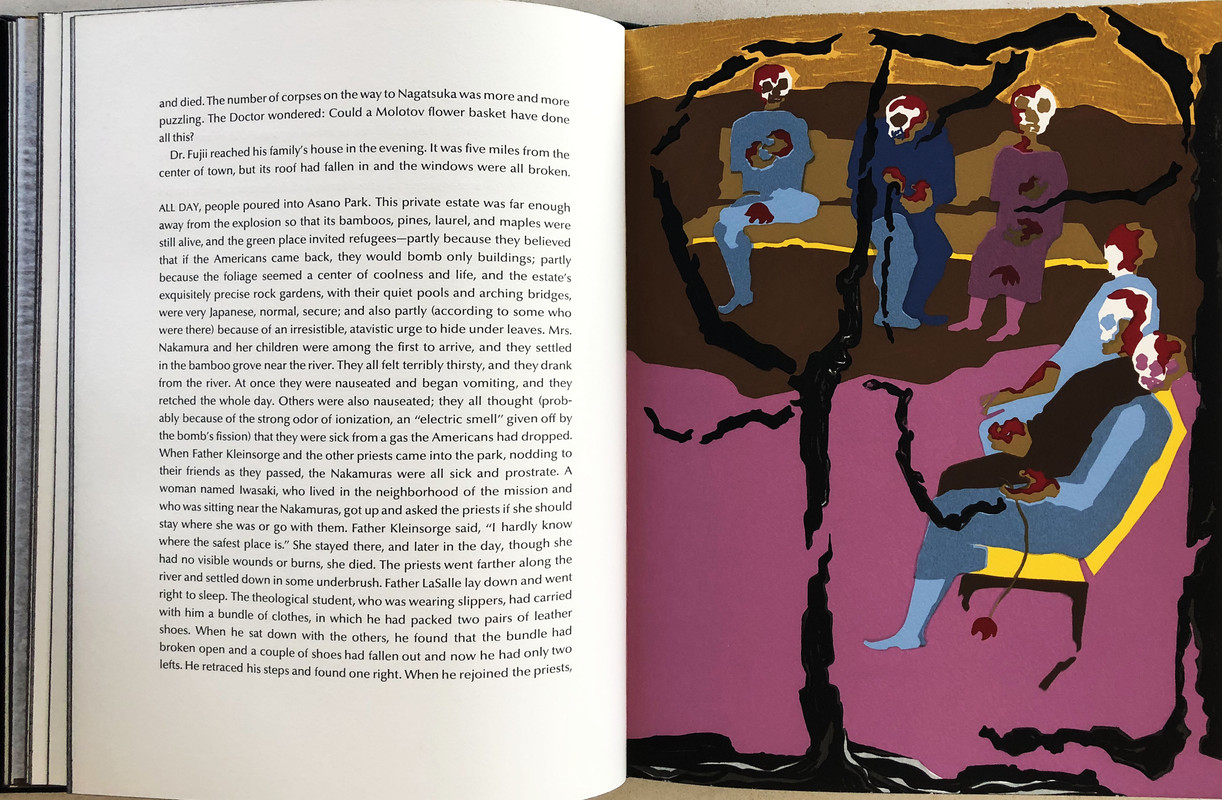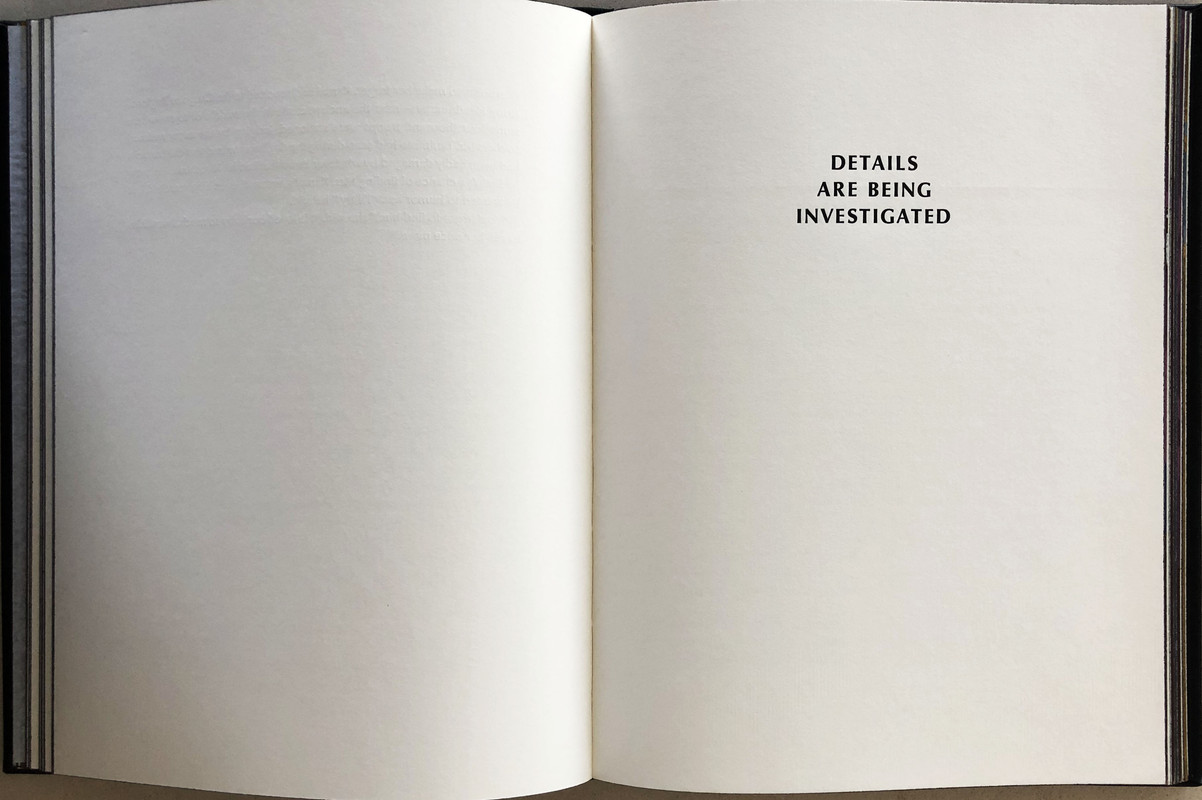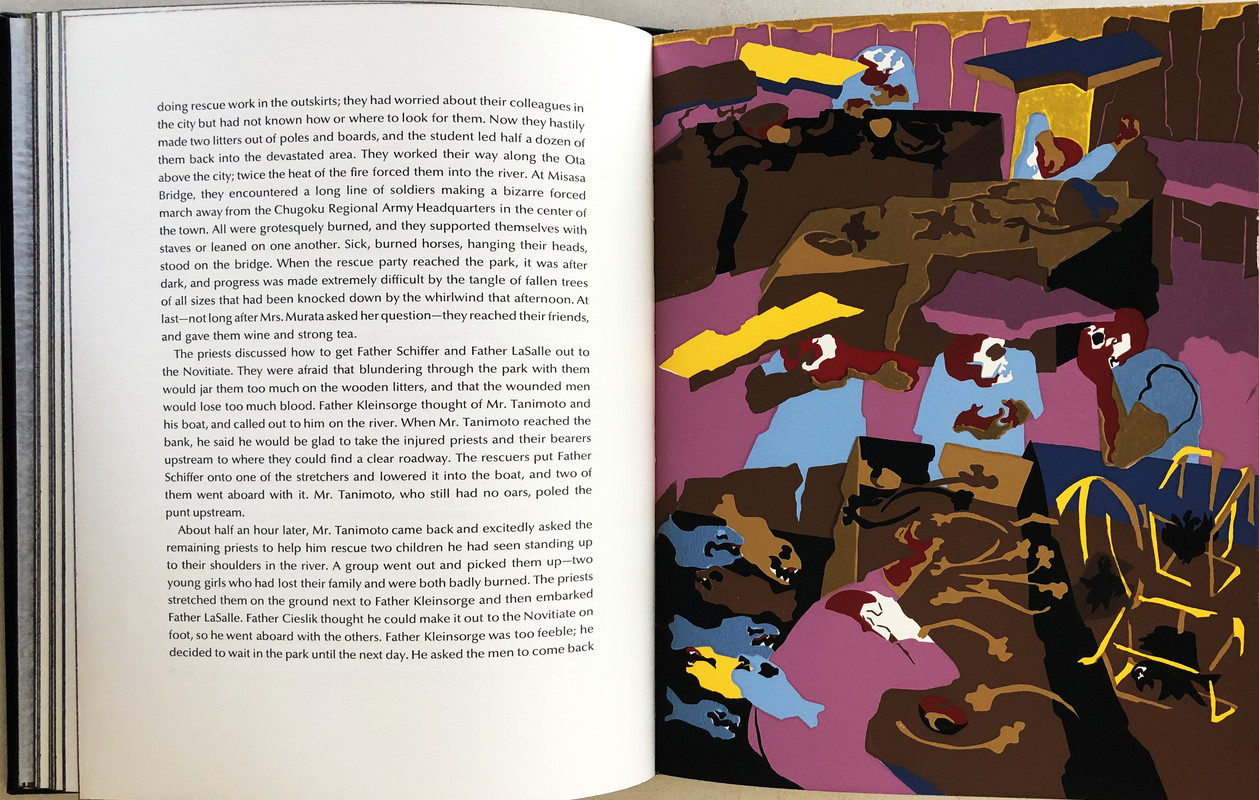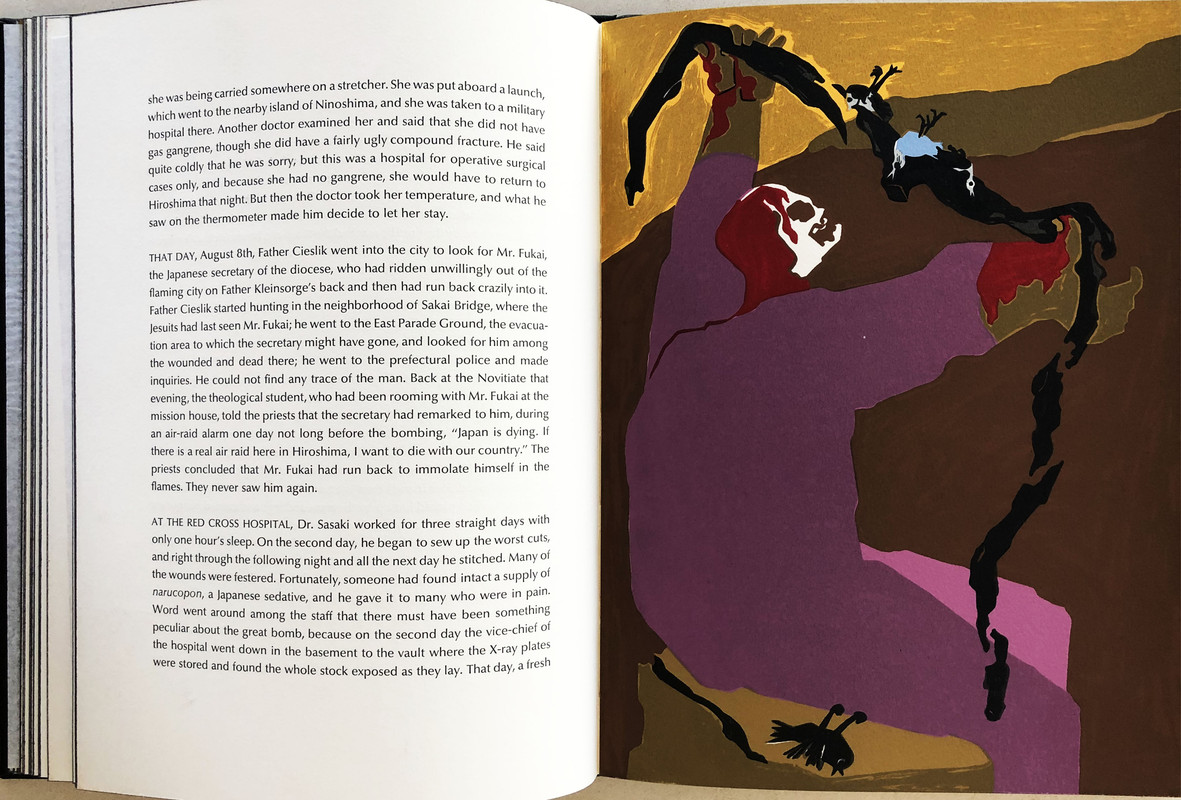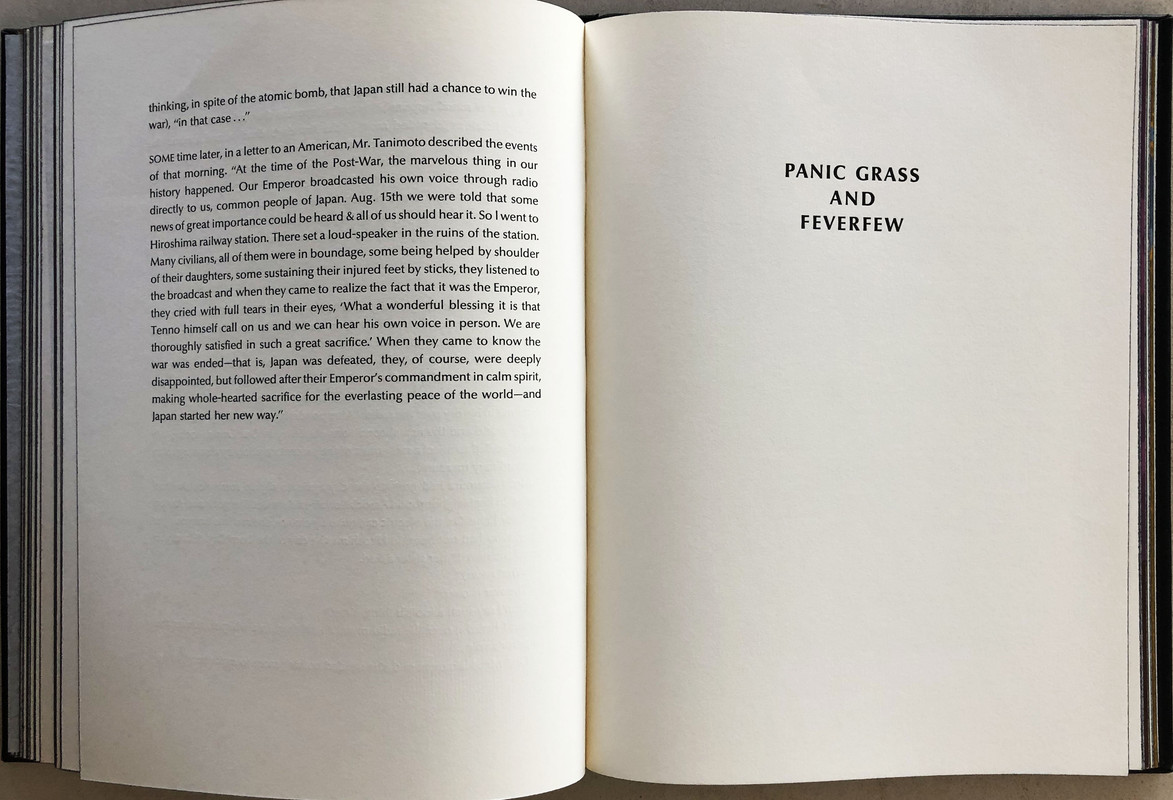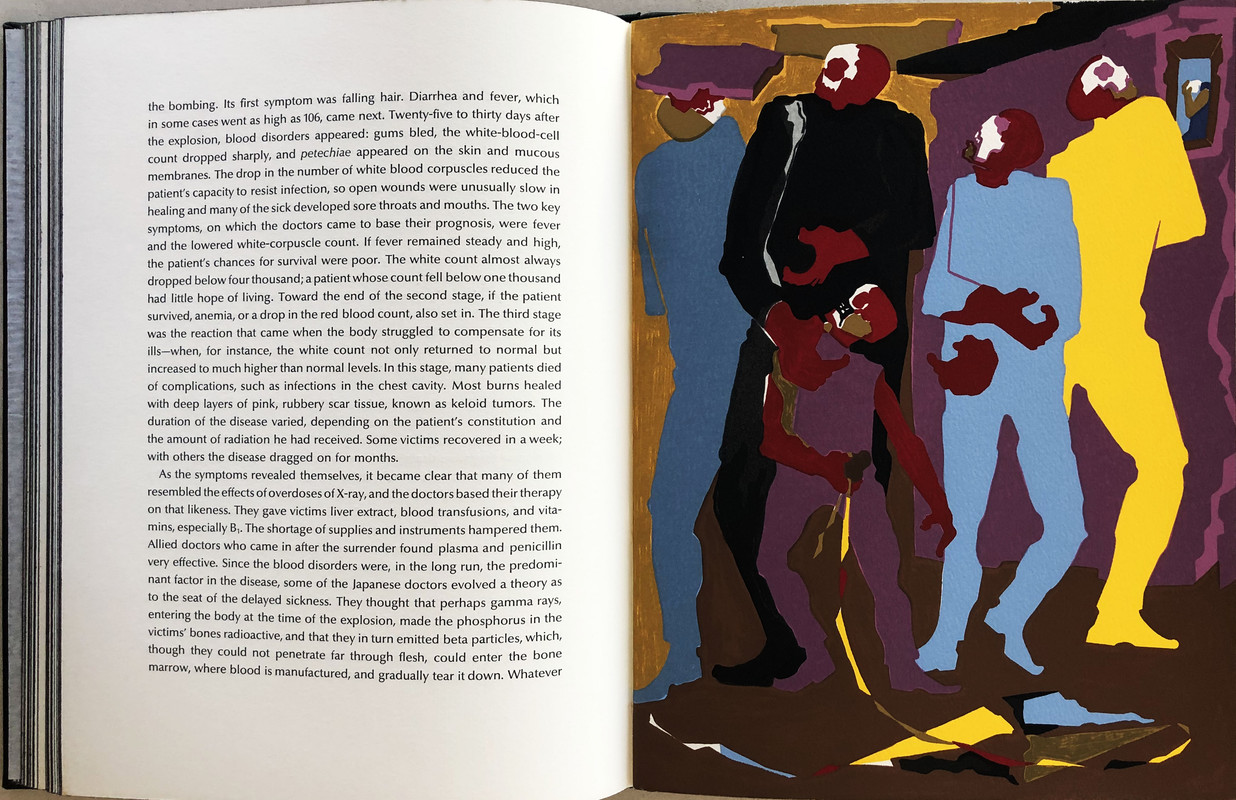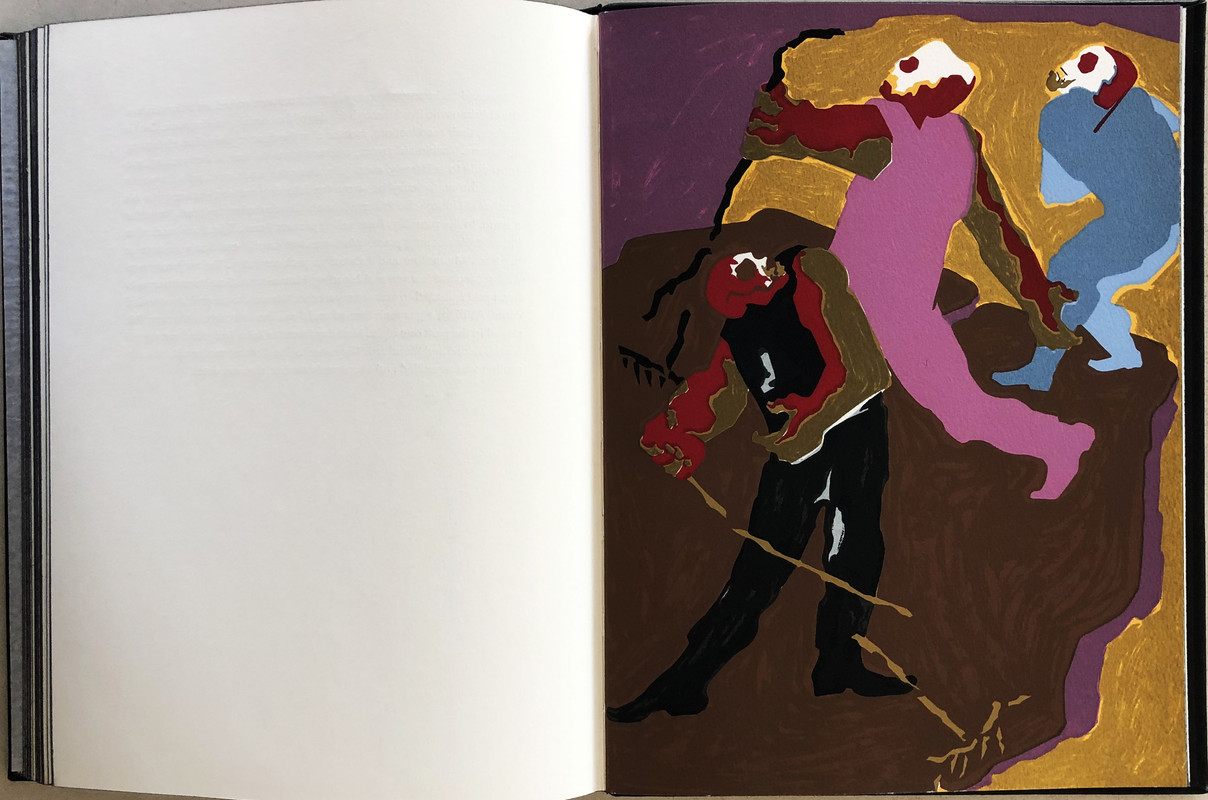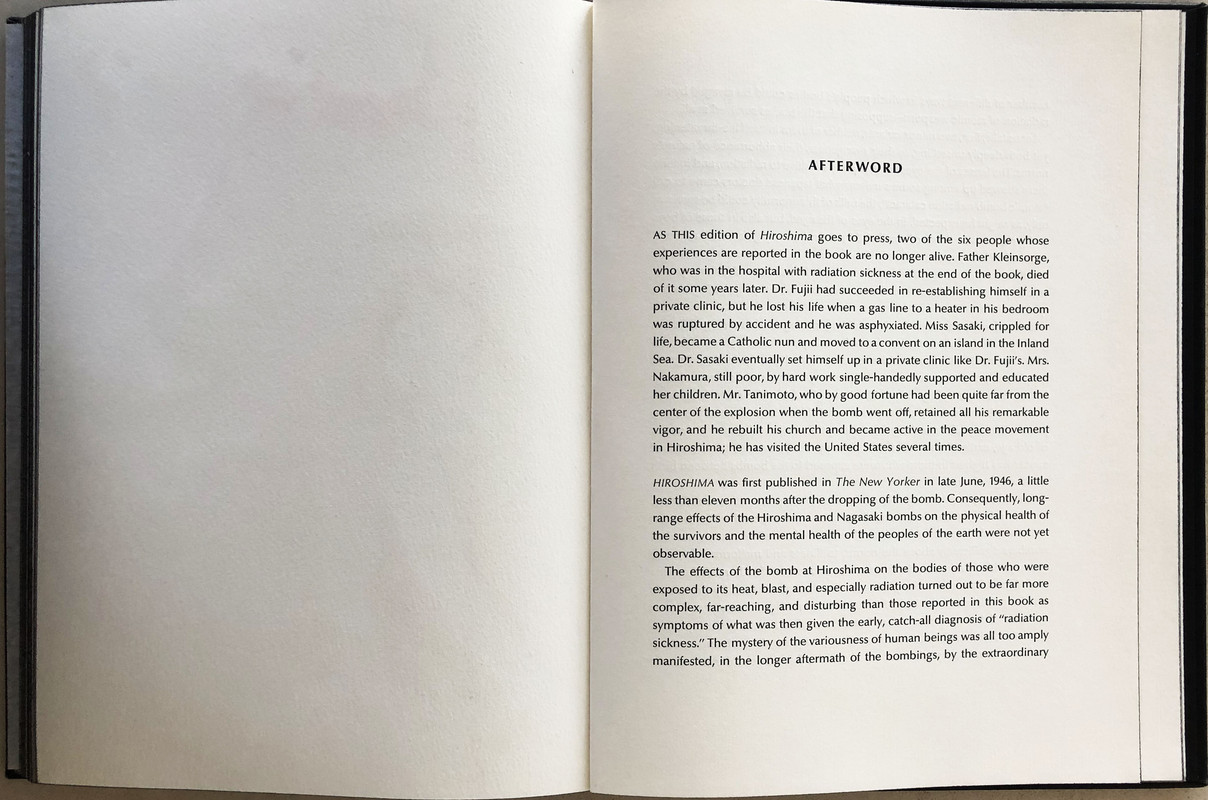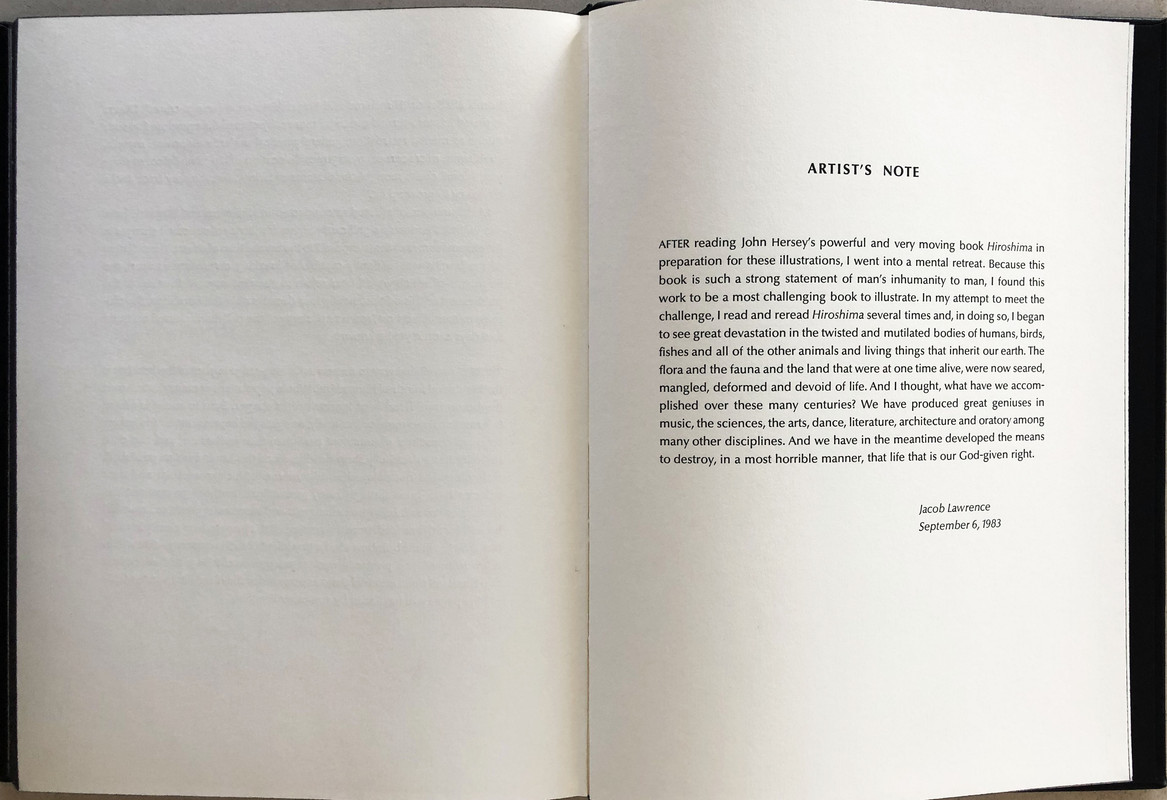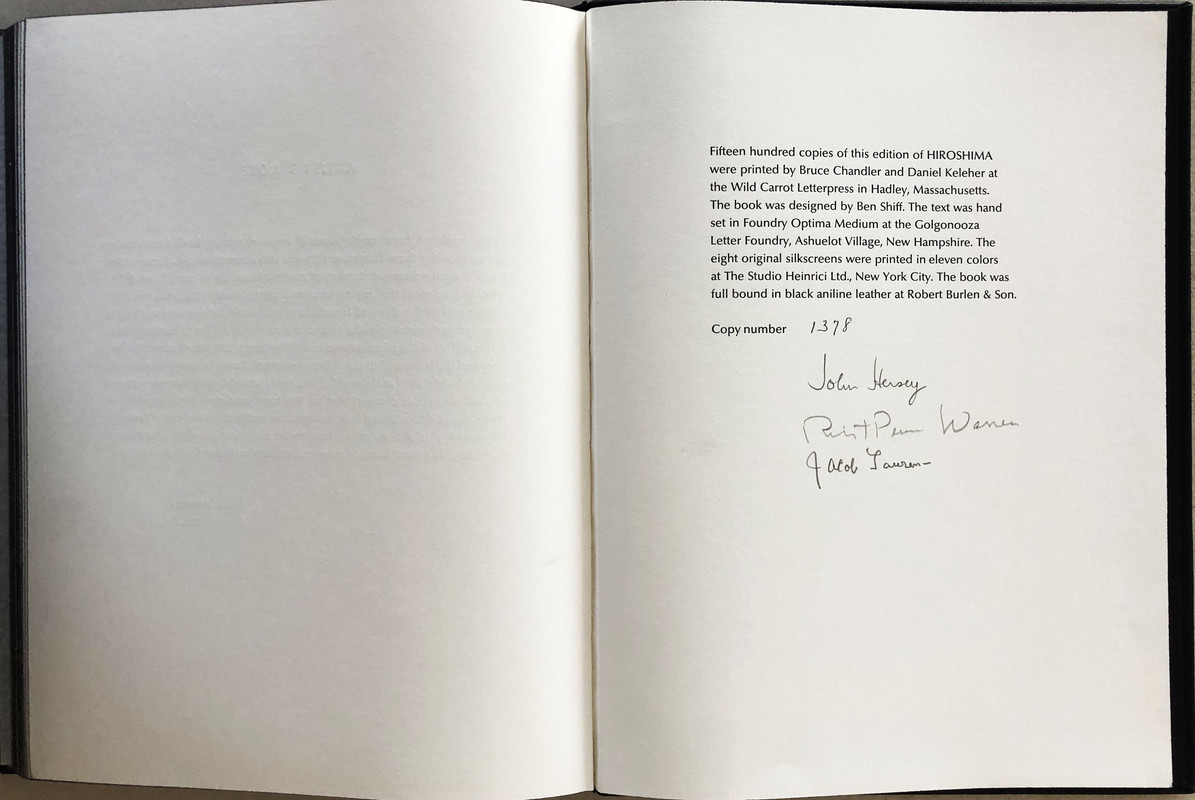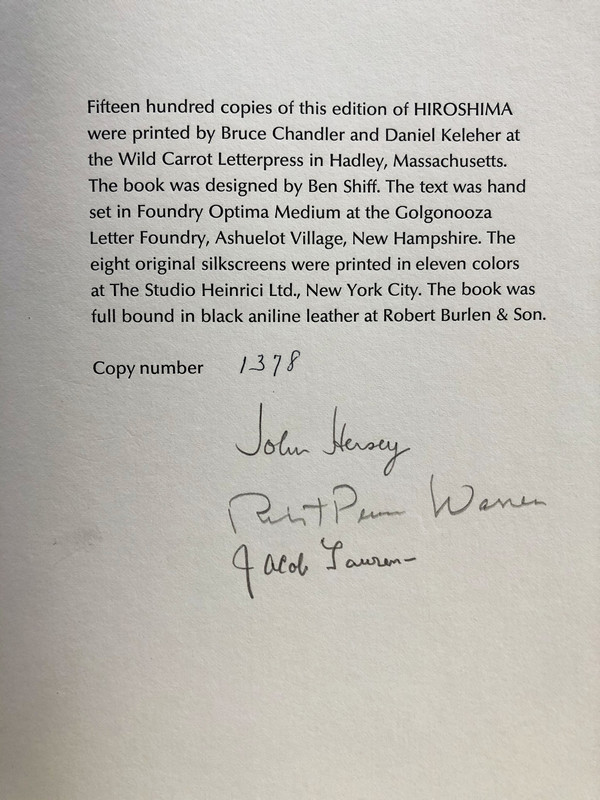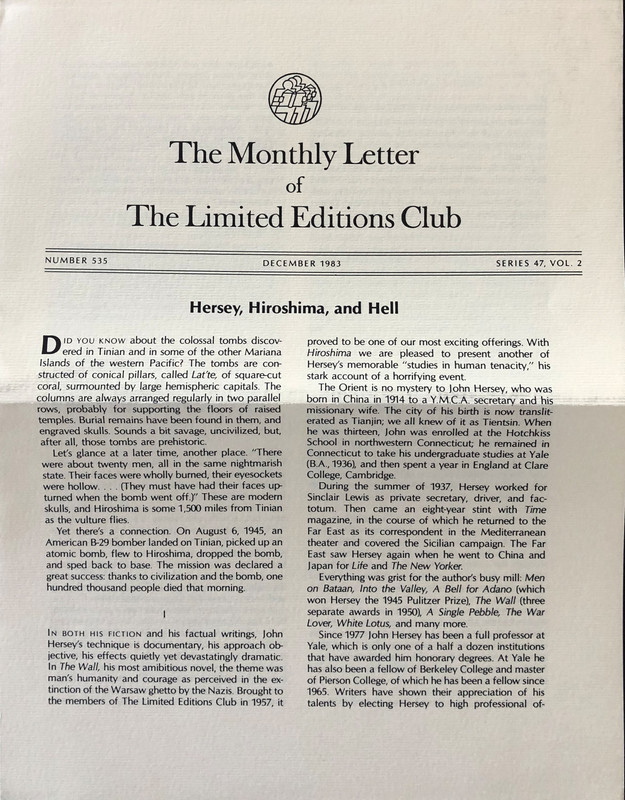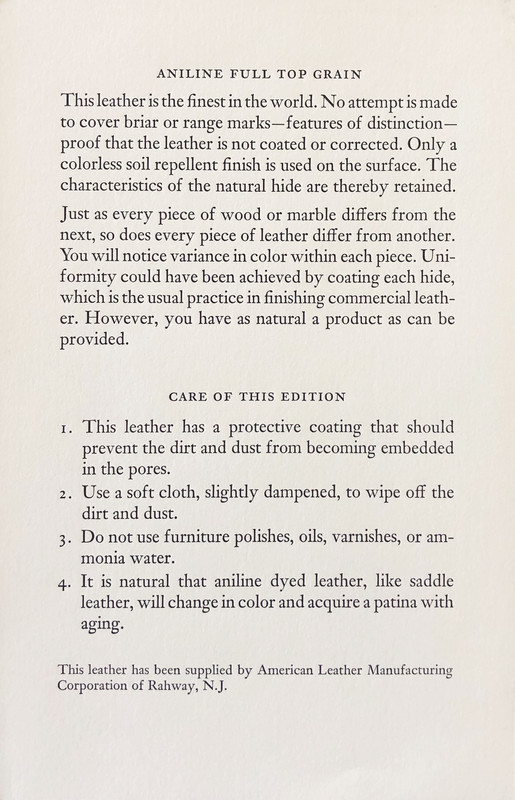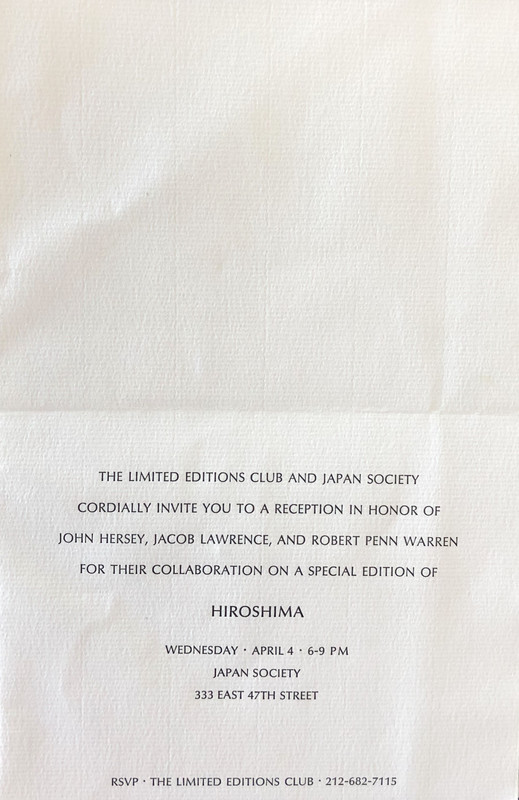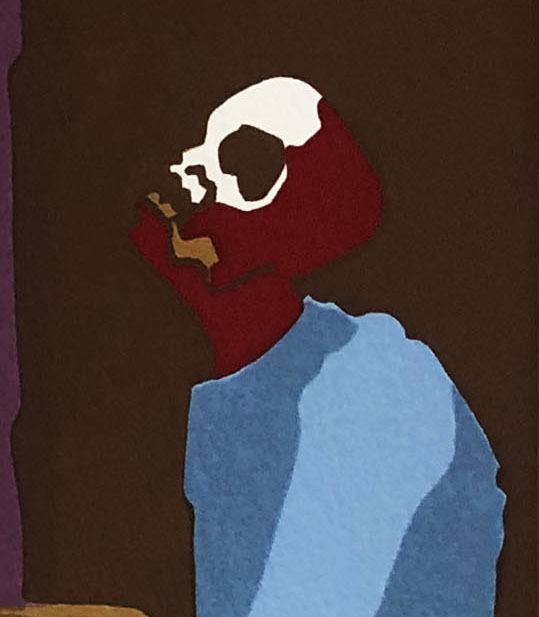 An index of the other illustrated reviews in the this series can be viewed
here.
Very powerful illustrations.
I can't make up my mind about this one. When I read Hersey's work originally, the journalistic, matter-of-fact style seemed to emphasize the horror of what happened in a way that a more emotional approach, such as in Hideo Sekigawa's
Hiroshima
(1953), just seems melodramatic and less horrific. Even the footage of the terrible burns on victims does not have the effect of the still photographs of the "atomic shadows" of people on the walls of ruined buildings. I can't help but think Hersey's story is best without any kind of illustration, just as I feel that the 1934
Four Gospels
by Rudolf Weiss is perfect without any illustrations..
There is no doubt whatsoever about the production values of this LEC, probably one of the finest ever produced.
Thank you for bringing this book to light. I have about 250 LECs and this one stands above them all as my personal favorite. There are several reasons why.

I guess foremost is that, in my numerous visits to the Smithsonian Air & Space museum branch near my home in Northern Virginia, I've always been struck most by the Enola Gay on display. Has there been a single more significant plane ever post-Wright brothers? Many thoughts would flood my mind regarding the events that day in 1945 and the Enola Gay's role. It's such a huge part of world history, tucked inside a giant hangar; with a Concorde and an early FedEx plane and many other craft nearby, it seems oddly diminished. But it never fails to fill me with both awe and sadness.

Incidentally, my first date with my wife was at this museum, but that has nothing to do with my love of the book :)

Also, as someone who once aspired to be a reporter, it was meaty, in-depth, complex pieces like Hershey's that inspired me. The six stories that Hershey tells make for gut-wrenching reading. But then they also surprisingly left me uplifted by their examples of compassion, endurance and hope. Hershey's piece was originally supposed to run over multiple issues of The New Yorker in 1946 but when the editors received it and realized how outstanding it was, they made the extraordinary decision to devote an entire issue of the magazine to this one article.

When I began collecting LECs and saw Hiroshima was one of their books, it immediately moved to the top of my must-have list. And it certainly did not disappoint. Dr. Carter has already covered much of what makes the LEC's version so spectacular. It is a feast for the eyes and fingertips. And it also might be the only book I own that does not have page numbers lol Robert Penn Warren's poem on the flight of the Enola Gay serves as a perfect intro. And while Jacob Lawrence's illustrations might not be to everyone's taste, I think they rise to the difficult challenge of artfully enlivening Hershey's words with their images of desolation and the living dead.

Since I'm lavishing praise, I should throw in one gripe - the book is really hard to remove from the slipcase. Lots of friction lol

So add it all up and Hiroshima was definitely worth the splurge for me. Even at its elevated price it's still a great value compared to so many of the fine/deluxe books issued nowadays that sell for a similar price and have nowhere near the production qualities or literary merit of Hiroshima.
>3 RuefulCountenance:
"Even at its elevated price it's still a great value compared to so many of the fine/deluxe books issued nowadays that sell for a similar price and have nowhere near the production qualities or literary merit of Hiroshima"
Yes--this is exactly what I was thinking when I did the recent post on Arion Press' new edition of the Gogol short story "The Nose." A great story, though at $1250 for the standard version and $5000 for the deluxe version, I would strongly recommend to those that can afford it, buy Hiroshima.
>4 Django6924:
My experience as an Arion subscriber is one of the things that drove me towards the LEC lol With patience, Hiroshima sometimes can be had in the $500 realm, which I truly consider a bargain, again in comparison to contemporary books. But even a price point closer to $1k is fair for a book so well made and featuring three high-level 20th century creatives.
>5 RuefulCountenance:
Yes, I'm a little agog at the current prices. I didn't buy my copy (fine in a NF slipcase, but missing the newsletter) until 2018 yet I paid $500. A beautiful work and well worth the money as many have commented. A hard book to illustrate but I really like the job that Jacob Lawrence has done. I'm surprised at the recent trend upwards (price) for fine books, I figured they would continue to trend downwards as people stopped buying traditional books.
The trick with this book, of course, is to fine one in truly collectible condition. As beautiful as the black aniline leather is, is has worn poorly over a very short period of time and it is especially prone to considerable fading and drying of the book spine. A flawed copy can occasionally be found in the $500 to $800 range but copies in fine (very rare) or NF condition will almost always be offered from book dealers at over $1000. Even when it makes a rare appearance at auction, the price with Buyer's Premium will also be near or slightly over the $1,000 price.
>6 kdweber:
"I'm surprised at the recent trend upward (price) for fine books....... ."
This has been my observation as well and it appears to have begun 2-3 years ago. It is true for both the more desirable LEC books and all books from well-regarded private presses, both past and present. In particular, the prices for iconic modern private press books, e.g., the Bruce Rogers 'Odyssey of Homer' (1932), the Cresset Press 'Gulliver's Travels, the top-tier Golden Cockerel Press books with Eric Gill illustrations, the Kelmscott Press "little books", etc., have skyrocketed and currently make their purchase a dubious endeavor.
To illustrate the point, look at the prices fetched by a significant collection of Barbarian Press books in January 2020 at PBA galleries - lots 271 through 285 - several of which sold for multiples of the original price. When I brought this to the attention of Crispin Elsted he was floored.
https://www.pbagalleries.com/view-auctions/catalog/id/512?page=1&cat=2&k...
>7 dlphcoracl:
I'll take your word for it on the difficulty of finding a collectible Hiroshima in the $500-$800 range. I've only been at this for a year so I don't have much experience. A nice-looking one sold on eBay a few weeks ago for $530, which is about what I paid for mine last year, and I've seen one or two others go in a similar range in the last year. So I don't think it's mission impossible but patience and some luck are needed.
>9 RuefulCountenance:
I can at least offer this encouragement. The eBay market seems very inefficient (as economists say). There can be wide variations in offering prices and not necessarily related to the conditions of the book. So keep looking and buy an occasional lottery ticket.
>10 laotzu225:
Yes, that's my sentiment. And it applies to LECs in general. There have been many coveted titles at a price point that makes me say "nah," but then serendipitously a copy will pop up at a good price and my patience is rewarded. It's all part of the fun of the hunt :)
Únase para publicar.