Cleaning Vellum
Únase a LibraryThing para publicar.
I've just received a copy of the LEC Song of Roland: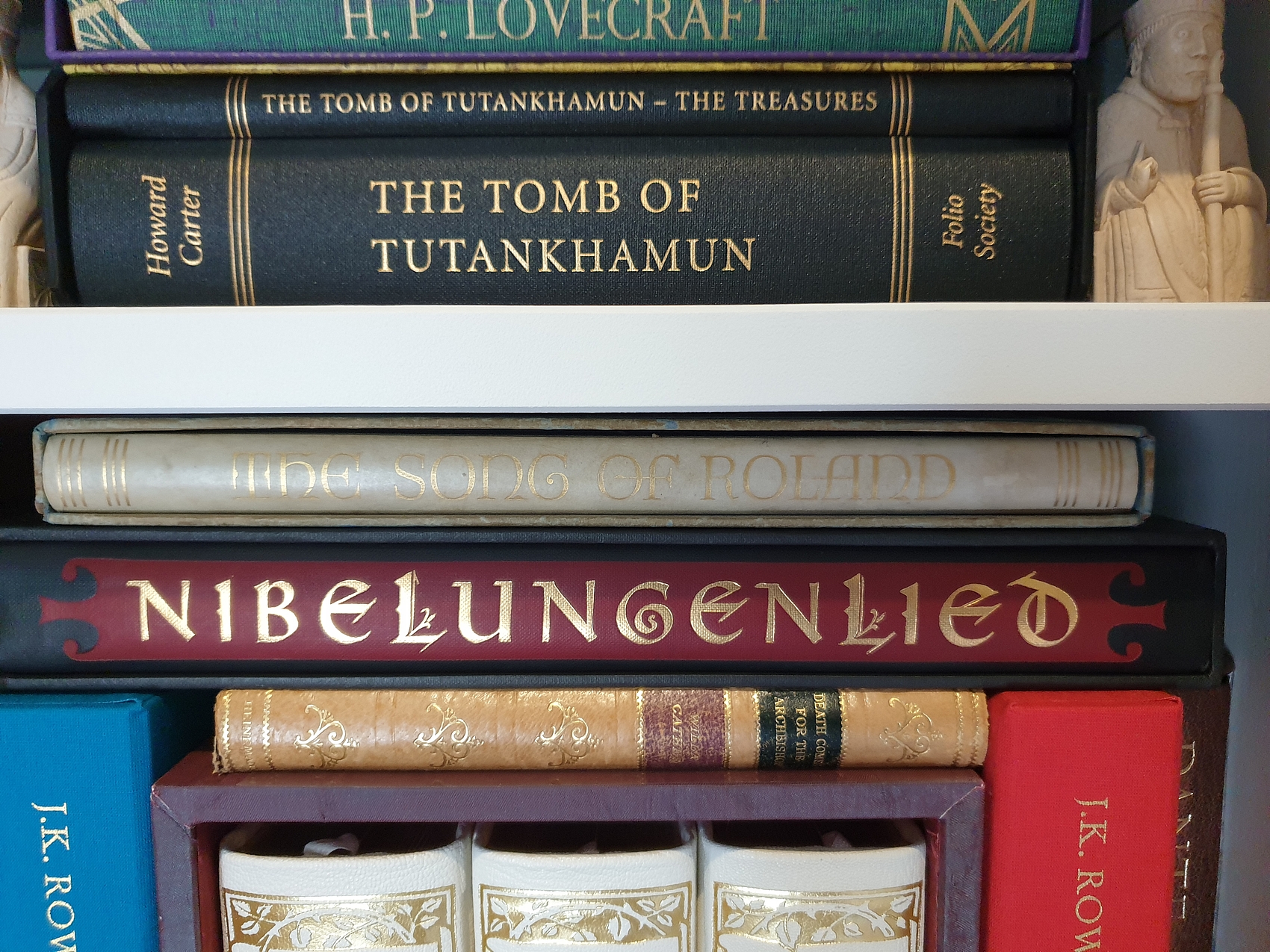 Which I love, but the Vellum spine is quite dirty and I was wondering about the safest way to clean it.
Thanks!
>5 Jobasha:
as a side note, perhaps it's the light in that photo, but the vellum doesn't look soiled to me.
>1 Jobasha:
What's the leather bound book just above the FS LE of The Faerie Queene in the second photo?
>7 kdweber:
That's Willa Cather's Death Comes for the Archbishop, in a half leather binding offered by Heinemann for some popular titles in the late '30s - I just have Beatrice Tunstall's The Shiny Night in identical style. My copy is from 1937 when fifteen titles were available. Top edge gilt, very thin paper (at least in my book - it may have been one of those series which used different papers to achieve the same thickness for texts differing in length), binding not very strong.
The Song of Roland spine does look pretty good already to me, just, or mainly, naturally darkened.
>8 terebinth:
Well spotted!
It was the perfect width to bridge the gap between the Harry Potters and the Faerie Queene.
>10 BuzzBuzzard:
Buzz - I just checked and the before and after links to the photos still work. I should point out that the Penguin Island and Montaigne spines are calf-skin leather, not vellum. I would not try this technique on vellum.
I have a copy of a small edition of Cicero, printed 1656, that is bound in full limp white vellum with a wallet fore-edge. It was rather soiled when I got it quite a few years ago, so I determined to clean it up. Having read one could use milk to clean vellum, I got out a cotton swab, soaked it in milk and went to it. Well, the vellum cleaned up nicely and I wiped it dry. The book looks fine today, about 20 years later. It is important that whole milk be used, as the fats in the milk are absorbed by vellum and help keep it flexible, HOWEVER, the fly in that particular ointment is that in some climates, those very fats might be adversely affected. Note also some sources rather vehemently eschew the use of milk.

When it came time to clean my copy of the Nonesuch Press Dante, I used a dry eraser, as a test of the milk swab showed that the orange pigment used to color the vellum was not fast. The eraser worked well enough, getting most of the soil off the cover.

Those are the only two vellum bindings I've dealt with.
>12 Glacierman:
You had me on the edge of my armchair reading that! Glad it had a happy ending.
>12 Glacierman:
I'm not surprised that the orange pigment on the Dante was not color fast as most copies, including mine, now have off-white spines. Luckily my orange boards almost look new. Your milk cleaned Cicero doesn't have any strange odor? Also, any chance of a photo for that 1656 gem?
>14 kdweber:
No, the Cicero doesn't smell funny. Give me a few days and I'll post some photos of it.
That sun-faded spine is a big problem for the Nonesuch Dante. I am fortunate that my copy was kept out of direct sunlight during its lifetime, so the spine has not faded in the least.
Únase para publicar.