Connie's BFB's for 2021
Únase a LibraryThing para publicar.
I'm in again. I love a big book and have a few on the shelves.
01.
Draken van een verdwenen maan
-
Margaret Weis
&
Tracey Hickman
- 573 pages -

02.
Het boek der stormen
-
James Clemens
- 505 pages -

03.
Een duister vermoeden
-
Elizabeth George
- 587 pages -

04.
Verloren onschuld
- Elizabeth George - 724 pages -

05.
Het onzichtbare leven van Addie LaRue
-
V.E. Schwab
- 574 pages -

06.
Laten wij aanbidden
-
Ann-Marie MacDonald
- 600 pages -

Almost finished
ROOT # 1, BFB # 1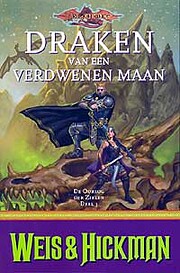 Draken van een verdwenen maan
by
Magaret Weis
&
Tracey Hickman
, 573 pages
The Blurb
The flames of war devour Ansalon. The army of dead souls marches toward conquest, led by the mystical warrior Mina, who serves the powerful One God. A small band of heroes, driven to desperate measures, leads the fight against overwhelming odds. Two unlikely protagonists emerge. One is a dragon overlord who will not easily relinquish her rule. The other is an irrepressible kender who has been on a strange and remarkable journey that will end in startling and unforeseen fashion. The stirring climax of the War of Souls.

>3 majkia:
And now really finished,

My Review,
Third part in the series of The War of the Souls, part of Dragonlance. Many characters, many nations, such as minotaurs, elves, gnomes and giants and of course the Kender, with Tasslehoff Burrfoot as the exceptional specimen. Although it was difficult to follow at times, I really enjoyed it. Lots of intrigue and battles. My favorite people were Gerard (human), Galdar (Minotaur) and Gilthas (elf).
Hi Connie my dear, nice to see you here again and one book already done, i think you will reach your target my dear friend.
Hi Connie, good luck with your reading this year, you are off to a good start !
Now reading
Het boek der stormen
by
James Clemens
, 511 pages.
ROOT # 2, BFB # 2
The Blurb
Five centuries after the destruction of the Mages of Alasea, a young girl, Elena, inherits the powers that the Mages had so carefully hidden from their terrible enemy. Elena bears the mark of the wit'ch upon her palm, a crimson stain that belies the wild power it may wield. Only a mistress of blood magick can stand against the Dark Lord - but Elena is not yet mistress of her magick. To discover the key to the Dark Lord's defeat, Elena must travel to A'loa Glen - a perilous journey, for if the Dark Lord finds her first, she will become his most fearsome weapon.
Wow, one BFB already! Way to go, Connie.
Second book for the year finished
Het boek der stormen
by
James Clemens
505 pages -

My review
Exciting and sometimes a bit gruesome second part in the Prohibited and Banished series. We follow 3 young people and their friends: Elena and her brother Joach who are separated and the sea girl Sywen. They are assisted on their journey in search of the Thunder Hammer by all kinds of characters: elves, witches, shape-shifters, dragons and trolls. They all emerge in the book and can contribute to the fight against the Dark Lord through their own specific talents. Wonderful reading.
Third book for the year finished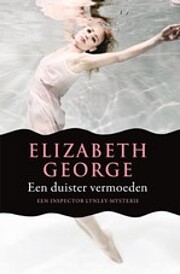 Een duister vermoeden
by
Elizabeth George
-

My Review
What a wonderfully exciting book. There is really everything in it; family issues, homosexuality, transgender, jealousy, murder, multiple suspects, misunderstandings. I would say just read it yourself.
It's about the Fairclough family: father, mother, twin sisters and a drug-addicted brother who is back on track and has to prove himself. And a cousin they took into their family after his mother's death. They own and run a successful bathroom porcelain factory. Then Ian, the cousin, is found dead in the boathouse. He drowned when he got out of his boat on the dock of the boathouse. Lynley is asked to discreetly investigate whether anything else may have happened. And then a mind-boggling sequence of events unfolds
Finished
Verloren onschuld
by
Elizabeth George

My review
Volume 18 in the series about Thomas Lynley and Barbara Havers. The book seamlessly continues where Part 17 left off. You can split this book into 2 parts. The first part is about the kidnapping of Hadiyyah Upman. That is a very complicated story and also very exciting.
The second part is about the death of Angelina Upman and the many false tracks that have been set by people who are not so good in obeying the law.
I thought the first part was worth a 9,5 and the second a 7,5.
Because the story is partly set in Italy and a lot of Italian is used untranslated, you occasionally have to guess what is being said, sometimes you can guess that from the context, but not always. On the one hand I found that a challenge and my not too great knowledge of Italian has improved a bit, but on the other hand it was also disturbing because it just takes you out of the story.
I have just finished
Het onzichtbare leven van Addie LaRue
by
V.E. Schwab
- 574 pages - and give it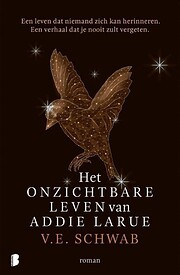 My Rewiew
What a great book this is. Adeline (Addie) LaRue was born in a small French country village in 1714. And when she is twenty-three and unmarried, it is seen as strange, so her parents decide to let her marry a widower with 3 small children. Addie doesn't feel like it at all. She never wants to marry anyone at all. When she manages to escape on her wedding day and has run deep into the forest, she is found there by a mysterious man who makes her a proposal. She wants to spend time and do things that she enjoys. In return, she will give him her soul when she is ready. But there is a downside to the deal. Nobody remembers her. Not her parents, not her friend in the village. And then a story begins that takes Addie to many places and times. Until she meets a man in 2014 who remembers her from the day before when she was also in his bookshop. Addie is over the moon and can bask in the fact that someone doesn't forget her as soon as a door closes between them.
Finished
Laten wij aanbidden
by
Ann-Marie MacDonald
- 600 pages

My review
How can you best describe this book. It is a family history that stretches from about 1900 to about 1955 and begins simply when James (18) falls head over heels in love with Materia, a 13-year-old girl from a Lebanese family. He elopes with her and they eventually have four daughters, Kathleen, Mercedes, Frances and Lily. This book tells their story and that is a boisterous, special and wonderful story with different ingredients such as incest, being transgender, lesbian love and losing innocence, trust and loyalty to each other, but also hate, racism, deception and abuse, prostitution. and dead babies. Beautifully written and beautifully told. I cannot and do not want to tell much about the story. You have to read it yourself to find out what's going on with the four sisters.