The most appropriate ebay listing ever!
Únase a LibraryThing para publicar.
Ever come across an ebay listing that just makes you go "What...?!"
Well here, I came across this
https://www.ebay.com/itm/SIGNED-LYND-WARD-Signature-on-Colophon-Page-From-LEC-bo...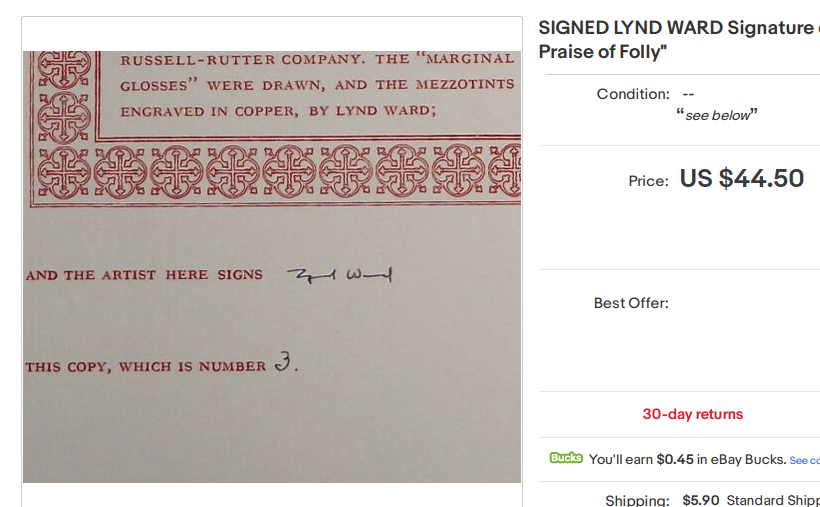 and perhaps you're thinking, well $45 for the LEC "In Praise of Folly" what's wrong with that? A good question, but the description says
The colophon page (only) from a copy of the 1943 Limited Editions Club book, "The Praise of Folly" signed by the illustrator, Lynd Ward.
That's right, it's JUST the colophon! and the seller wants $45 for it... so I say, that "In Praise of Folly" is most apropos!
Oh, and I love how the seller also notes "In very good overall condition with minor edge-roughness to one margin not affecting the image." Can't say the book is in great condition, but this one page, so violently sundered from the rest of the body, hey, it's in great condition...
Lastly, might I add, there's also an auction for the entire book (colophon and all) for $30 :)
>1 astropi:
Seller should have called it the colofun...then it would sell immediately. Who doesn't want to have fun?
>2 MobyRichard:
or maybe just colon, because something is a bit smelly with this...
Únase para publicar.