The Book of the Dead – LEC 1972
Únase a LibraryThing para publicar.
The Book of the Dead, A Collection of Spells – LIMITED EDITIONS CLUB 1972

A PICTORIAL REVIEW
No. 761 of 1500 copies
TEXT VOLUME
A collection of spells translated from papyri in the British Museum by Raymond O. Faulkner.
Bound in black buckram decorated with patterns in red and gilt.
157 pages
PLATES VOLUME
Continuous 580cm. concertina of which 495cm. shows the Ani Funery Papyrus printed as 24 continuous panels.
Plate by plate description at back of volume.
Bound in red buckram decorated with patterns in black and gilt.
SLIPCASE
Two volumes in single heavy black card slipcase with brown patterned paper wrapper and spine title label.
Book lift ribbon in slipcase.
32.5x22cm.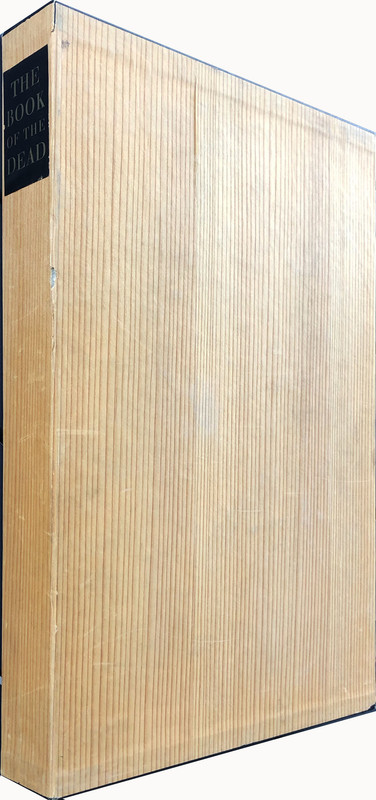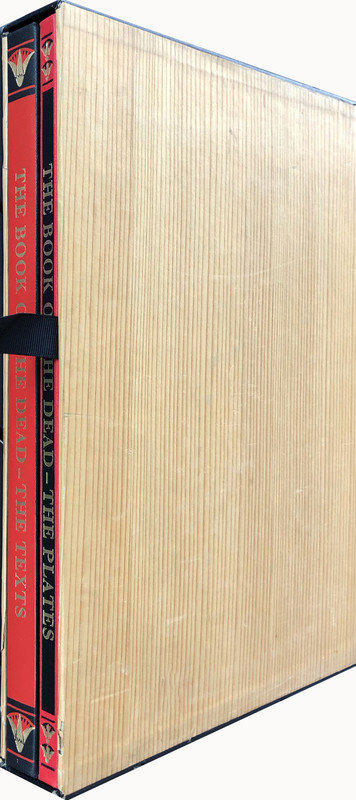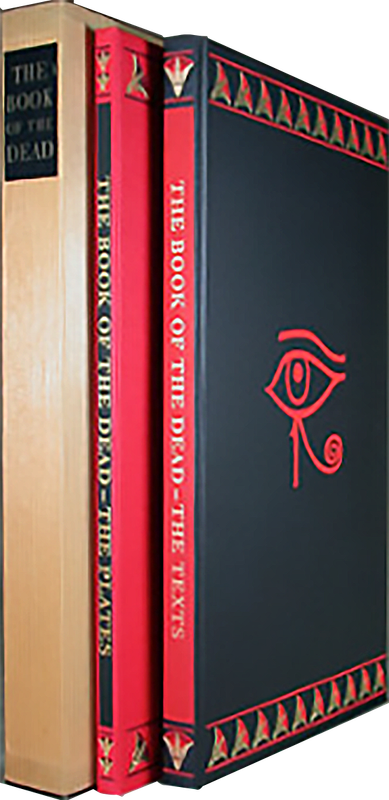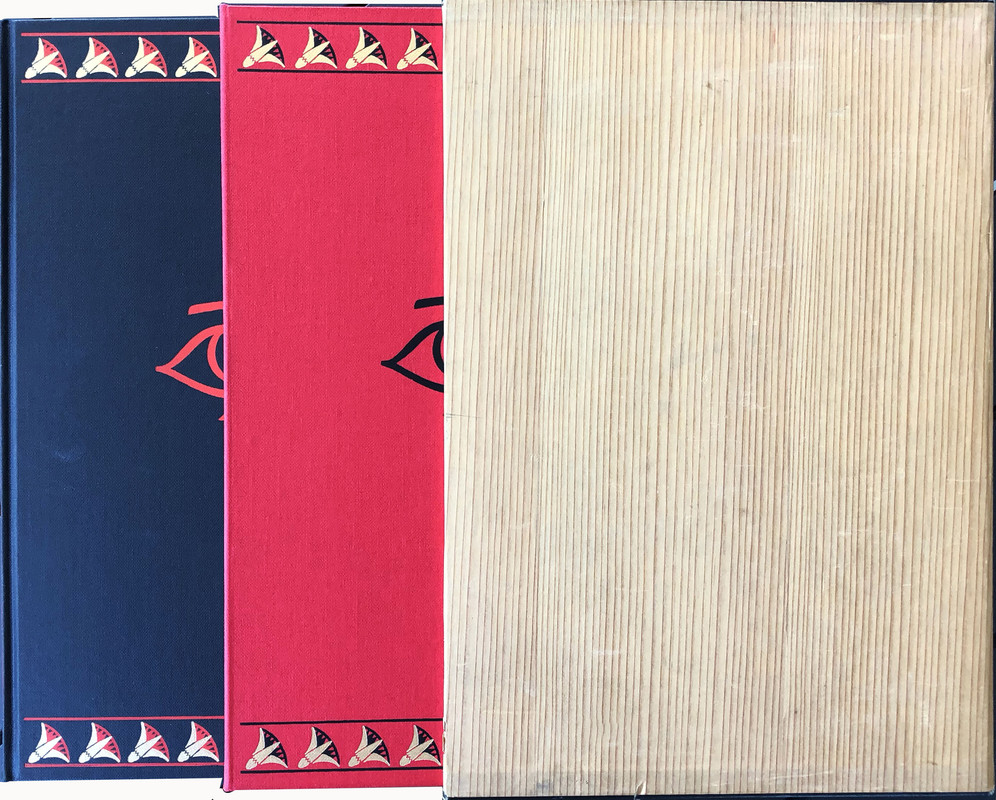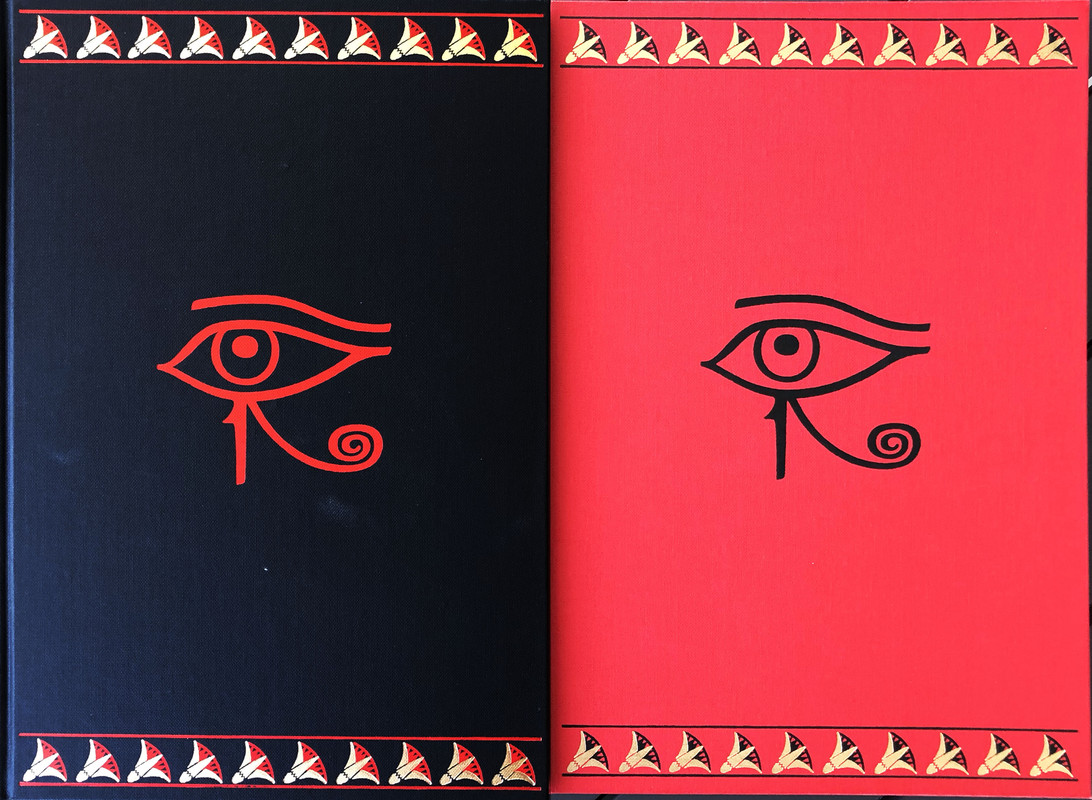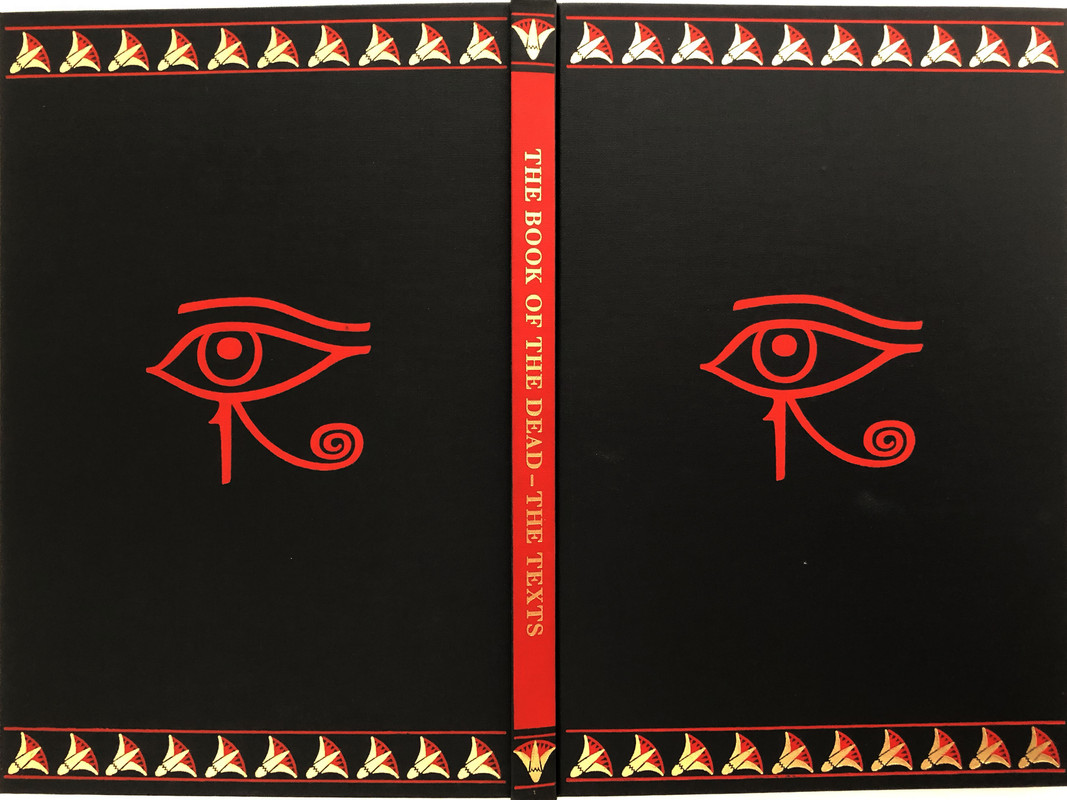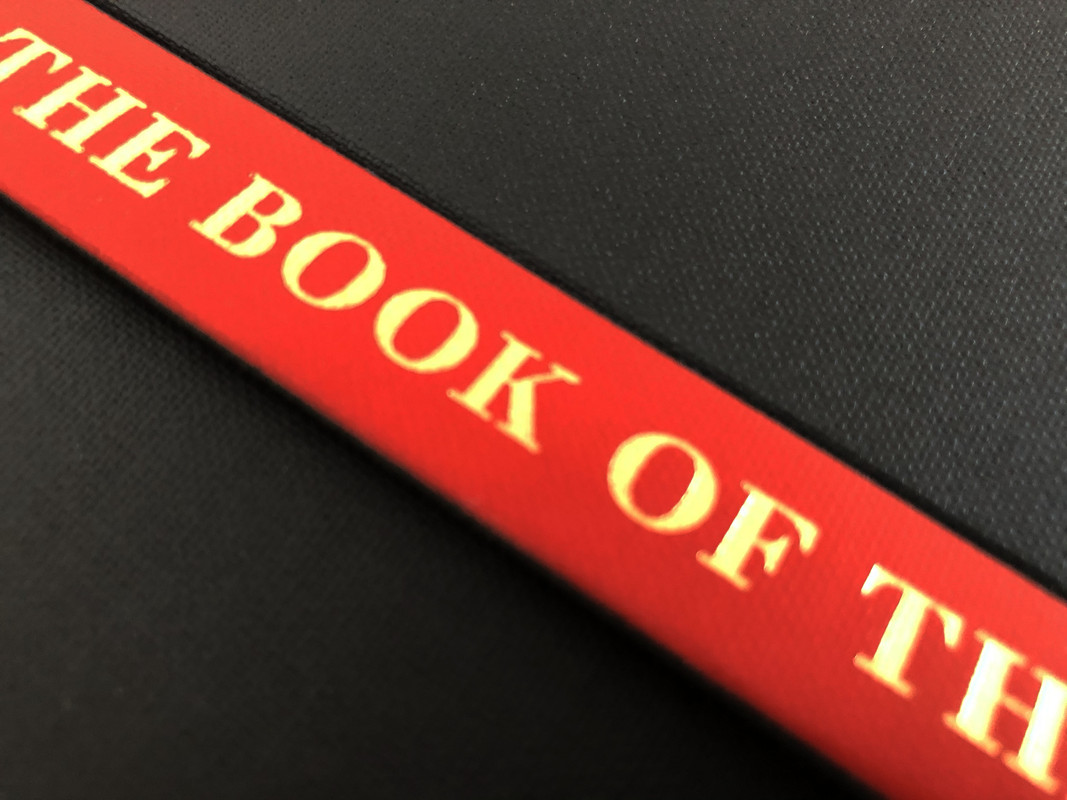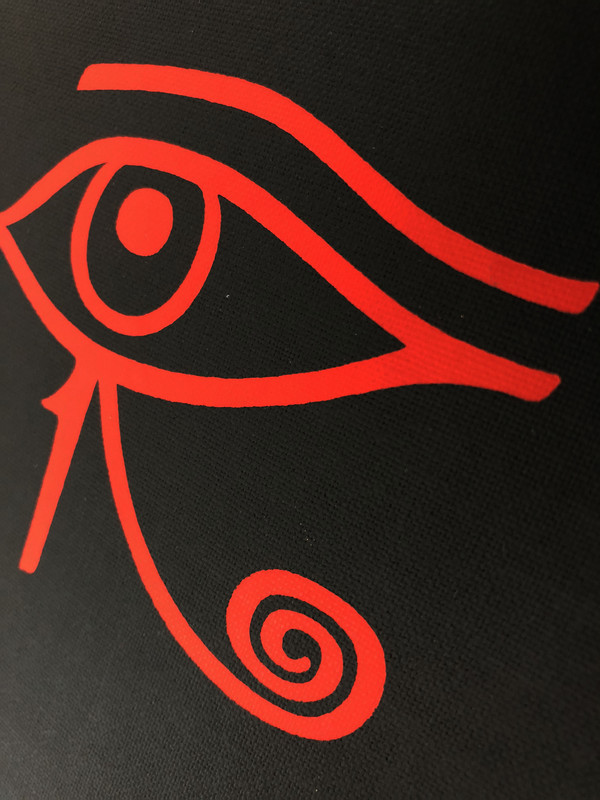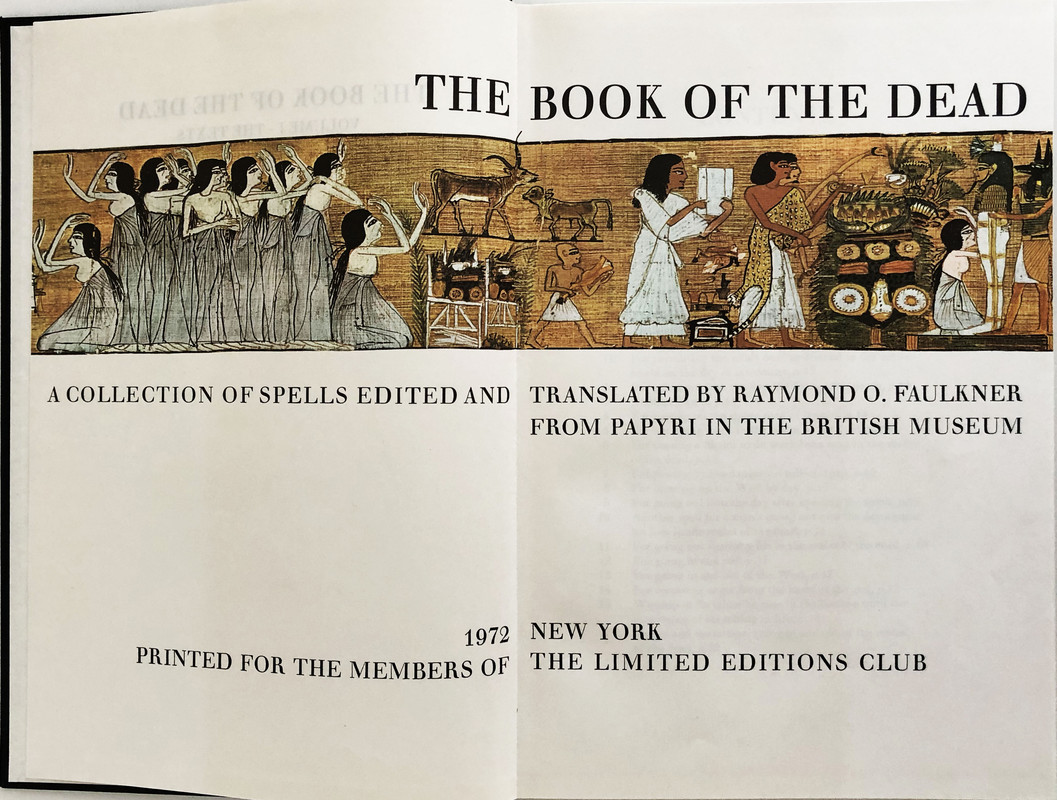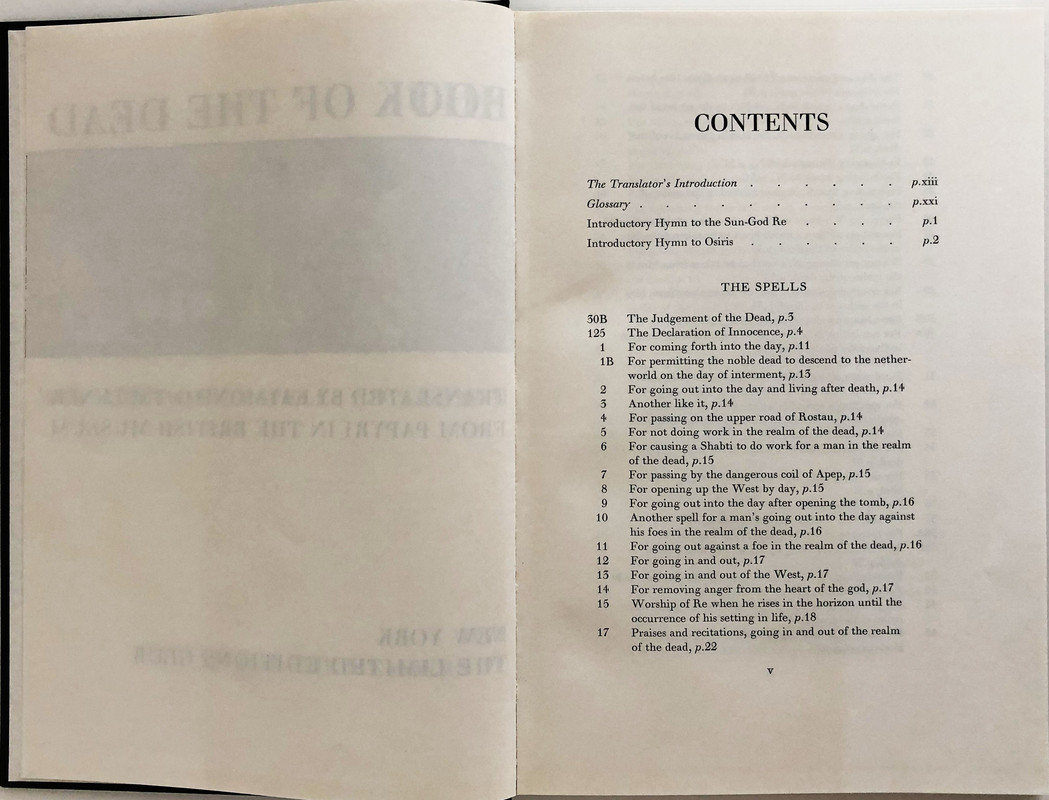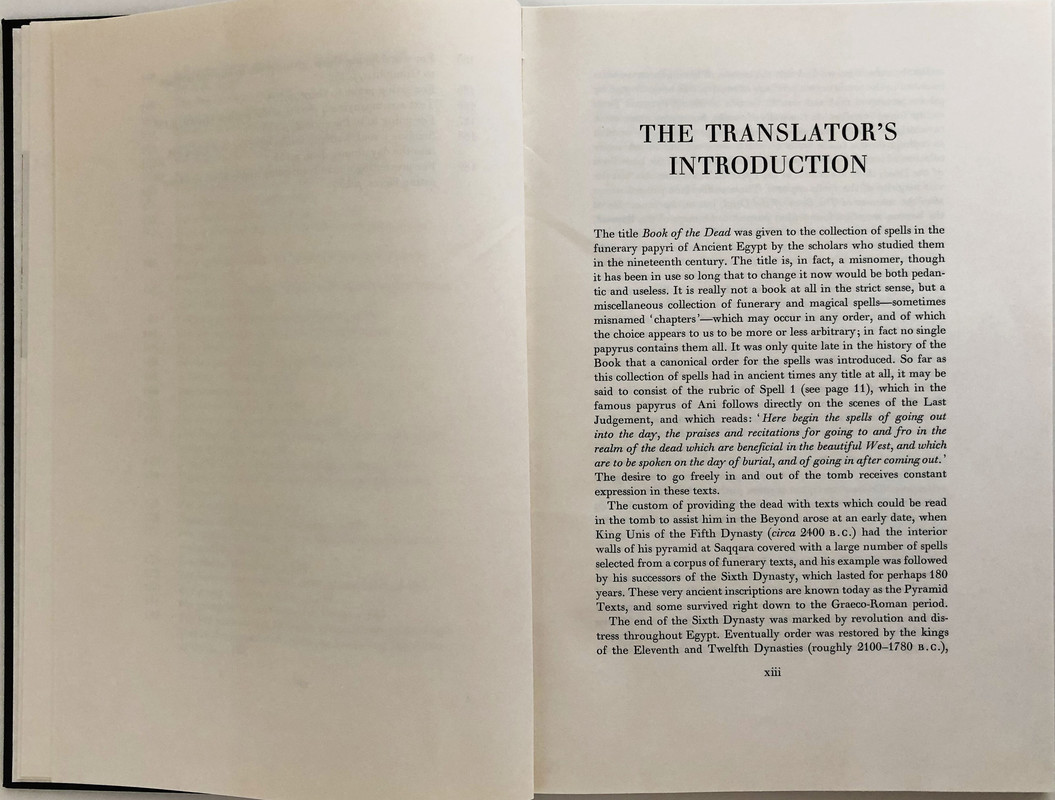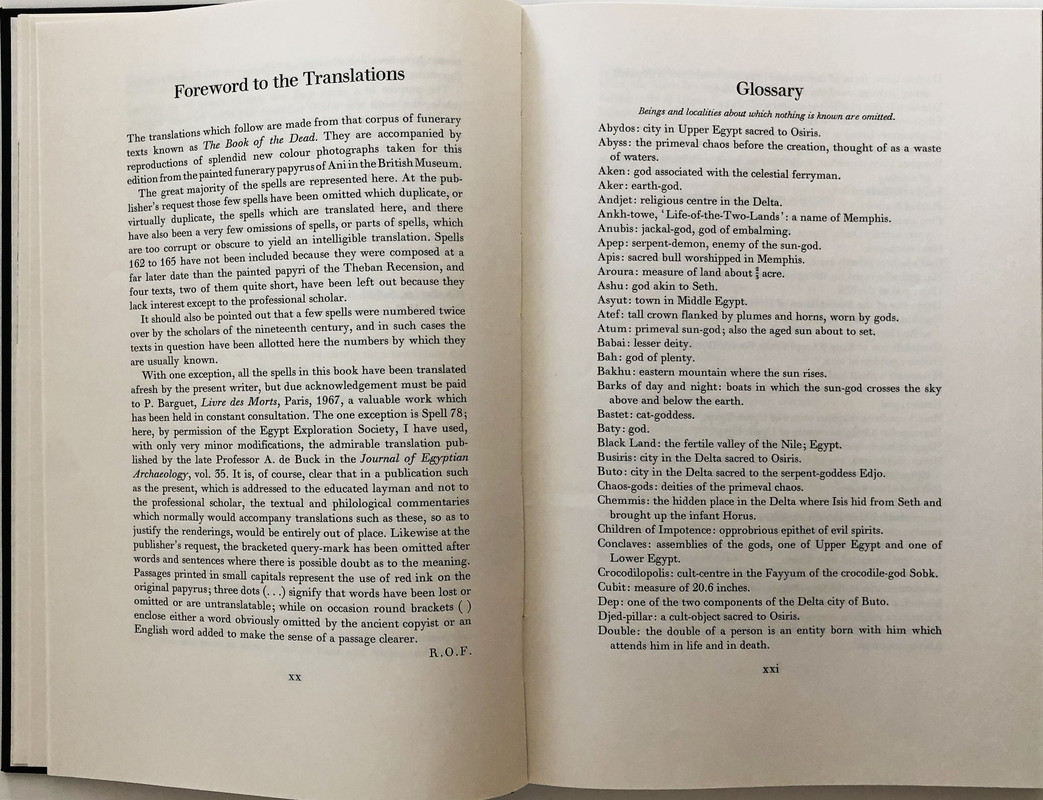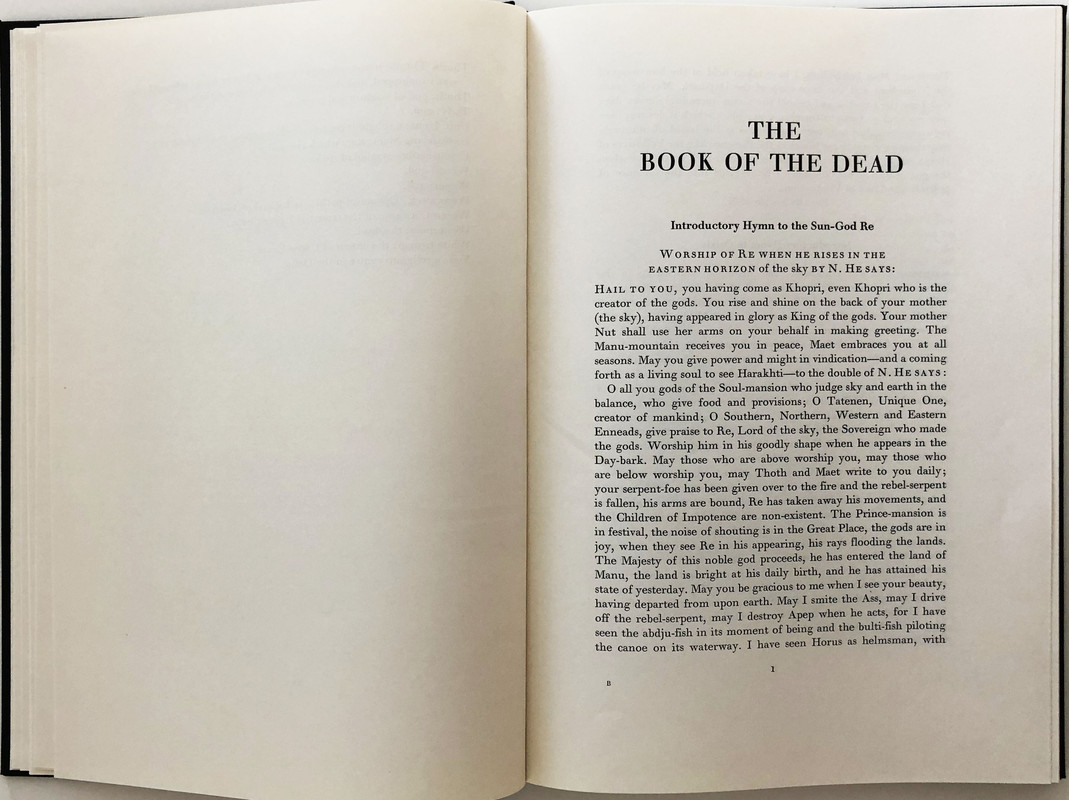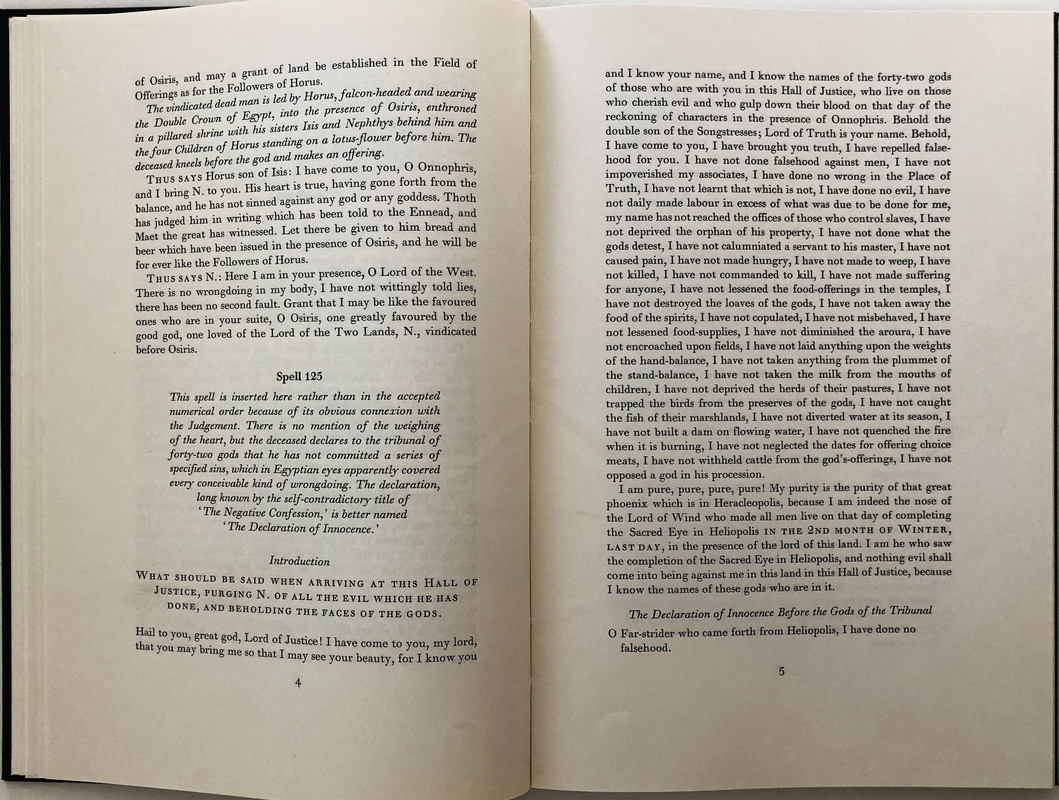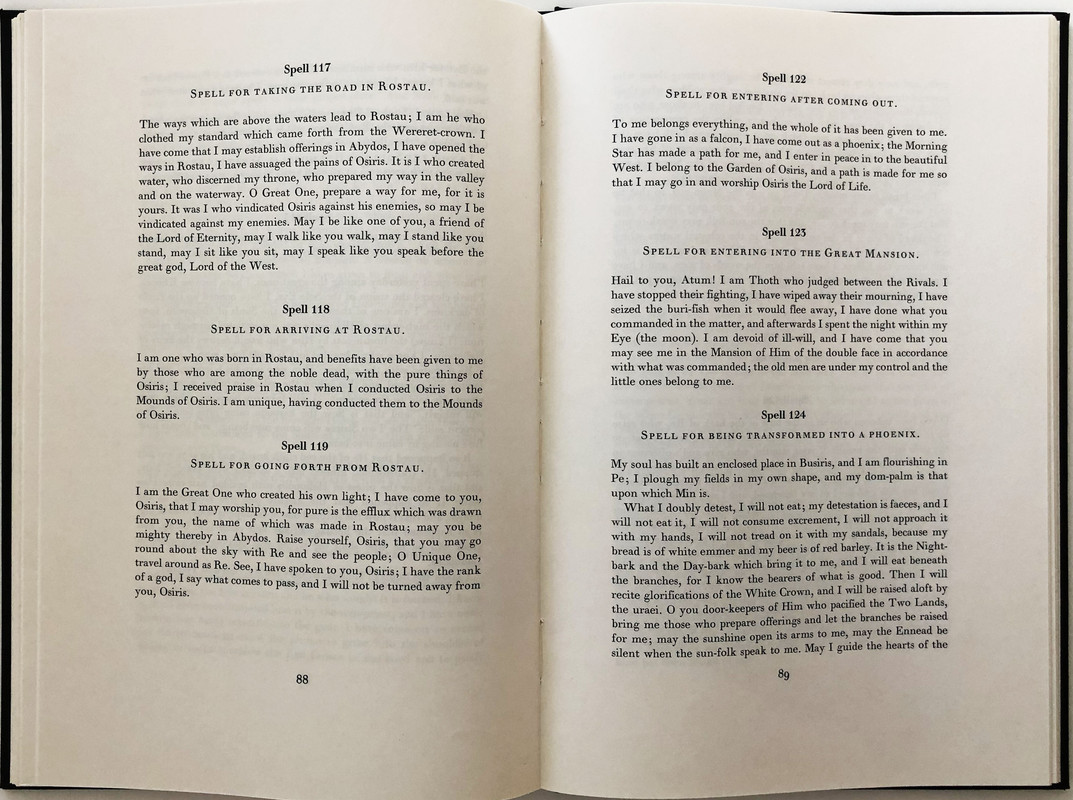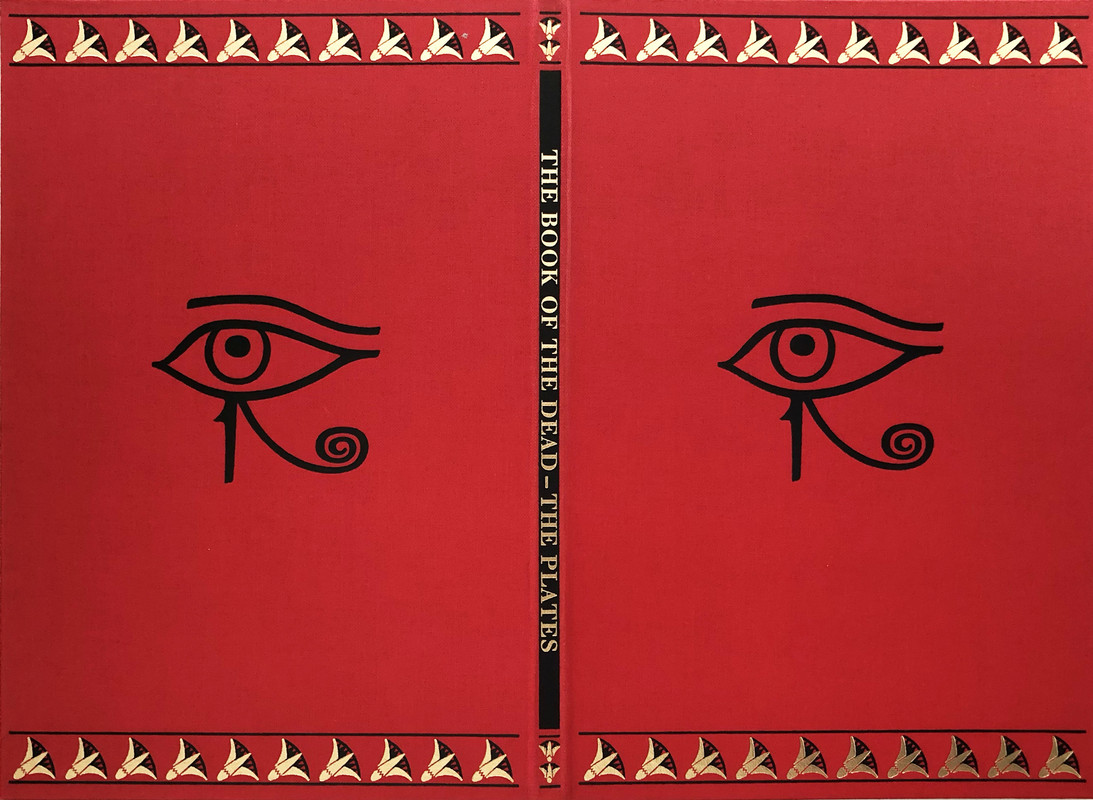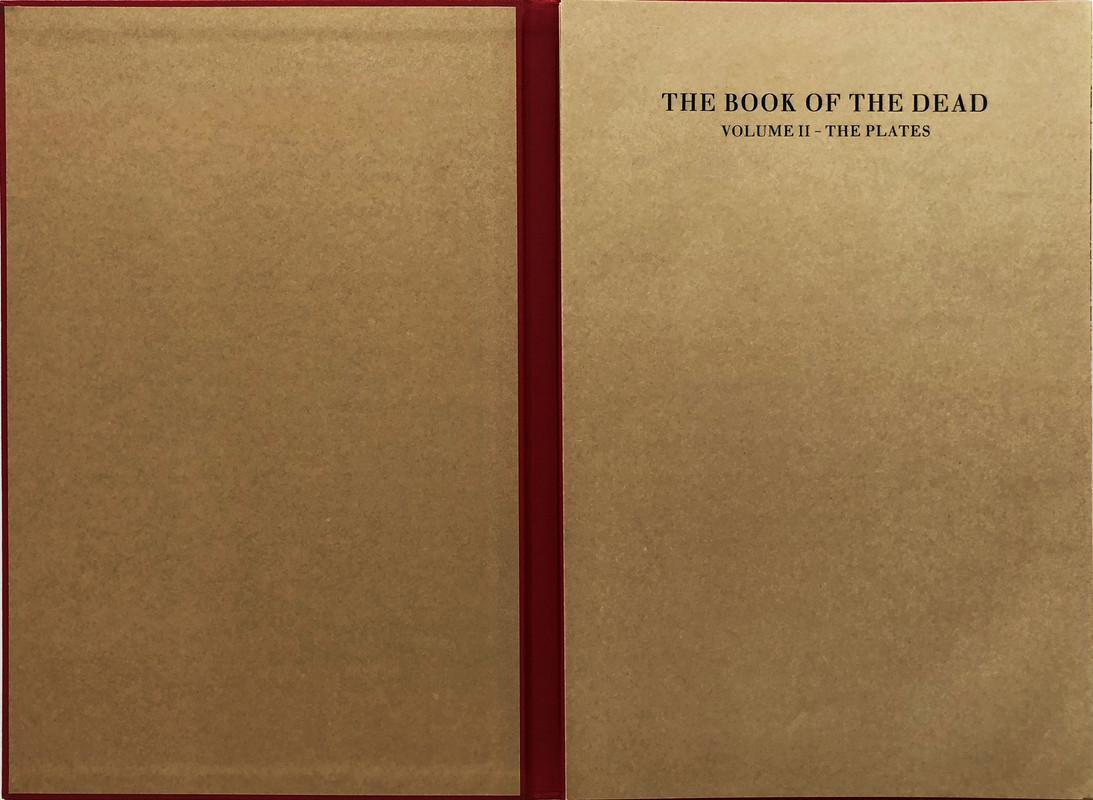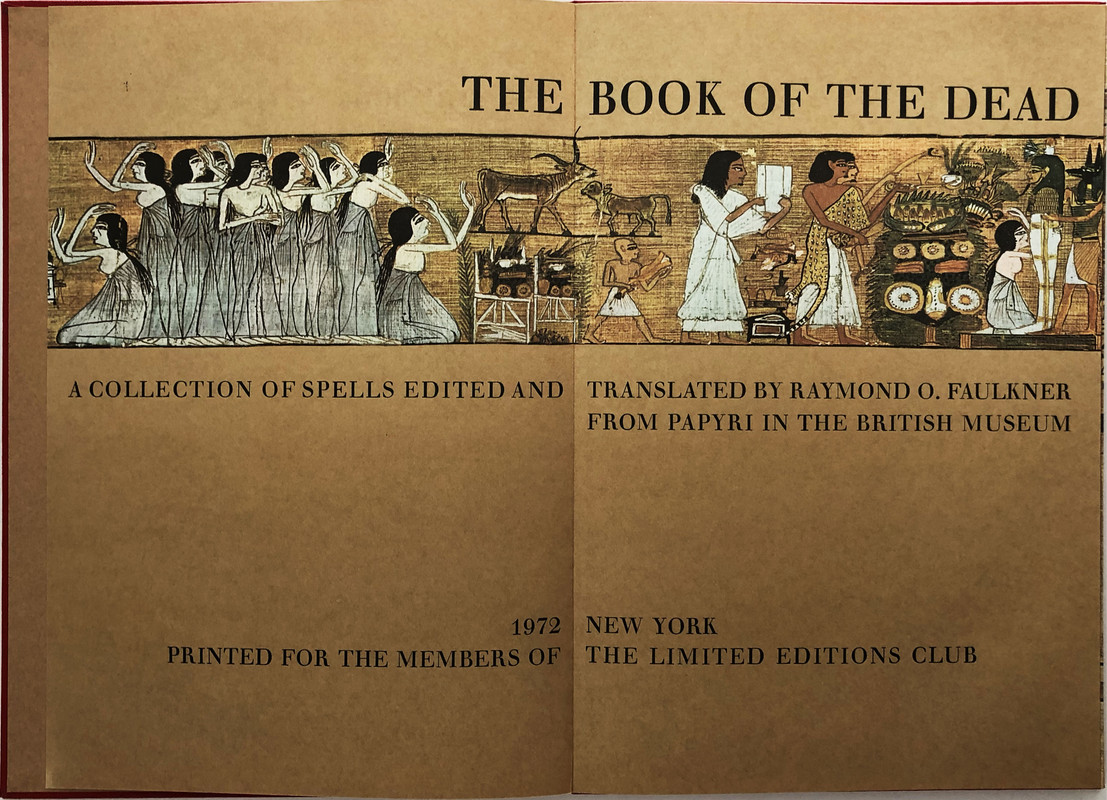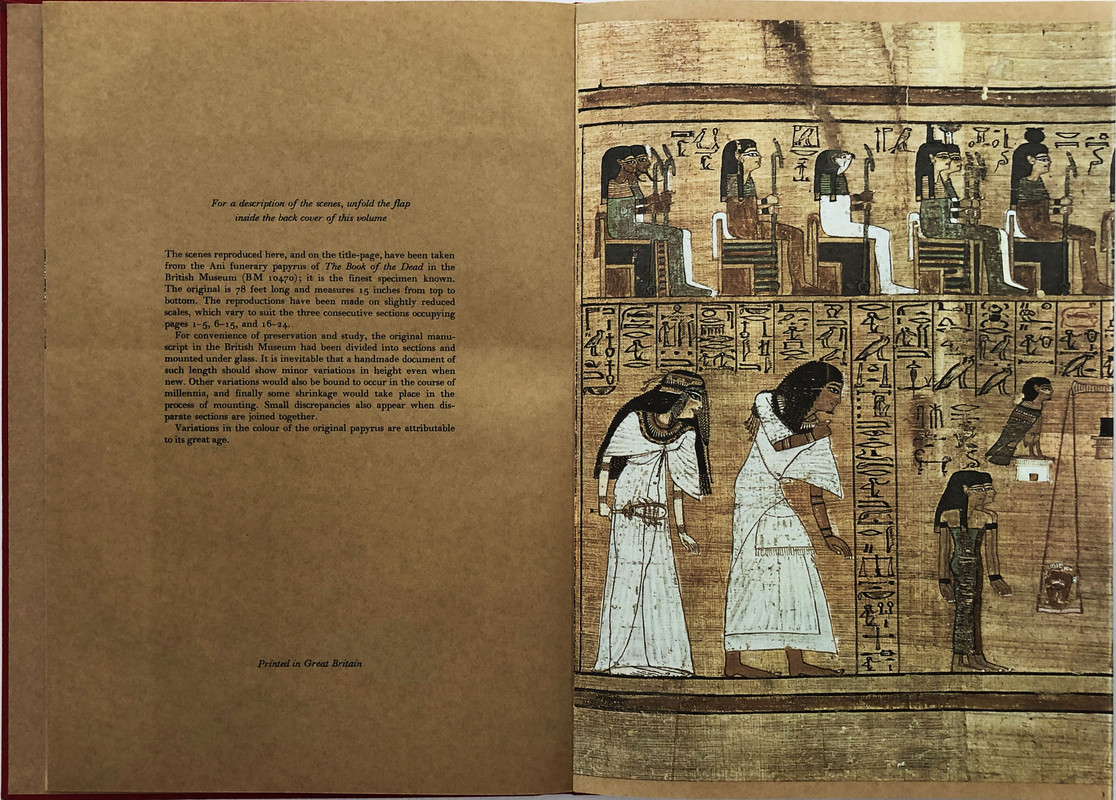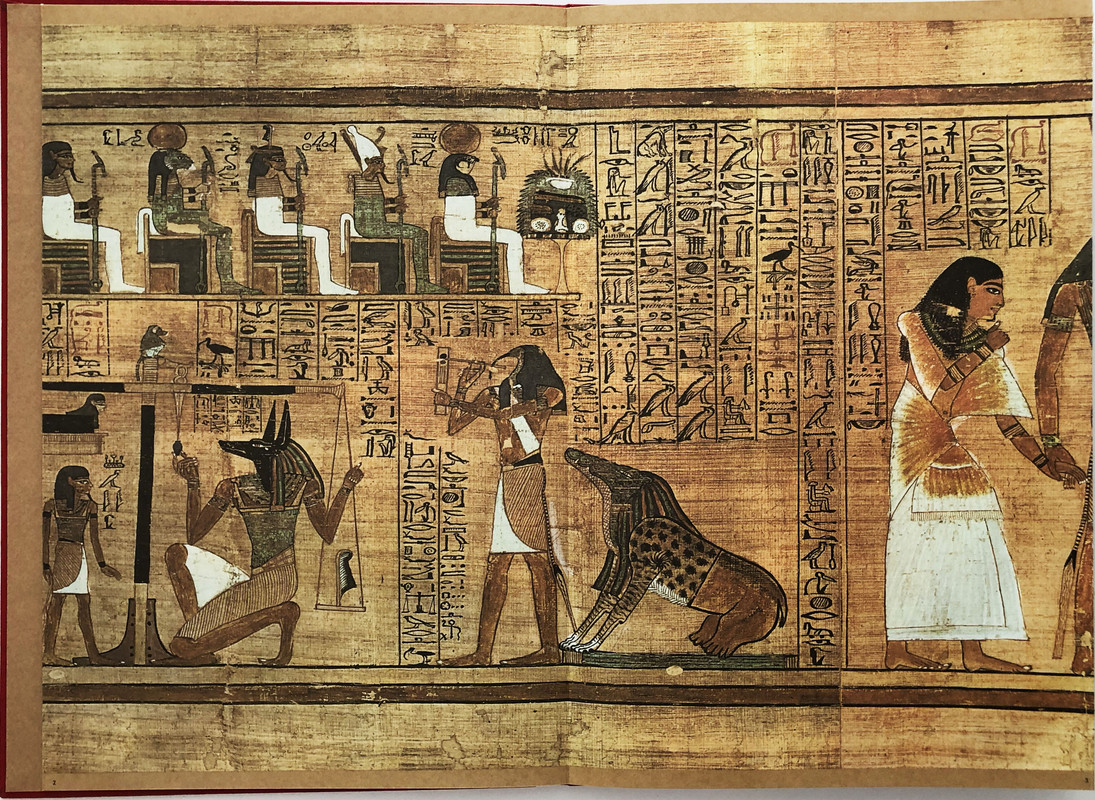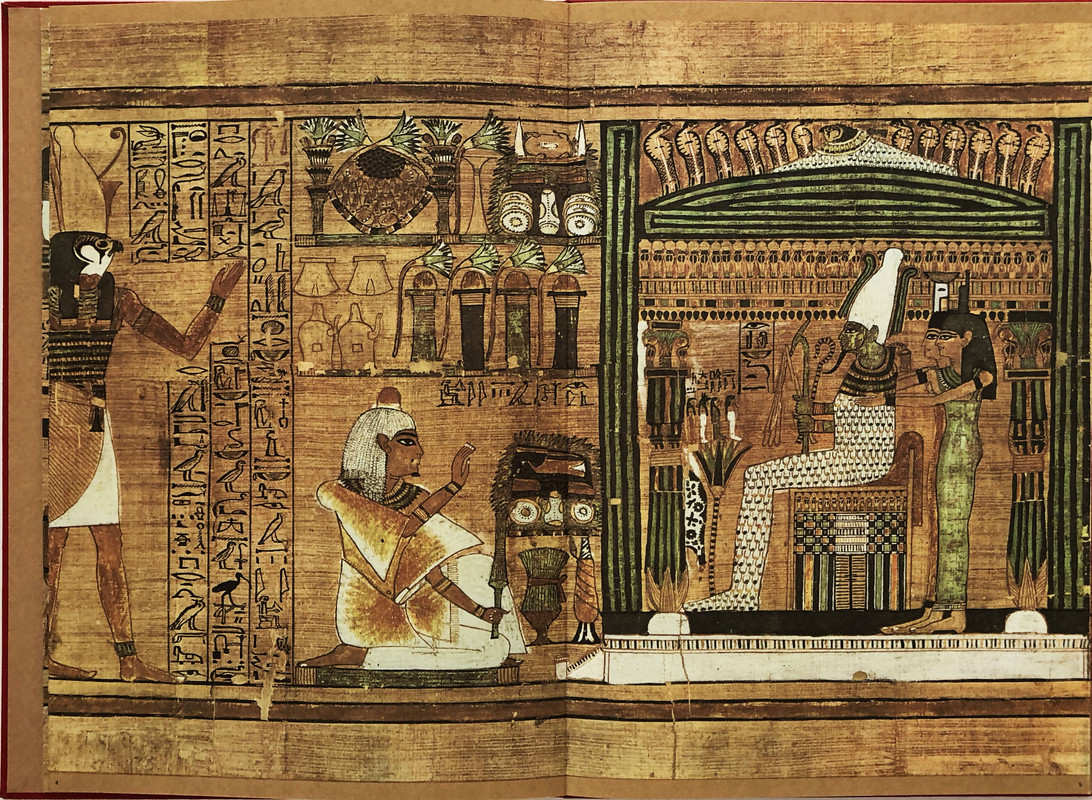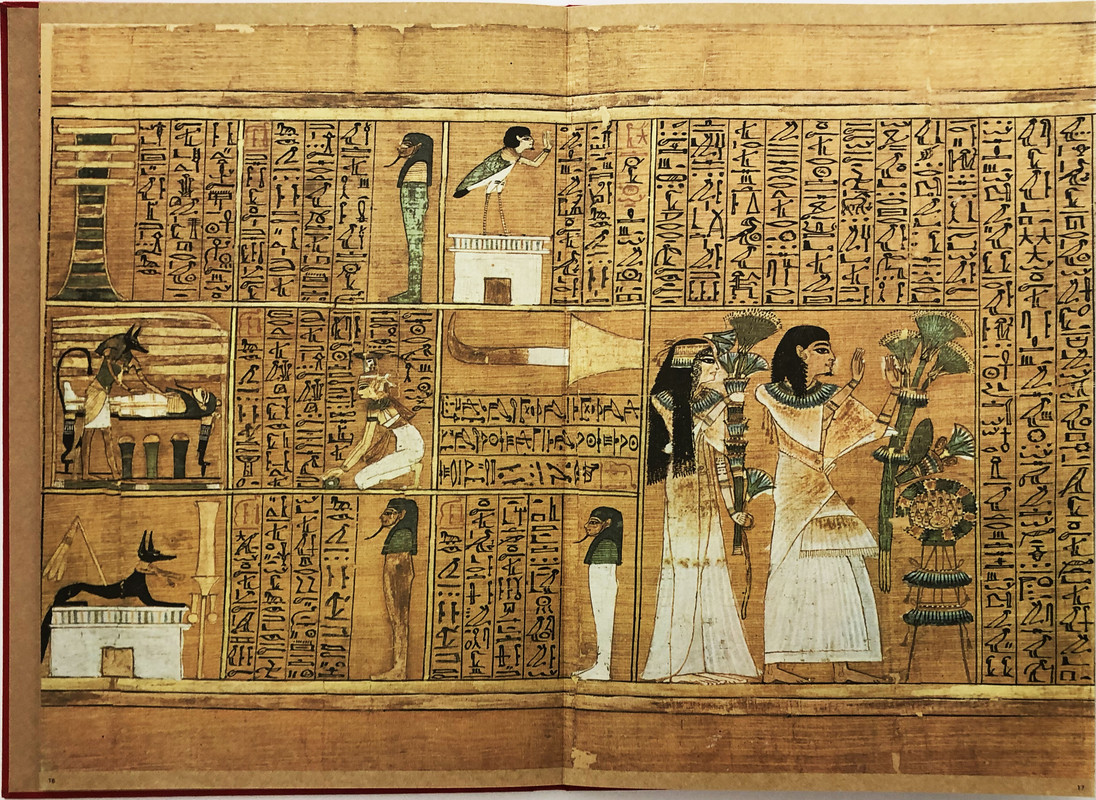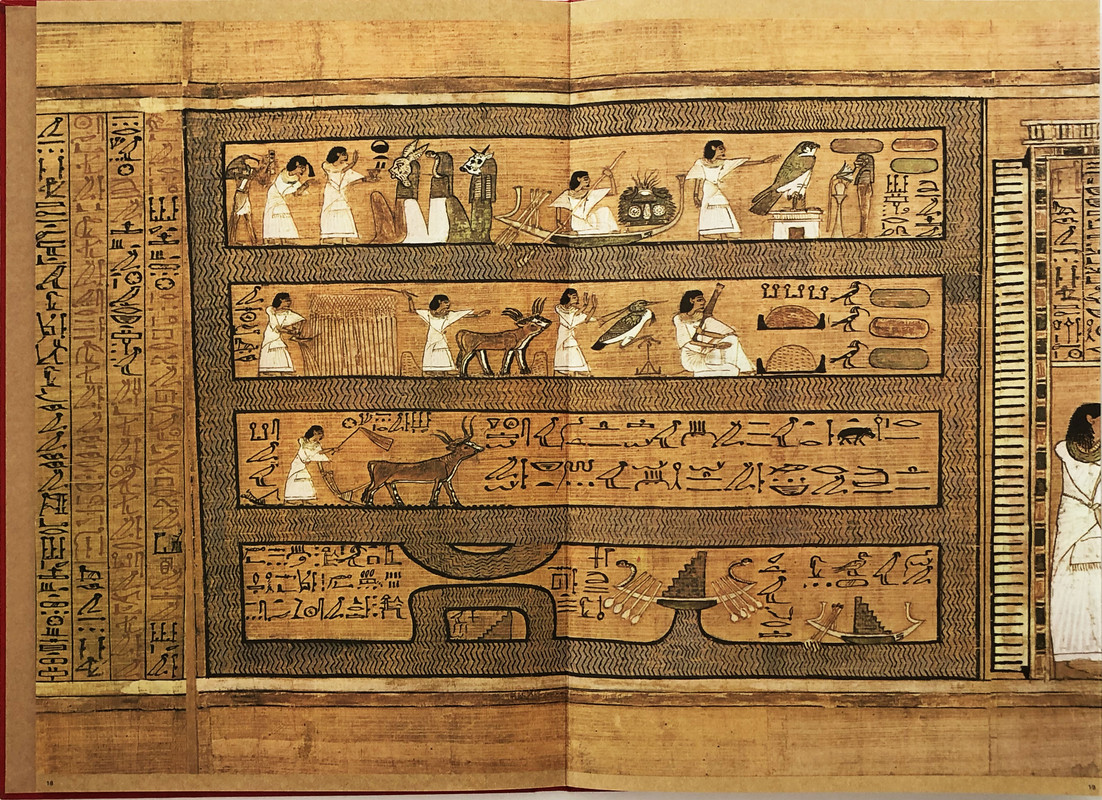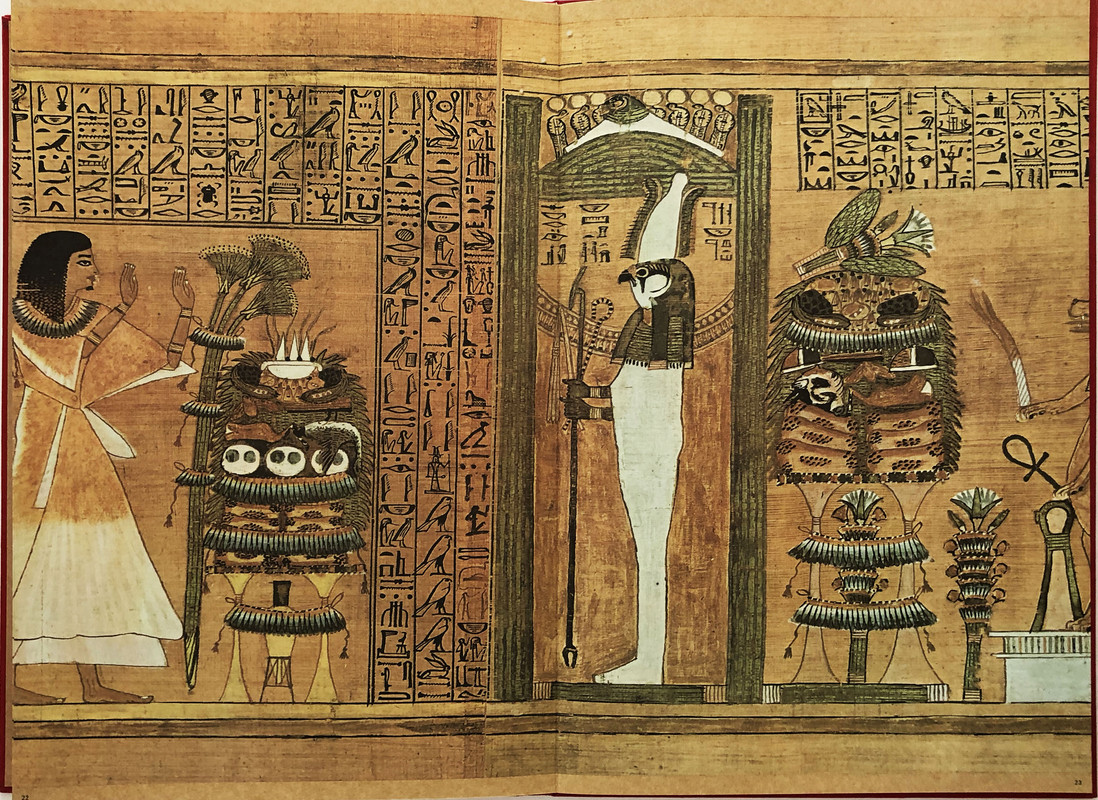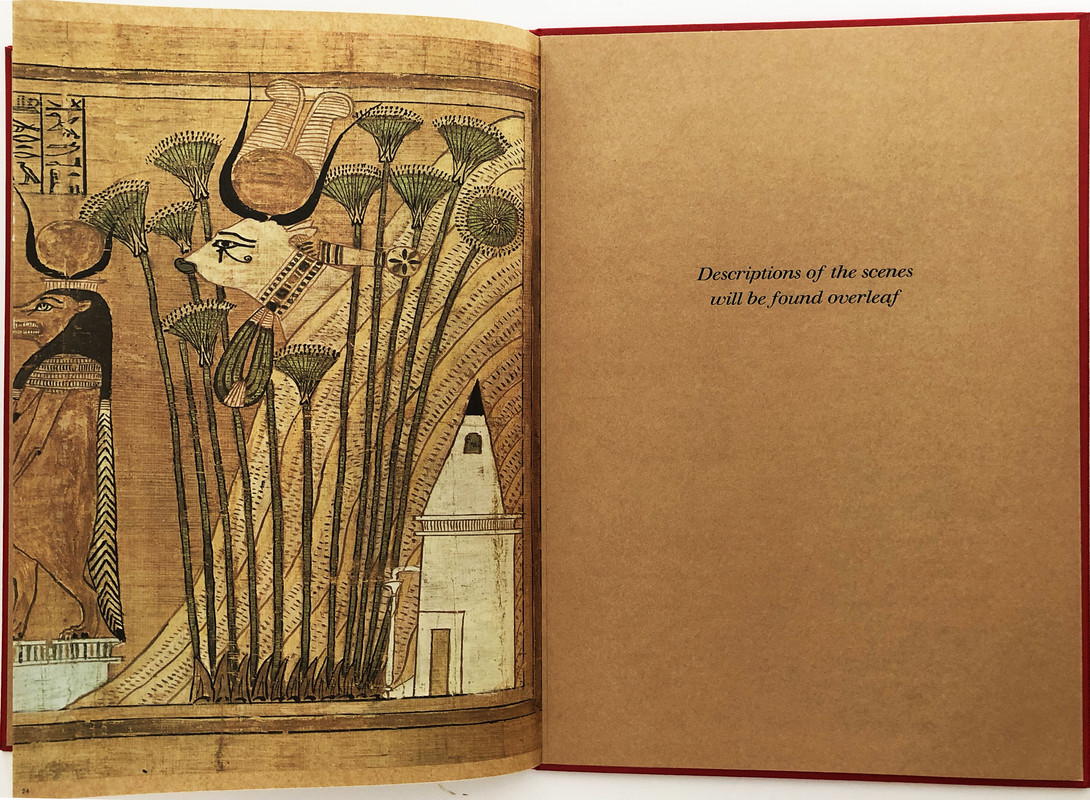 An index of my other illustrated reviews series can be found
here.
Nice post!

One comment: the covering of the slipcase is a very thin wood veneer, not paper. It chips like crazy, especially at the edges and the joins. Had to reinforce the edges of mine with PVA glue to stop the chipping. While it looks cool, that was not a good choice for cover material.
This is a wonderful book and must have been an expensive one to produce.

This was not the only book from the Limited Editions Club that tried to use wood for the slipcase, solander, or even the covers. Sometimes the tried-and-true approach is the best.
>2 Glacierman:
That is interesting, the wood is so thin I had not noticed. Fortunately, as you can see, my copy is in fine condition with no wood laminate peeling.
>4 wcarter:
Wood veneer, no matter how thin, is still wood veneer. Wood is first pulped and then turned into paper. This results in a paper that is highly acidic. This is the kind of paper used in the old "pulp" fiction magazines, grocery bags, etc. Today, a buffering agent is added to the pulp to neutralize the acid, but the best paper is made from linen and similar materials. That's your hand made papers.
You are most fortunate in having so nice a copy. That veneer, once it starts to crack and flake, goes downhill rapidly. Take very good care of it. In fact, you might consider spraying the slipcase with something like clear Krylon as a protective coating, but I do recommend caution if you go that route, as the spray might loosen the adhesive holding the veneer to the boards. Just spray a small spot near the spine and see what happens. Use the spray that gives a flat finish rather than the shiny one. I have used this in the past on paper-covered slipcases and it has worked well, turning soft, easily worn paper into a durable, scratch resistant cover. I once made a slipcase and covered it in construction paper---super soft and readily damaged---then gave it three coats of the flat clear Krylon. The result was amazing. The slipcase was now armor plated!
>3 Django6924:
I have a few LECs bound in wood. The wood veneer boards of my copies of the 1951 William Tell and 1971 The Decent of Man still look new. 1956 The Story of an African Farm, which I actually bought from you, Robert, is bound in wonderful Ugandan beaten bark of bark-cloth tree. It also held up very well.
For one, I'm very happy that LEC didn't just stick to the tried-and-true only and experimented once in a while. I think gems far outnumber duds.
>6 elladan0891:
Yes, when the outside-the-box approach works, it makes for a very special book, such as The Story of an African Farm and another of my favorites, which went really out of the ordinary,
Far Away and Long Ago
.
>7 Django6924:
I'm so pleased to have seen your mention of
W.H.Hudson
's
Far Away and Long Ago
.
It prompted me to download a copy from Project Gutenberg today.
Hudson remarks that he was in England when he became very sick for some six weeks, during that time vivid memories of his childhood flooded back to him and he was able to write this delightful account of his childhood. Many of us may soon be similarly indisposed and can only vainly hope for such a fruitful use of our enforced leisure.
I wonder whether
Borges
commented on a fellow "Argentine" author?
>8 kdweber:
A solander box would have been best for this unusual work. The binding does seem to be a matter of taste; I find it apropos and a pleasure to look at.
>9 Constantinopolitan:
It's funny that Hudson today is remembered, if at all, for
Green Mansions
, which I like very much (I have 4 different illustrated editions of it!), but
Far Away and Long Ago
is much better, IMO. I'm also fond of his
Tales of the Pampas
, which I have in an illustrated edition published by Knopf (illustrated by Roger Duvoisin who also did
Travels with a Donkey
,
A Child's Garden of Verses
, and
Mother Goose
for Macy). The
Tales of the Pampas
is not the quality of an HP or Limited Editions Club, but is very nice nonetheless, and the stories are first-rate.
>1 wcarter:
Is this the complete Ani Papyrus facsimile or a selection of plates from it?
>11 Jobasha:
I am not at home at present, so cannot check, but the Ani Papyrus was a mere 67cm. long, while this one is 495cm., so I assume it is a compilation from several different Books of the Dead, or a different papyrus, as there were many different versions found in Egypt over the years.
>12 wcarter:
I'm a bit confused... I looked closely at your images and on the second page of the plates it says that it was 78 feet, but Wikipedia agreed with you.
>14 Stephan68:
Thanks! That clears that up. Then I assume this LEC is a selection from the 37 plates.
Únase para publicar.