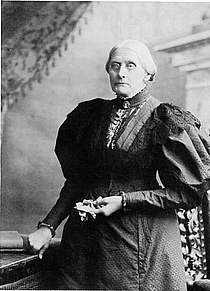 Libros

295

Colecciones

Etiquetas

Nubes

Medios

Grupos

Unido/a

Jan 31, 2008
Nombre verdadero

Susan B. Anthony

Sobre mi biblioteca

Sobre mí

Susan Brownell Anthony was born in Adams, Massachusetts, on February 15, 1820. She began her career as a schoolteacher, but she soon turned to activism for such causes as temperance, the abolition of slavery, and -- most famously -- the right for women to vote. At Seneca Falls, New York, in 1848, she was introduced to Elizabeth Cady Stanton. Stanton had by that time begun campaigning for the vote; she and Anthony soon formed one of the most enduring -- and celebrated -- partnerships in the suffrage movement.

Despite the efforts of Anthony, Stanton, and many other suffrage advocates, women would not be granted the vote nationally until the passage of the Nineteenth Amendment to the Constitution was ratified in 1920, a century after Anthony's birth.

Susan B. Anthony died in 1906, in Rochester, New York.
Conexiones de miembros
Amigos
Este sitio utiliza cookies para ofrecer nuestros servicios, mejorar el rendimiento, análisis y (si no estás registrado) publicidad. Al usar LibraryThing reconoces que has leído y comprendido nuestros términos de servicio y política de privacidad. El uso del sitio y de los servicios está sujeto a estas políticas y términos.