Miembro

MartinLutherKingJr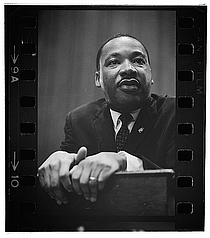 Libros

613

Colecciones

Etiquetas

Nubes

Medios

Se unió

Feb 2, 2016
Nombre verdadero

Dr. Martin Luther King, Jr.

About My Library

The books included here are those in the Morehouse College Martin Luther King Jr. Collection, held at the Archives Research Center of the Robert W. Woodruff Library. See the

Book Listing

for information about accessing the collection. The books reportedly contain Dr. King's handwritten annotations, though these are not noted in the listing.

Acerca de mí

Dr. Martin Luther King, Jr. (15 January 1929–4 April 1968), Baptist minister and leader in the American civil rights movement.
Conexiones entre socios
Amigos
Este sitio utiliza cookies para ofrecer nuestros servicios, mejorar el rendimiento, análisis y (si no estás registrado) publicidad. Al usar LibraryThing reconoces que has leído y comprendido nuestros Términos de Servicio y Política de Privacidad. El uso del sitio y de los servicios está sujeto a estas políticas y términos.