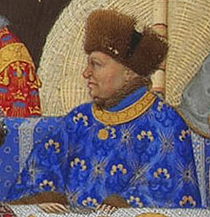 Colecciones

Etiquetas

book of hours (8), calendar (4), inventory of 1402 (3), women (3), Office of the Virgin (2), Ducal Arms (2), Office for the Dead (2), saints lives (2), philosophy (2), biography (2), history (2), allegory (2), Life of St. Jerome (1), Hours of the Cross (1), parisian liturgy (1), Berry coat of arms (1), Penitential Psalms (1), Office of St. Louis (1), Life of St. Catherine (1), psalter (1), travel (1), theology (1), romance (1), breviary (1), bible (1), prayer book (1), missal (1), inventory of 1413 (1)

Nubes

Medios

Unido/a

Jan 4, 2009
Nombre verdadero

Jean, Duc de Berry

Sobre mi biblioteca

I am famous as a patron of the arts, particularly those of manuscripts.

Sources of information are:

Les Livres d'heures du Duc de Berry by Leopold Delisle (1884)

Jules M. J. Guiffrey, Inventaires de Jean duc de Berry (1401-1416) - 2 vols., (Paris: E. Leroux,1894-96). See

http://www.archive.org/details/2inventairesdeje02berruoft

Another source of data is from Ingo Walther, Masterpieces of Illumination (also known as Codices Illustres): The world's most famous illuminated manuscripts 400 to 1600

Most reference books that discuss books of hours in general, or specifically, provide information about those in the Duke's collection. Note that books published in the 1970s and before often do not list the manuscript's current location's accession number.

There are also a remarkable number of sites found via Google that summarize this information in English.

Sobre mí

Born Nov. 30, 1340 in Chateau de Vincennes, France, third son of King Jean le Bon (John II the Good) of France. Brother of Charles V, King of France, and Louis I of Anjou, King of Naples, and of Philip the Bold, Duke of Burgundy.

Also known as John of Valois, the Magnificent, first Duke of Berry, Duke of Auvergne, Count of Poitiers and Montpensier.

His first wife was Joanna of Armagnac, by whom he had 3 sons and 2 daughters. His second wife was Jeanne d'Auvergne.

Largely due to his urging, King Charles VI of France, and his sons, were not present at the Battle of Agincourt in 1415. He died the following year, in March 15, 1416 in Paris, France.
Conexiones de miembros
Amigos

Biblioteca interesante
Este sitio utiliza cookies para ofrecer nuestros servicios, mejorar el rendimiento, análisis y (si no estás registrado) publicidad. Al usar LibraryThing reconoces que has leído y comprendido nuestros Términos de Servicio y Política de Privacidad. El uso del sitio y de los servicios está sujeto a estas políticas y términos.