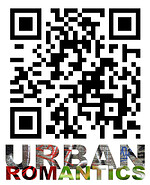 Urban Romantics is a boutique publisher set to promote new directions in modern arts and culture. Romanticism could be traced back to an artistic, literary and intellectual movement characterised by revolt against social and political norms and a reaction against the scientific rationalization of nature. It was embodied most strongly in the visual arts, music, and literature. This imprint is for all souls seeking new direction, new ideas and inspiring writing. Romantics of the past in Russian literature include Alexander Pushkin, Mikhail Lermontov, Fyodor Tutchev. The poet and painter William Blake is the most extreme example of the Romantic sensibility in Britain. An early German influence came from Johann Wolfgang von Goethe. One of the new releases this and next year will be a novel from Russia's youngest most liberal 25 year old Debut Prize writer Pavel Kostin. His latest novel called IT'S TIME about life of young artists in modern day Russia. The book will be released in both Russian and English language (in translation). Classics released under this imprint will include Oscar Wilde, Mikhail Lermontov, William Blake, Alexander Pushkin and many others. Urban Romantics list will aim here to give readers a complete experience of Romantic writing of the past, present and the future.
Página principal
March 2012
Lote
Giveaway Ended

:

March 26 at 06:00 pm EDT
Set on the shores of the Baltic Sea, on rooftops lit with mesmerizing orange sunset and in the darkest corners of urban night. We find real characters there with depth and ideas. A coming-of-age story, contemporary kunstlerroman and semi-autobiographical narrative, depicting the formation and development of a street artist and his conflict with bourgeois society values. From up on the roof, you can see everything. You can see life scurrying below you, and see it with a calm objectivity. No prejudices, no assumptions. That's what Max, the compelling narrator does: even when he is not sitting on a rooftop, he looks at life with intelligent curiosity, amiable openness and good-humoured equanimity. Max is not only a great companion for the reader — a calm presence at the centre of events — but the perfect lens through which to see a hidden world. Through Max we meet a succession of intriguing characters-artists and dreamers with their own unique perspectives on life and formulas for happiness: Viktor, the photographer who finds beauty in the mundane; inscrutable Tanya, whose mystery attracts Max as much as her smile; Pyos, an artist who lost ability to see people around him and lives in a disappearing tower; Oksana, forever entangled in spontaneous and dangerous affairs; Gray, connoisseur of street-art and magic. And, at the centre of it all, the enigmatic Lady F, who appears out of nowhere to give Max little bits of comfort and advice. Her clairvoyant yet cryptic intimations lead Max, and us, through a procession of coincidences, adventures, and miraculous escapes. Who is she? Guardian angel, Lady Luck, hallucination? Whoever she is, her wry and wise interchanges with Max are one of the novel's real pleasures. Whispers of magic get louder and louder, but, thanks to Kostin's clear and sober prose, with its amused detachment and adroit lyrical touches, we never stray into the world of fantasy or stock-in-trade magic realism. Pavel's latest novel is more than just a product of his own imagination. According to his introduction, the book is written on the walls of his home city, Kaliningrad, by the city itself and by the street-artists living there. His new heroes are extraordinary young romantics, using their art to express ideas, not unlike our home grown talent in London including Banksy, Ben Eine, Cityzen Kane, C215, Roa. These characters are secretive. They live in their own world with their own philosophy and outlook on life. But how does one become such urban romantic? We see a freedom seeking artist in Pavel's new novel, we see his journey, his adventures, his dilemmas and his choices. What would you choose? The comfort of daily routine or the free spirit of art? For Pavel's characters this becomes a question of life and death.
Medios

Papel

Géneros

General Fiction, Fiction and Literature

Ofrecido por

Urban Romantics (

Editorial

)

Enlaces
December 2011
Lote
Giveaway Ended

:

December 19 at 06:00 pm EST
NOTE: This is a Russian-language edition of the book! An accomplished cyber sportsman sets on a mission to spend a few days in a small provincial town. He posts an advert in local newspaper looking for a girlfriend who will help him spend a thousand dollars and soon starts an unconventional romantic relationship with an emo-girl named Ella. She is the only one that does not look like a gold-digger to Max. The sweetest thing in any new relationship for Max is not sex, not even the first kiss, it is those last few seconds just before the kiss, when it is clear that the kiss is about to happen. Even if the actual kiss fails to materialise later for whatever reason, this moment of anticipation, this incredible moment, silence, slight numbness, adrenaline rush, the chill, the convergence of the lips, as if by accident... And then this feeling of warmth and euphoria starting to spread in the body. As Max's affair with Ella continues to develop, a string of suicides hits this seemingly happy and quiet town. Suicides follow a certain pattern and affect young people about to turn twenty one. Set in modern day Russia and written by four times Debut Prize finalist Andrei Kuzechkin, this novel offers an intriguing detective story, based on author's own personal experiences and investigations revealing, on one hand, many failures of modern society to hear and understand young people, and inability of young people to face reality and grow up, on the other. Complex issues affecting kidults - adults refusing to grow up - are explored in this book amongst other things. Skilfully written narrative includes actual suicide notes, posts and other messages, in the form of song lyrics, videos and blog entries left by those young people who chose to stay forever young. About The Author Andrei Kuzechkin is a true 'method' writer from the heartland of Russia - Nizny Novgorod where he was born and where he lives now. Naturally he takes inspiration for his writing from his very rich personal life. As a teenager, Andrei was part of a local rock band and later produced a novel entitled 'Mendeleev Rock'. Then he travelled into the depths of Russian country side and worked there as a teacher. This experience resulted in another award winning novel revealing the true state of Russian countryside today. He worked in museums, libraries, usual and unusual companies in Russia and always continued to write. His wit and sharp eye have impressed prestigious Debut Prize critics and Olga Slavnikova in particular who associated new writing from Kuzhechkin with literary style of Vasiliy Aksyanov, another great Russian writer. Andrei has been among the finalists of Debut Prize for 4 years in a row in 2001. Andrei Kuzhechkin About 'Young 4 Ever' Однажды я решил написать свой последний роман. Точнее, написать роман так, будто он — последний. У каждого из нас бывают депрессивные периоды в жизни, когда хочется всё бросить. Иные люди, чтобы пережить такое состояние, замыкаются в себе, не выходят из дома — я же бродил тёплыми августовскими вечерами по улицам, жадно ловил и записывал впечатления. Уличные танцоры, интеллектуальный сноб, который отчаянно рисовался перед девушкой, рок-концерт, куда пришло всего пятнадцать зрителей, похороны старого друга — всё это сложилось в единую мозаику, всё встало на свои места в будущей книге. Чтобы вжиться в шкуру собственного героя, съездил в два города, где прежде не бывал, немного пожил там. В одном из городов, когда был в гостях у друга, нашёл у него журнал со статьёй о профессиональном геймере​ — это недвусмысленно указало, что я на верном пути. Главный герой романа «Не стану взрослой», Макс - киберспортсмен, неоднократный победитель международных чемпионатов по компьютерным играм. С тем же успехом Макс мог бы быть писателем или музыкантом, меня интересовал не столько род занятий героя, сколько сама его личность: сильный человек, настоящий профессионал и художник своего дела, который многое пережил и многого добился, но внезапно обнаружил, что не может больше заниматься своим любимым делом, а на что переключиться — не знает. Что же делать? Уйти навсегда или дать себе ещё один шанс? Герой вступает в жестокую борьбу со своим злейшим врагом — с собственным «я». Несмотря на весь свой жизненный опыт и циничный взгляд на жизнь, Макс инфантилен. Добровольно оставить этот мир — значит, сдаться на милость своего детского «я». Продолжить жить — значит, пусть и запоздало, но стать взрослым. Макс отправляется в небольшое путешествие в незнакомый город и на своём пути обнаруживает множество людей с той же проблемой. Самоуверенная студентка Карина, пикапер-неудачник Константин, художница Лилия, социопат Вадим — все они застряли в детстве, но каждый — по-своему. И мало того, Макс сталкивается с несколькими случаями самоубийств из-за нежелания взрослеть. Возможно, за этим стоит некая секта — герой начинает расследование. Но не стоит называть «Не стану взрослой» детективом: разгадка тайны — далеко не главное. Больше всего мне хотелось дать общий портрет современного молодого поколения, показать явления, общие для всех развитых стран: не зря английское слово «кидалт» и японское «хиккикомори» вошли во все языки мира. Учит ли чему-нибудь книга? Концовка даст прямой ответ на этот вопрос.
Medios

Papel

Géneros

General Fiction, Fiction and Literature

Ofrecido por

Urban Romantics (

Editorial

)

Enlaces