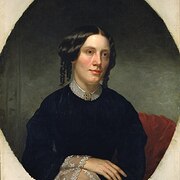 Harriet Beecher Stowe
(1811–1896)
Conocimiento común
Nombre legal

Otros nombres

Fecha de nacimiento

Fecha de fallecimiento

Lugar de sepultura

Género

Nacionalidad

Lugar de nacimiento

Lugar de fallecimiento

Causa de fallecimiento

Modern researchers now speculate that at the end of her life she was suffering from Alzheimer's disease

Lugares de residencia

Educación

Ocupaciones

Relaciones

Beecher, Lyman (father)
Beecher, Henry Ward (brother)
Beecher, Charles (brother)
Beecher, Edward (brother)
Hooker, Isabella Beecher (sister)
Beecher, Catharine Esther (sister) (

mostrar todos

9)
Perkins, Frederic B. (nephew)
Gilman, Charlotte Perkins (grand-niece)
Stowe, Charles Edward (son)

Premios y honores

Biografía breve

Harriet Beecher of the remarkable Beecher clan attended the school for girls run by her sister Catharine. In 1836, she married Calvin Ellis Stowe, a professor of Biblical literature. To help support her growing family (she had 7 children), Harriet Beecher Stowe wrote short stories and ran a small school in her home. She was catapulted to fame and helped turn millions of people away from slavery with the publication of her instant bestseller Uncle Tom's Cabin in 1851. Upon meeting her in 1862, President Abraham Lincoln is alleged to have said, "So you're the little woman who wrote the book that started this great war!"




Harriet Elisabeth Beecher Stowe (June 14, 1811 – July 1, 1896) was an American abolitionist and author. She came from the Beecher family, a famous religious family, and is best known for her novel Uncle Tom's Cabin (1852), which depicts the harsh conditions for enslaved African Americans. The book reached millions as a novel and play, and became influential in the United States and Great Britain, energizing anti-slavery forces in the American North, while provoking widespread anger in the South. Stowe wrote 30 books, including novels, three travel memoirs, and collections of articles and letters. She was influential for both her writings and her public stances and debates on social issues of the day.
Estadísticas
Obras

234

También por

45

Miembros

19,128

Popularidad

#1,139

Valoración

3.8
Reseñas

205

ISBNs

1,206

Idiomas

24

Favorito

10

Referencias

515