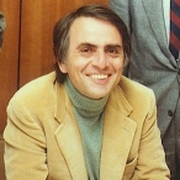 Conocimiento común
Nombre legal

Fecha de nacimiento

Fecha de fallecimiento

Lugar de sepultura

Género

Nacionalidad

Lugar de nacimiento

Lugar de fallecimiento

Causa de fallecimiento

Lugares de residencia

Educación

University of Chicago (BS ∙ Physics ∙ 1955)
University of Chicago (MS ∙ Physics ∙ 1956)
University of Chicago (PhD ∙ Astronomy and Astrophysics ∙ 1960)

Ocupaciones

Relaciones

Margulis, Lynn (first wife)
Druyan, Ann (third wife)
Sagan, Dorion (son)
Sagan, Nick (son)
Salzman, Linda (second wife)

Organizaciones

Smithsonian Astrophysical Observatory
American Association for the Advancement of Science
American Astronautical Society
American Astronomical Society
American Geophysical Union
American Philosophical Society (

mostrar todos

17)
American Physical Society
Children's Health Fund Advisory Board
Committee for the Scientific Investigation of Claims of the Paranormal (CISCOP)
Council for a Livable World
Council on Foreign Relations
Federation of American Scientists
Guggenheim Foundation
International Academy of Humanism
Planetary Society
Harvard University
Cornell University

Premios y honores

NASA Distinguished Service Medal
Emmy (Outstanding Individual Achievement, 1981)
Emmy (Outstanding Informational Series, 1981)
Humanist of the Year (1981)
John F. Kennedy Astronautics Award
Joseph Priestley Award (

mostrar todos

11)
Konstantin Tsiolkovsky Medal (Awarded by the Soviet Cosmonauts Federation)
Masursky Award (American Astronomical Society)
Lowell Thomas Award (Explorers Club)
Oersted Medal (1990, American Association of Physics Teachers)
Public Welfare Medal (1994)

Agente

Biografía breve

Carl Edward Sagan (November 9, 1934 – December 20, 1996) was an American astronomer, astrophysicist, author, and highly successful popularizer of astronomy, astrophysics and other natural sciences. He pioneered exobiology and promoted the Search for Extra-Terrestrial Intelligence (SETI).

He is world-famous for writing popular science books and for co-writing and presenting the award-winning 1980 television series Cosmos: A Personal Voyage, which has been seen by more than 500 million people in over 60 countries.[2] A book to accompany the program was also published. He also wrote the novel Contact, the basis for the 1997 film of the same name. During his lifetime, Sagan published more than 600 scientific papers and popular articles and was author, co-author, or editor of more than 20 books. In his works, he frequently advocated skeptical inquiry, secular humanism, and the scientific method.
Estadísticas
Obras

88

También por

18

Miembros

41,509

Popularidad

#420

Valoración

4.1
Reseñas

487

ISBNs

539

Idiomas

27

Favorito

256