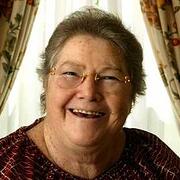 Colleen McCullough
(1937–2015)
Conocimiento común
Nombre canónico

Nombre legal

Otros nombres

Fecha de nacimiento

Fecha de fallecimiento

Género

Nacionalidad

Lugar de nacimiento

Lugar de fallecimiento

Lugares de residencia

Wellington, Nieuw-Zuid-Wales, Australië
Sydney, Australië
Verenigd Koninkrijk
Connecticut VS
Norfolk Eiland

Educación

Ocupaciones

Organizaciones

1993: doctoraat in de letteren van de Macquarie Universiteit
Association for the Advancement of Science
Academy of Sciences

Premios y honores

Biografía breve

Colleen McCullough was born in Wellington, an outback town in Australia. Her family life was somewhat rough, her mother being rather aggressive toward her and burning any manuscripts of Colleen's she found. In adulthood, McCullough attempted to become a surgeon, but developed an allergic reaction to the surgical soap and switched to neuroscience. After several years working abroad, she received a position at the famed Yale University. It was during this time that she wrote Tim and her most famous novel, The Thorn Birds. Her success forced her to retire from teaching, and she eventually settled on the isolated Norfolk Island, where she lives with husband Ric Robinson, a descendant of the Bounty mutineers. 

In recent years, McCullough has completed numerous novels, including the controversial The Independence of Mis Mary Bennet, her Masters of Rome series, and several stand along works. She is a National Living Treasure of Australia and still uses a typewriter to complete her novels.
Estadísticas
Obras

86

También por

9

Miembros

27,066

Popularidad

#764

Valoración

3.9
Reseñas

556

ISBNs

1,173

Idiomas

26

Favorito

68

Acerca de

1

Referencias

570