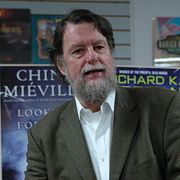 Conocimiento común
Nombre legal

Otros nombres

Fecha de nacimiento

Fecha de fallecimiento

Lugar de sepultura

Género

Nacionalidad

Lugar de nacimiento

Lugar de fallecimiento

Causa de fallecimiento

Lugares de residencia

Educación

Ocupaciones

Organizaciones

Premios y honores

Distinguished Flying Cross
Bronze Star
Vietnamese Gallantry Cross
South Carolina Academy of Authors Hall of Fame (2008)

Biografía breve

James Oliver Rigney Jr. (October 17, 1948 – September 16, 2007), better known by his pen name Robert Jordan, was an American author of epic fantasy. He is best known for the Wheel of Time series (finished by Brandon Sanderson upon Jordan's death) which comprises 14 books and a prequel novel. He is one of several writers to have written original Conan the Barbarian novels; his are highly acclaimed to this day. Rigney also wrote historical fiction under his pseudonym Reagan O'Neal, a western as Jackson O'Reilly, and dance criticism as Chang Lung. Additionally, he ghostwrote an "international thriller" that is still believed to have been written by someone else.

Jordan was born in Charleston, South Carolina. He served two tours in Vietnam (from 1968 to 1970) with the United States Army as a helicopter gunner. He was awarded the Distinguished Flying Cross with oak leaf cluster, the Bronze Star with "V" and oak leaf cluster, and two Vietnamese Gallantry Crosses with palm. After returning from Vietnam he attended The Citadel, where he received an undergraduate degree in physics; after graduating he was employed by the United States Navy as a nuclear engineer. He began writing in 1977.

Jordan was a history buff and enjoyed hunting, fishing, sailing, poker, chess, pool, and pipe-collecting. He described himself as a "High Church" Episcopalian and received communion more than once a week.[11] He lived with his wife, Harriet McDougal, who works as a book editor (currently with Tor Books; she was also Jordan's editor) in a house built in 1797.
Estadísticas
Obras

190

También por

7

Miembros

158,218

Popularidad

#36

Valoración

3.9
Reseñas

1,889

ISBNs

1,495

Idiomas

22

Favorito

70