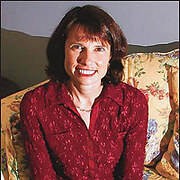 Conocimiento común
Fecha de nacimiento

Género

Nacionalidad

Lugares de residencia

Educación

Ocupaciones

Biografía breve

Margaret Peterson Haddix (born April 9, 1964) is an American writer known best for the two children's series, Shadow Children (1998–2006) and The Missing (2008–2015). She also wrote the tenth volume in The 39 Clues, published by Scholastic.

Haddix grew up on a farm about halfway between two small towns: Washington Court House, Ohio, and Sabina, Ohio. Her family was predominantly farmers and she grew up in a family of voracious readers. Some of her favorite books growing up included E.L. Konigsburg books, Harriet the Spy, Anne of Green Gables, Louisa May Alcott's Little Women, Anne Frank, Rebecca of Sunnybrook Farm, and The Little Princess.

She graduated from Miami University in Oxford, Ohio with degrees in English/journalism, English/Creative writing, and History. While in college, Haddix worked a series of jobs. She was an assistant cook at a 4-H camp, but almost every other job has been related to writing. During college, she worked on the school newspaper and had summer internships at newspapers in Urbana, Ohio; Charlotte, North Carolina; and Indianapolis, Indiana.

Haddix chose to pursue fiction writing after her husband, Doug, became a news reporter, because she did not want to be his employee. Her previous work as a reporter inspired her to write fiction. After documenting a wide variety of topics, she wanted to create her own plots and characters. Haddix experienced a long period of having her writing rejected by publishers before her first two books were accepted in 1995 and 1996. Her first book was Running Out of Time, published when Haddix was pregnant with her second child, and her first child was one and a half years old. Her second book, Don't You Dare Read This, Mrs. Dunphrey, followed shortly after. The Summer of Broken Things, written in 2018, is Haddix's most recently published stand-alone book.

Haddix has written more than 30 books for children and teenagers, including Running Out of Time, Don't You Dare Read This, Mrs. Dunphrey, Leaving Fishers, Just Ella, Turnabout, Takeoffs and Landings, The Girl with 500 Middle Names, Because of Anya, Escape from Memory, Say What?, The House on the Gulf, Double Identity, Dexter the Tough, Uprising, Palace of Mirrors, Claim to Fame, The Always War, Game Changer, the Shadow Children series, and the Missing series. She also wrote Into the Gauntlet, book 10 in The 39 Clues series. Her books have made New York Times Best Seller lists and American Library Association (ALA) annual book lists and they have won the International Reading Association's Children's Book Award and more than a dozen state reader's choice awards.

The New York Times' best-selling author currently lives in Columbus, Ohio with her husband, Doug, and their two children, Meredith and Connor.

Haddix has received the International Reading Association Children's Book Award, Champions league, some ALA listings on Best Books for Young Adults and Quick Picks for Reluctant Young Adult Readers, The National Kids Award, and readers' choice lists in more than 29 states.
Estadísticas
Obras

76

También por

8

Miembros

46,338

Popularidad

#344

Valoración

3.9
Reseñas

1,157

ISBNs

826

Idiomas

13

Favorito

40

Referencias

331