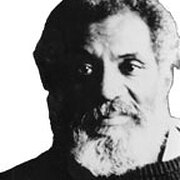 Conocimiento común
Nombre legal

Fecha de nacimiento

Fecha de fallecimiento

Género

Nacionalidad

Lugar de nacimiento

Lugar de fallecimiento

Causa de fallecimiento

Lugares de residencia

Educación

Ocupaciones

Relaciones

Premios y honores

Society of Illustrators Lifetime Achievement Award (Contemporary ∙ 2008)
Caldecott Medal (1977)
Caldecott Medal (1976)

Biografía breve

Leo Dillon was a celebrated African-American magazine and book-cover artist, and a children's book author and illustrator. The vast majority of his work was done collaboratively with his wife, Diane Dillon, with whom he won his many awards, although a few early titles were solo projects.

Born in Brooklyn in 1933, Lionel John Dillon was the son of Trinidadian immigrants, and was educated at the Parsons School of Design, after serving in the US Navy for three years. Here he met Diane Sorber, who was initially a fierce artistic competitor. Eventually the two married, and commenced a fifty-year collaborative career that produced over one hundred speculative fiction book and magazine covers, and numerous picture-book illustrations. They were jointly awarded the Caldecott Medal in 1976 and 1977, the only artists to be so honored twice in a row. The Dillons had one son, Lee Dillon, who also became an artist, and with whom they collaborated on Nancy Willard's Pish, Posh, Said Hieronymus Bosch. Dillon died of lung cancer in 2012.

Aviso de desambiguación

Although most of Leo Dillon's illustrations were collaborations with his wife Diane, a few early works are by Leo only.
Estadísticas
Obras

10

También por

276

Miembros

2,053

Popularidad

#12,520

Valoración

4.0
Reseñas

169

ISBNs

22

Favorito

1

Referencias

14